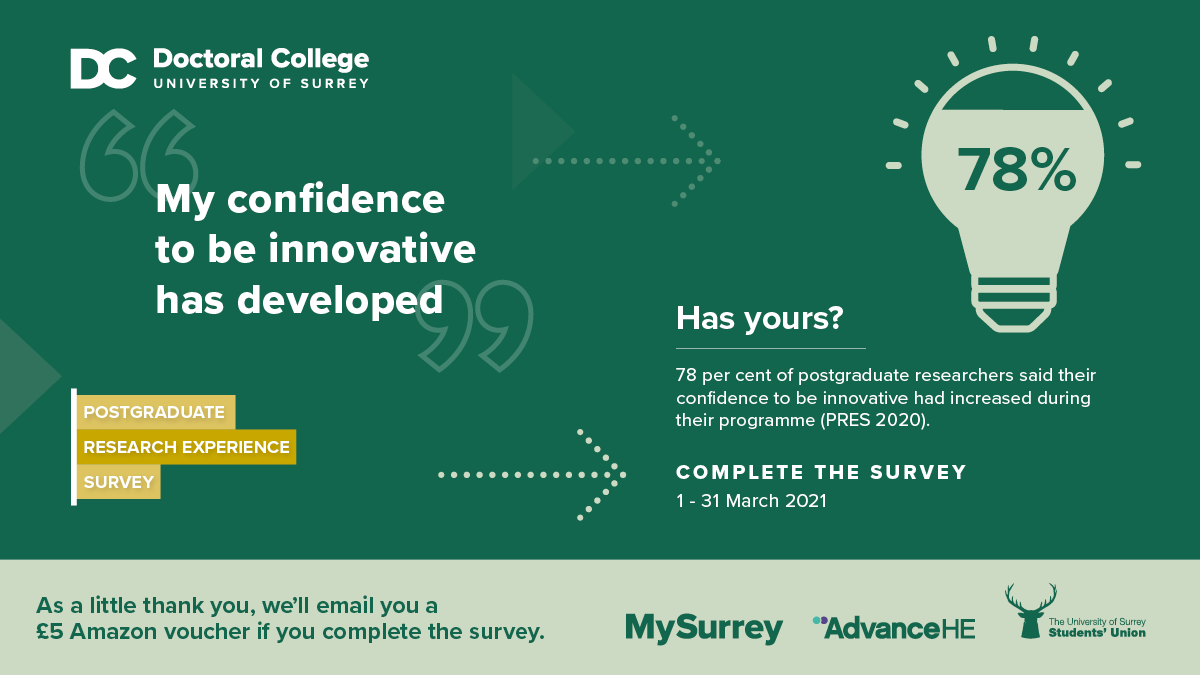 I can only imagine how busy life is for you right now, how focused you are on keeping going, and how little space you have for extra things. This is something a lot us are feeling right now across our whole University community. Within all this busyness, there is a small way in which we can help each other and which is a winner for us all. Life is so much simpler when there are win wins. Let me try to convince you that completing the Postgraduate Researcher Experience Survey (PRES) is one of those.
The win from my side: I am here to help make the University of Surrey the best it can possibly be, as we seek to carry out our mission of benefitting society through education and research. I have blogged and blathered (!) to whoever will listen about how you sit at the heart of our ecosystem – connected to all – to our academic life through your supervisors, through your research and through your teaching. Your overall wellbeing as a group is a bellwether for the institution – we want you to feel passionate, supported, and confident in your research journey.
The win from your side: you want to be the best graduate you can possibly be – supervised effectively, well placed to define and carry out your project, to feel like a valued person in the system not just a long number, and to have the chance to grow your skills outside of your direct project – all the skills employers value in doctoral graduates and more – whether they be in organising, entrepreneurship, presentation, public engagement, innovation… it's a long potential list. You want to leave Surrey on the up, with a doctorate, a strong skills set and a CV that sets you on a great path.
According to our record keeping system, SITS, there are 1,158 of you – either in the course of your research or writing up – there are nearly as many of you as there are academics. Collectively, you have a loud voice – and only by telling us how we are doing can we get an accurate picture of that.  If we are doing well, we will rate nationally and be more attractive to postgraduate researchers in the future – a virtuous circle. If we are not, then we have a chance to fix it – which is exactly what I, your supervisors and the Doctoral college want to do.
We care deeply about your travails at this time – a tough time to be a postgrad, and we have done a lot, with many of us experiencing tough times too, in support of you – from wellbeing check-ins, to Disruption awards and hardship funds, to pivoting to training online.  But we are not in your shoes and we need your feedback on how we have done – bouquets and brickbats – but we need it from you all – even you who are broadly fine with it all.  Only by learning a majority view can we form a balanced picture.
Born in 1890s Battersea, Surrey has long been dedicated to the development of new researchers even if the Doctoral College is relatively new. Help us to be clear about what we need to do to continue to create great opportunities for you and for the researchers of the future. Please help us on our mission for a win-win and fill in the survey – it will make a difference.