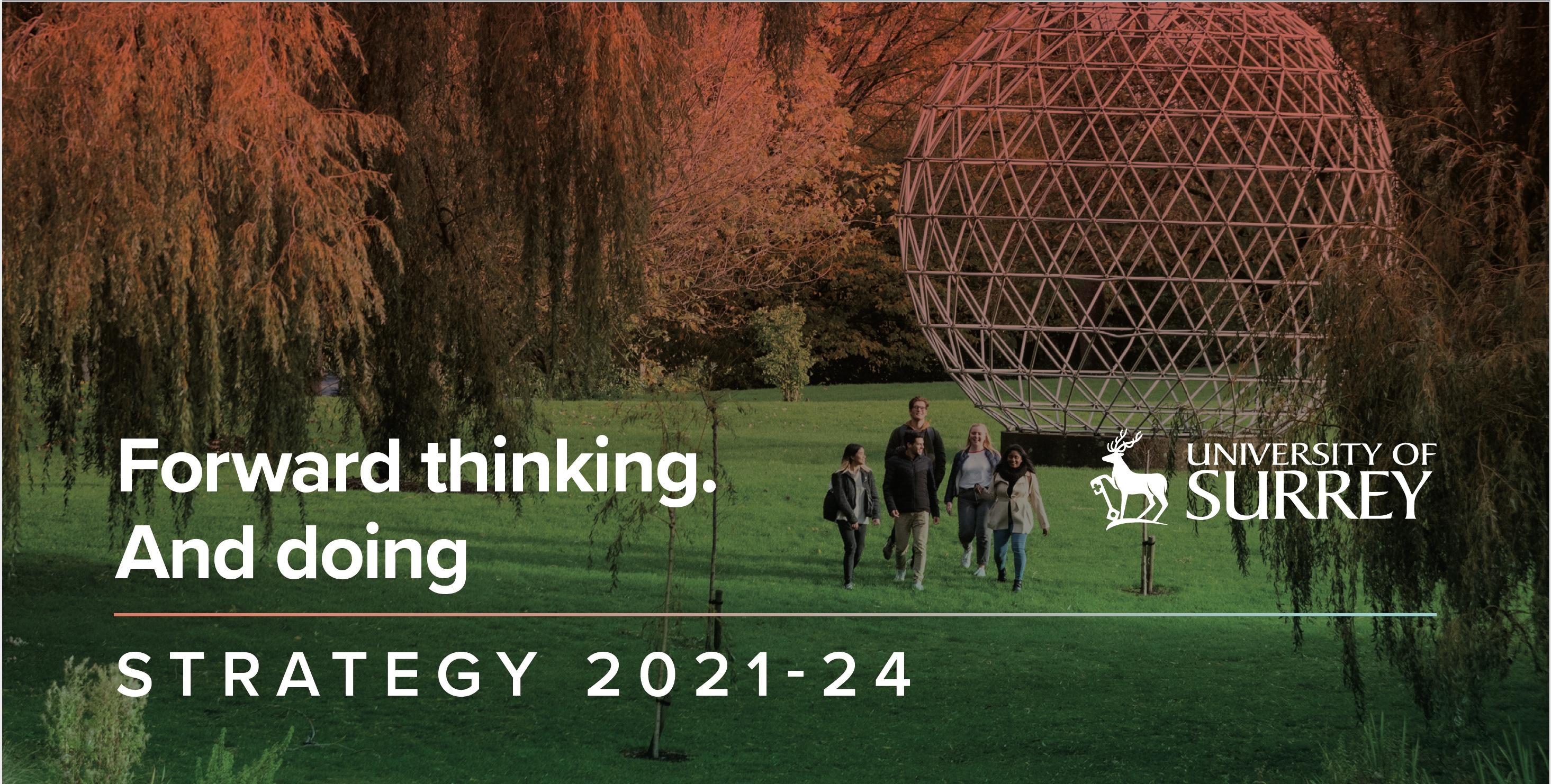 The 2021/22 University Strategy Refresh will be launched soon, now that summer is over and the new academic year soon gets underway. We started University-wide conversations late last year and continued them into 2021 – with town halls, email updates, video messages, and more – hopefully the Refresh has crossed your path!
Why should it matter to you? How will your working life be different post launch? You may be sceptical, recognising that for myriad reasons strategies for large organisations are often ineffective. One common reason is the failure to align the whole organisation – with the result that people do not pull together – or worse, they pull in opposition. Getting everyone to understand, buy into, and then seek to deliver on our strategy is the way to get the best out of us.
Our existing core strategy (the Corporate Strategy) was launched in 2017, and the accompanying full Research & Innovation Strategy in mid 2019. The world was indeed a very different place then, and we are still not sure where it is going now. Because of this uncertainty, we have chosen to focus our refresh on getting the fundamentals right over the next three years. By 2025, we hope to be stronger and ready to consider being more adventurous. In the meantime, we want to get the basics right. This is a refresh, after all, so we might reasonably expect an evolution, and indeed our new strategy represents this.
So let me talk to you about research and innovation in the Strategy Refresh – and how it might impact you.
Scaling our excellence
We have recognised for some years now that we can only get so far with the cohort of 600 or so independent researchers that we have now. Our size, and the excellence that we can display, limit our relative place in many league tables, limit our visibility and reputation, and limit the number and size of critical masses we can muster to tackle major challenge-led research. Research funders globally continue to shift the balance from individual blue-sky scholarship to multi-disciplinary teams tackling challenges set by governments. To compete effectively for this large-scale funding, which favours large organisations, we need to grow our research base. And when we measure ourselves against similar universities, our researcher base is smaller than theirs. We need to grow. Of course, growth and excellence are coupled – what we need to grow is our capacity to generate world-class outputs and win funding to do so. So, under "Focus Research Intensity" – we are choosing to support existing or generate new critical mass areas.
We are tackling this challenge in several ways. In the spirit of "Forward Thinking and Doing", we were one of only a handful of institutions that took up the loan under the "Sustaining University Research Expertise" Fund. We were able to secure £9.2m of the £21.7m awarded – and we are using these funds to bolster our research in key areas – with the centre piece being the creation of pan-University institutes, with the first being in People-Centred Artificial Intelligence, and the second being in the field of Sustainability.
At the same time, the University has overhauled how funding flows in the organisation with much stronger coupling of departments' funding to the needs of the teaching programme and to performance in research – certainly welcome recognition that teaching and research performance are integrally linked. Over time, this so-called "resource allocation model" will reward success – with the default position of returning resources to those who earned them.
What areas do we think we have a critical mass in?  An objective measure is the Shanghai Academic Ranking of World Universities, in which seven subjects rank in the top 100 globally: Hospitality and Tourism Management (3), Telecommunication Engineering (51-75), Veterinary Sciences (51-75), Nursing (51-75), Sociology (51-75), Electrical and Electronic Engineering (76-100), Transportation Science and Technology (76-100). To these areas, we add Artificial Intelligence, Digital One Health, Food and Nutrition, Satellite/Space Engineering, and Sustainability as areas to concentrate on.
What does it mean if your subject is not mentioned here? Excellence will continue to be valued wherever it is found at the University – and fundamental research and scholarship will be as well. Our reward systems (appraisal, promotions) and our values will continue to ensure excellence in scholarship can flourish, wherever it is found, and our priorities will evolve to capitalise on our opportunities as they emerge.
Supporting you better
You will have seen the journey we have been on over these last few years – evolving our research and innovation systems and policies to be based on a can-do attitude, sensible, measured risk-taking, simplicity, trust in you, and accountability for all. The Doctoral College has led the way against the backdrop of NSS challenges, seeing our Postgraduate Research Experience Survey (PRES) national ranking rise to 13th this year. You will see our refreshed approach reflected in Consultancy, Intellectual Property, Ethics, and Research Culture, Integrity and Governance. The way we have approached these new developments is to co-create them within the research and innovation community – researchers and professionals alike. We have much more to do.
Universities, funders and others across the country recognise that we make some tasks more complicated than they need to be, and applying for and managing research funding is one of those tasks. At the same time, our systems are out of date at Surrey and do not connect with one another, making polling them for information more time consuming, less efficient, and less reliable than they should be. Under our workstreams on "Research Support" and "Place to Start and Build a Career", we are undertaking a root and branch re-examination of how we do things. So, please work with us on helping to define where we want to go – and feedback to us on how it proceeds. Our ambition is to build around our researchers a framework that works from your perspective; simpler, more effective and with options.
On infrastructure, recognising we can't do everything, we have chosen to focus on two connected and key areas – our data infrastructure, and our compute infrastructure. Data underpins so much of what we do in research – whether it be supply or demand; whether it be onboarding it to Surrey from elsewhere, generating it at Surrey, shipping it out to collaborators elsewhere, or opening it up to the world. From data management plans at project outset, to day-to-day data collection and storage, to data archiving – we want to bring the whole lifecycle together – so it is transparent, effective, and leading edge. And where we can, we want to connect supply and demand locally – in a living lab approach that gives us a strategic edge. We want Surrey to be known as a place where it is easy to work with data and easy to learn of and do what is needed. At the same time, we also want our underpinning compute infrastructure, already extensive, to be still better – more joined up, more visible and more capable – especially given our People-Centred AI Institute starting up soon. To complete this will take a while and need careful examination of what we have. We will begin by generating a University-wide master plan for where we want to go, including positioning us for a major investment in AI compute hardware over the next few years.
Innovation as mainstream
The 2021 academic appraisal form says, under "Research, Innovation and Research Collaborations", "Demonstrate impact through your research (e.g., informing industry/policy makers, developing commercial applications, promoting research through public engagement or the media, developing impact case studies (where appropriate), and knowledge exchange activities)."
Generating impact on the real world from our scholarly activities goes to the heart of Surrey's mission to make a difference – to benefit society. And governments the world over want their universities to do more, to be more connected. What is stopping us? First, there is the motivation – do you want to engage? Have we set up a system that allows you the time to do so – and do we properly value these activities through appraisal, through promotion, and through our messaging and academic values? Second, do we have the knowledge and skills even if we are motivated? Do you know how to generate, recognise, and protect intellectual property, or how to engage policy makers? Third, if you do have the motivation, time, and skills, do we have in place accessible experts, support structures and the innovation ecosystem that enables you to be successful?
On this latter point, our innovation ecosystem is world class: our student entrepreneurship activities are extensive, our Intellectual Property Code is state of the art and top-ranked for students, our SETsquared incubator and scale-up business support has been ranked number one in the world for the last 5+ years, we have our own angel investor groups, the S100, and latterly the Centre for Innovation and Commercialisation, and our Surrey Research Park is the second largest in the UK and its businesses are becoming ever more closely engaged with the University. All that culminated in some great scores in the Knowledge Exchange Framework published earlier this year – top 10% nationally on working with business, and top 20% on IP and Commercialisation. But we could be doing so much more.
Innovation remains a niche. Too many of us are not sure how to engage or do not believe that it is important to do so. We do not yet have the capacity to upskill and support a majority of our researchers on their innovation journey. Our ecosystem is superb, but not on the scale necessary to support innovation as a mainstream academic activity. We are on a journey to change that.
What the Strategy Refresh will mean to researchers and your supporters…
The SURE loan investments and new institutes will be visible and impact widely – you will see new staff and PGRs joining your department.
Research support systems will get better – applying for and managing funding will get easier and you will have more options.
Managing your data challenge – whatever it might be – will get better.
Your community will start to talk more about innovation and all it encompasses, and you will feel empowered to make your research count for more – to make a bigger difference.
Supporters of your research, our research and innovation professionals, will be better able to see where the blockages are and remove them, get in earlier to advise you of opportunity, and better support your journey at all stage of the R&I lifecycle. And feel better equipped, more motivated, and empowered to help.
As ever, thanks for reading.