An action-oriented resource that supports global developments
'Think globally, act locally' applies to Open Research as much as to any big culture change. Surrey's refreshed Open Research website offers researchers the information, tools and knowledge to adopt open practices that echo global developments.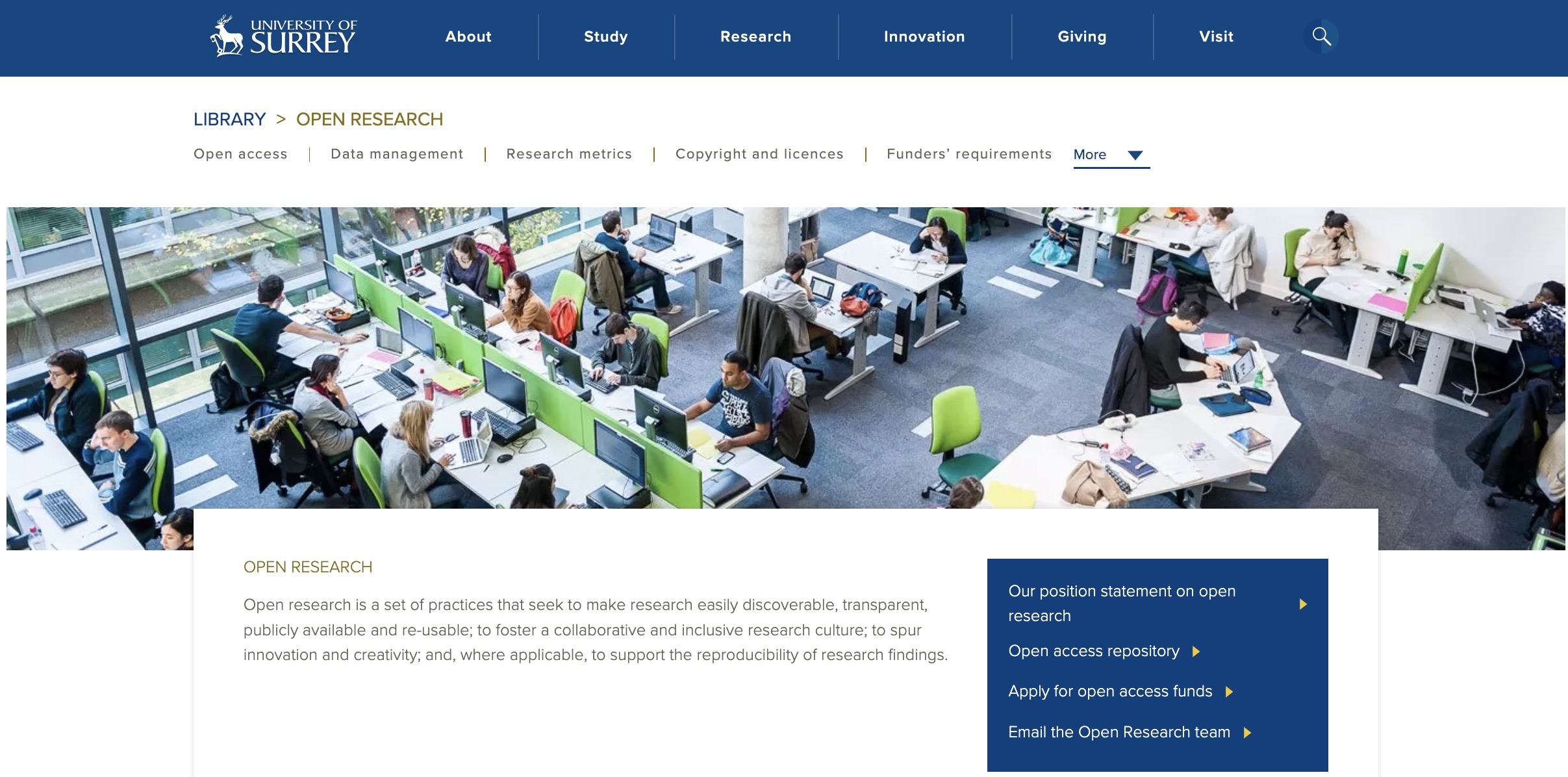 We are currently witnessing a tremendous shift towards Open Research, both at global and national levels. In the wake of a pandemic that showed us how many breakthroughs can be achieved in a very short time if research is shared in an open, transparent and timely manner, the UNESCO Recommendation on Open Science is a welcome and important development. Released in November 2021, the recommendation sets a framework and seven priority areas for its 193 member states to embrace and implement.
Closer to home, in December 2021, representatives from the UK Reproducibility Network (UKRN), of which Surrey is a founding member, gave their views at the House of Commons Science and Technology Committee to support the inquiry on reproducibility and research integrity. This focus on reproducibility within the broader context of research integrity is another heartening example of action taken at government level to change the research culture.
High level recommendations that translate to action have a very important role to play; but effective change happens when people take action in everyday practice, too. This is particularly true in Open Research. Besides essential actions required from all researchers by funders – including the upcoming UKRI Open Access policy – Open Research is not set in stone: it is a flexible set of practices that can vary across different disciplines and is applied hand-in-hand with ethical, legal, and intellectual property considerations.
This is where local action and local guidance come in. Back in October, I urged the researcher community to take action: to learn more about Open Research, do more, and engage more. At the same time, the University recognises that Open Research can seem daunting to navigate. Where do you start? What do early career researchers need to know? What new practices can more established researchers adopt?
The refreshed Open Research website, launched today, was developed to address these gaps. Essential guidance has been updated, including advice on registering your ORCID in the repository and complying with Open Access and Research Data Management policies. New pages have been added, providing the information you need on a range of open practices: from Open Research at Surrey page, featuring the Open Research strategy and 5-year action plan; to a very useful Getting Started guide to  copyright guidance; and from new, more detailed information on data management plans and open data to new information on preprints, open peer review, study preregistration/Registered Reports, finding and citing open resources, and open education. The website is a comprehensive and well-informed resource that encourages you to adopt practices relevant to you.
There are a few aspects I would like to highlight further.
Although tailored to policy at Surrey, where appropriate, the webpages were created with the wider research community in mind, to benefit anyone engaged in Open Research. In the spirit of openness, content on the website – the guidance on study preregistration and Registered Reports, written by Dr Emma Henderson, has been shared as a preprint and has already received very positive feedback from the research community.
Embodying the spirit of openness and collaboration, the website is the result of a very successful collaboration between the Library and researchers. Various teams and individuals within the Library and the Faculties contributed their expert knowledge to make this resource authoritative and comprehensive. This demonstrates that Open Research is best practised when individuals and teams work together.
The website is a continuously evolving resource. In the near future, new information on the responsible use of research metrics, on narrative CVs and on other topics will be added.
Finally, the website was developed to complement the Open Research module. Complete the module to learn about Open Research through quizzes, videos and other interactive materials, and 'qualify' as an Open Researcher by gaining the Open Research badge (micro-credential). Visit the website as a single point of information on the 'why' and 'how' of open practice. And, most importantly, use these resources to make Open Research part of your everyday research practice.