After spending a day in London my mother and I headed to Cambridge. We took the underground to the King's Cross Station. My mother wanted to see station 9 ¾ from the Harry Potter movie so we went looking for it. There was a huge line to enter a Harry Potter store and to take a picture with the sign. While I wasn't super excited about going and seeing, it was less exciting than I expected it to be, I wonder if that's because I'm not a huge Harry Potter fan, though another part of me thinks I would not have liked it even if I was. It was very people filled, the store was impossible to walk in and everything there is sold online and the wall was no different than any other brick wall (except for the tiny 9 ¾ sign which could easily be replicated anywhere else). The train ride to Cambridge was about an hour, unexpectedly my eyes popped more than they tend to on airplanes and I didn't have any gum on me.
Once we got to the Cambridge train station we took a taxi to our hotel. As soon as we got rid of the luggage we started heading towards the places I most wanted to see in England since I was a child: The University of Cambridge's main Library and Trinity College. It seems like we picked a bad time to try to see the university, since we weren't allowed to access the library even though they generally allow access and have exhibits, we weren't allowed to access Trinity College or its library which is the main part I wanted to see, though I did get some pictures of the outside and some lovely tulips.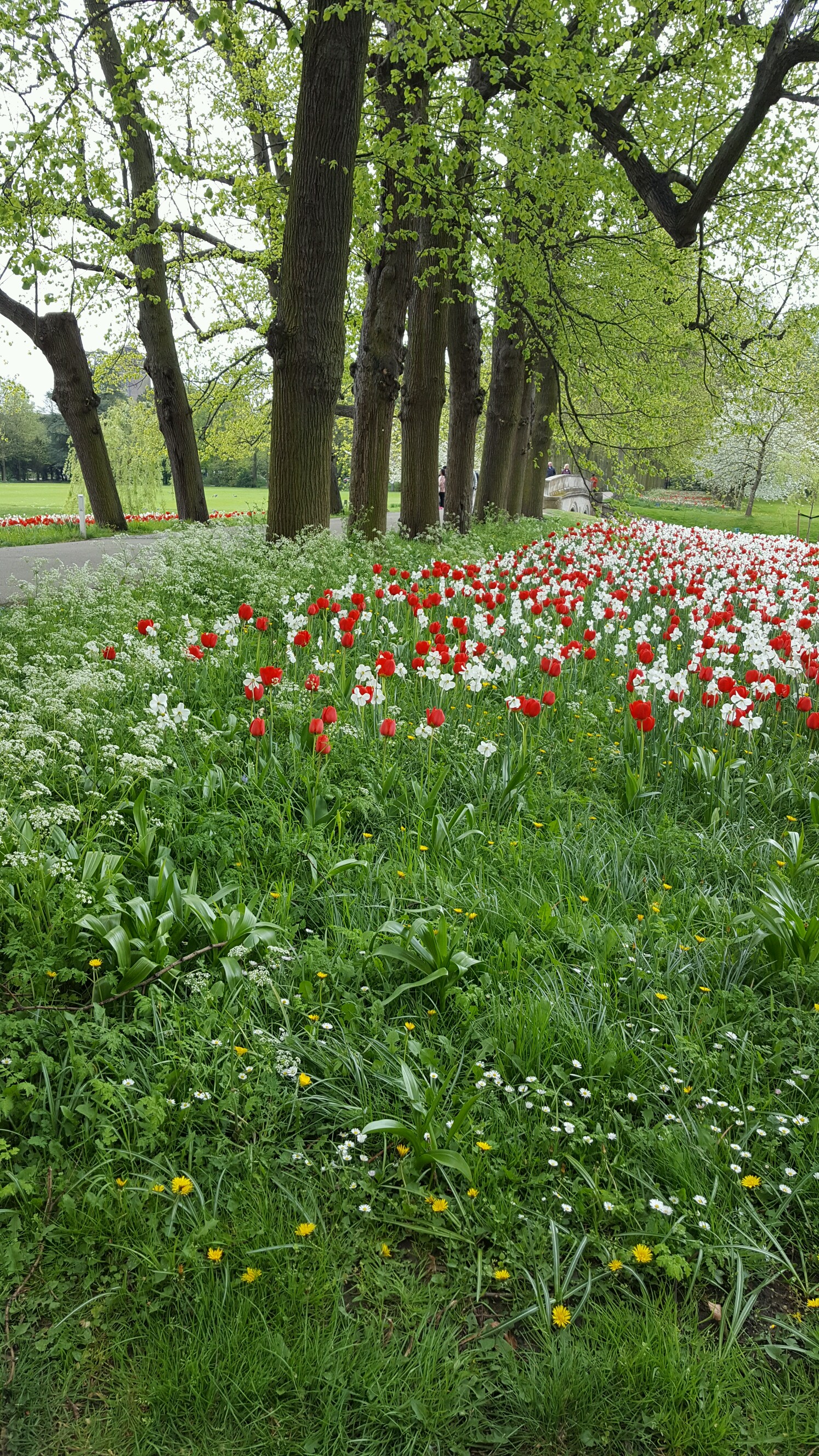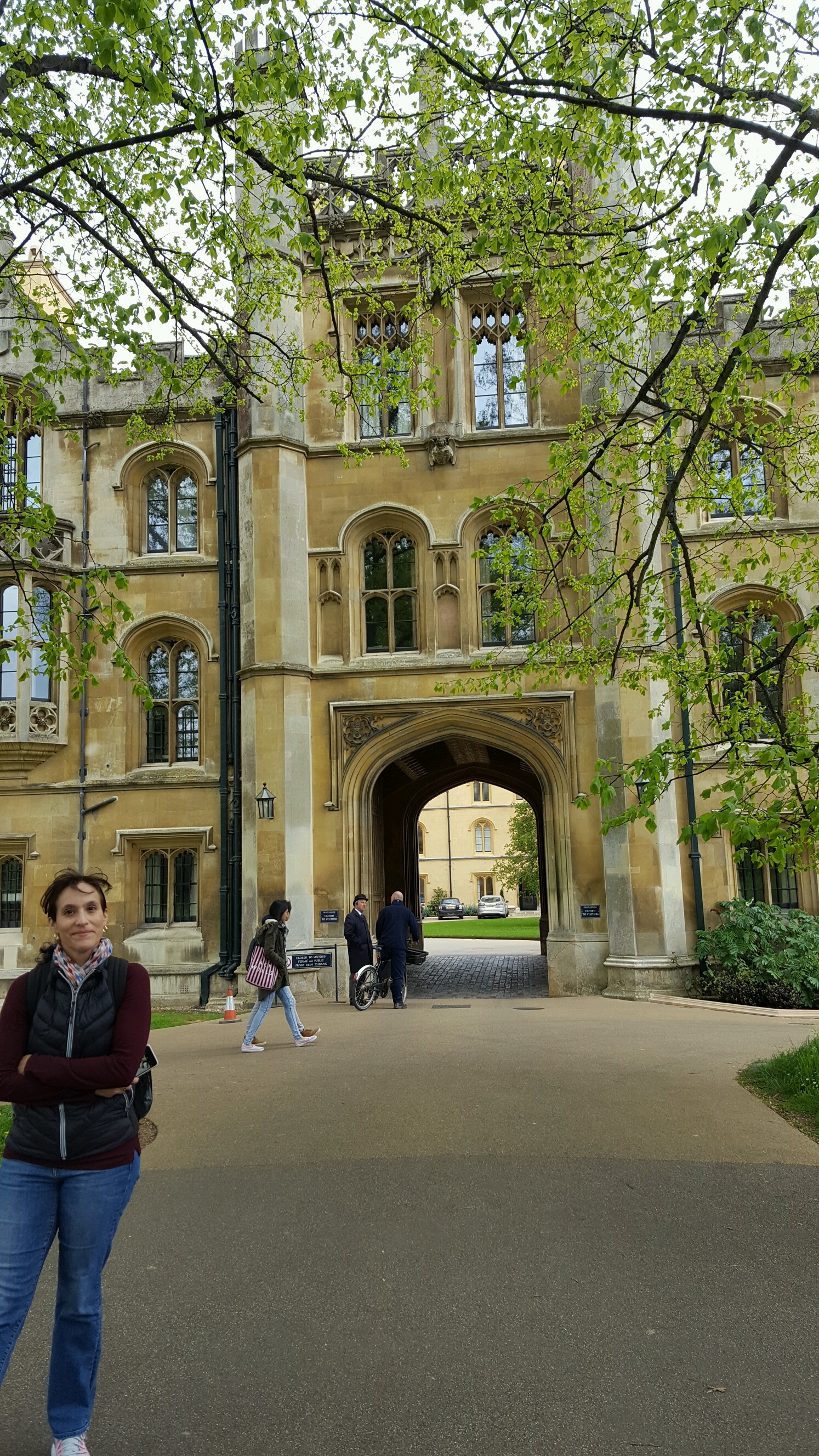 What followed is one of the choices I regret the most. We decided to go look around and leave the science history museum for the day after. We went to various bookstores, Gap, boots, a mall and we had dinner at Patisserie Valerie. My mother took some scones, jam and clotted cream to go and she continued to eat them throughout our time at Cambridge and liked them so much she decided to take both scones and clotted cream to Guatemala.
Our second day at Cambridge we had breakfast at the hotel (went on one of the punting tours. We learned a lot about some of Cambridge's colleges (7 of them were in the tour) including that Queen's college was founded by 3 different queens; trinity college was founded by King Henry VIII, is the 4th biggest landowner in the UK and hence the college with the most money and annual income; that one of the most impressive looking buildings in St John's college was built as student accommodation to try to attract students away from Trinity college and other weird things like how some students suspended a headmaster's car from one of the bridges as a prank.  We then made our way to the science history museum but it was closed due to it being good Friday and not set to open again until Tuesday. As a result we ended up just wandering around, heading back to the hotel to change and then we had dinner at The Mill since my mother wanted to go to a pub while she was in England. We didn't particularly enjoy the food (on the other hand, we loved Patisserie Valerie). To wrap up the day we went to a special choir and orchestra performance at King's College Chapel. The chapel was very impressive, especially the windows and the choir was lovely, though good Friday doesn't feature "happy" music for obvious reasons.
On the next post I'll talk about the last 2 days we spent in London together and then I'll (hopefully) go back to normal blogging. Today marks the last day of the Easter break (it is a bank holiday Monday) so while I'm looking forward to being back to my normal routine and maths I might not be as consistent with blogging, depending on how busy things get.