This is the last post about my mother's visit. The last two days of my mother's visit we hit some more tourist landmarks. At this point some of the details are blurry so it might not be as descriptive as the previous posts.
After returning from Cambridge (through king's cross station again) we went to soho, visited whole foods, Japan Centre and China Town. It was by far the busiest area we visited and we struggled to walk through the crowd but I'm really glad we visited China Town since not only was it way nicer than I expected but I also got to buy a lot of pastries and candies that I missed from my time in Berkeley. My mother wasn't too fond of the idea of visiting China Town due to her experiences with it in NYC but she did think it was significantly nicer than she expected. After having a lot of trouble with the underground (it seems like peak hours plus technical issues combined to cause over 30 min of delays in what should have been less than 15 min) we got back to the hotel to drop off our stuff and then we headed to the royal opera house.
Once at the royal opera house we watched Jewels, which is an original production from the royal ballet. It was very nice and even though I personally would have preferred to watch a more "classical" ballet I'm glad I went and there were lots of very impressive dancers and complicated pieces of choreography which I'd never seen anyone do before (and it's the first time that I see a piece where a male dancer is the highlight/most impressive dancer which was also nice). We headed back to the hotel immediately after the ballet ended and grabbed some sandwiches from a bakery in the area (which was already closed but they were really kind and opened the bakery up again just for us even though we didn't even ask them to).
The next day was the most tourist-y heavy day. Since our hotel was within walking distance from Hyde park that was our first stop. My mother wanted to see a peter pan statue there and we spent over an hour walking around looking for it. Hyde park is definitely the biggest park I've ever seen in my life.
After hyde park we took the underground to the Westminster station. We walked around the houses of parliament, Westminster Abbey, the Big Ben, the London Eye and we then continued walking towards the royal opera house searching for something to eat and bakeries. We ended up having ice cream from Amorino since we'd seen them the day before and were impressed by them. They let you pick as many flavours as you want and shape the ice cream as a flower and put a macaroon in the middle. My favourite flavours were chocolate sorbet and pistachio sorbet. To wrap up the day we made a quick trip to Sainsbury's to buy marmite, scones, clotted cream, lady grey and walkers for my mother to take back to Guatemala and headed back to the hotel.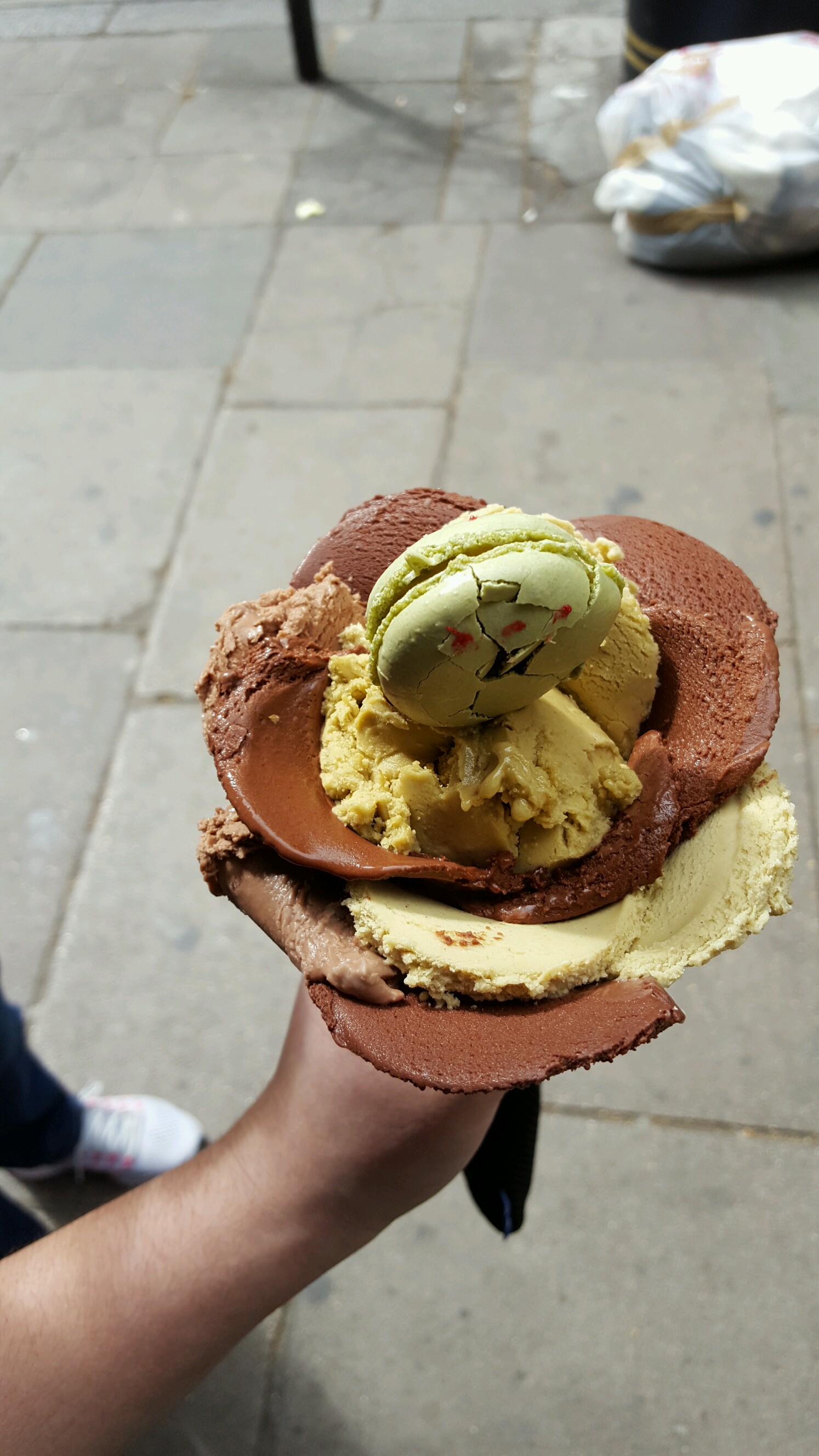 Upon getting to the hotel we realized that the Heathrow express was way more expensive than we expected (somewhere around £55 pounds for both of us), even more expensive than taking an Uber straight to the airport (though neither of us was eager to have a second driving around London experience). We ended up taking the underground to the airport, even though it meant we had to leave the hotel at 6:00am to make it there around 7am. We got there slightly earlier than we expected, but better earlier than late I guess.
This wraps up my posts about my mother's visit during Easter break. Next week I might talk about group projects in modules, we'll see. Until then!