Hey!
I'm back! Portugal was amazing 🙂 We went to three city/towns in five days. We visited Lisbon, Cascais, and Sintra. We didn't end up going to Lagos because the tour we wanted to go on had its time moved around and we wouldn't have been able to get back to Lisbon in time. There was no disappointment though, we went to Cascais and it ended up being my favorite place!
We took Ryanair from London Stansted Airport. It is about a 80 mile drive from Guildford. I didn't quite realize that it was that far and unfortunately along the M25. The M25 is the main road that runs around the outside of London which is notorious for being busy all the time. As this was the case, we left for the airport like 5 hours before our flight left! In the future, I will probably use Heathrow or Gatwick only if I have a choice. They are all within about an hour of Guildford.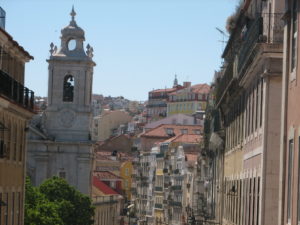 It was my first time flying with Ryanair, so I didn't know what to expect. Positives: They let you check in 48 hours before your flight, remind you to check in, it is very cheap (40 pounds each way to Lisbon), and they have an easy to use app that will have your boarding card on it which means if you aren't checking bags you can go straight to security. Negatives: You don't get much more than a seat on a plane. Everything else costs extra. We opted for pre-booking our seats, but not extra bags, travel insurance, or priority boarding. They charge you for food on the plane if you want it and it is marked up a decent amount from the grocery store price. A mini box of Pringles was 2.80 pounds. They do take a mix of currencies though, so we were able to spend the rest of our Euros on the way home.
Once we landed, we got a taxi to the hostel. We stayed in an area of Lisbon called Moscavida. I suggest using Microsoft's OneNote to hold all your travel reservations. You can place documents on your computer onto a OneNote file and it will update and be available on all devices connected to your Microsoft account. This way I was able to just show the taxi driver the address, so there was no confusion. I also used it to check into the hostel.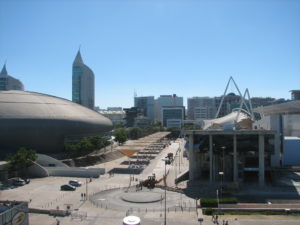 The rest of the first day we walked around Moscavida. We walked along the coast and took an electric cable car. It was really fun. This is when we first started to realize how cheap Portugal was. It was only 5.80 euros for two people round trip. We then went to the "Best Aquarium in the World": The Ocenario. It was really cool. I am usually not a super big fan of zoos or aquariums because I get upset for the animals, but this one had big, open enclosures and at each tank was information about how to source fish responsibly and limit the destruction of the ocean. After, we went to go find dinner. I have never eaten red meat and have been really limiting my meat and fish intake this past year. I was warned that Portugal eats a lot of meat and it is true. We had a hard time finding something to eat so we decided to order dominos! It was a really relaxing night in.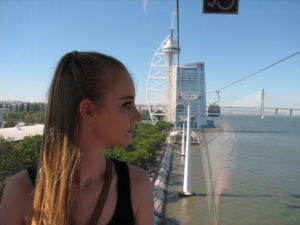 The next day we went into the center of Lisbon. There was a main train/bus/metro station about a 5-10 minute walk away from the hostel called Oriente. At the bottom of the station, was the metro. You can buy a Lisbon Card for 28 euros for one day or 32 for 48 hours. It offers reduced or free admission to some sights and access to all busses, trams, and metro for no extra cost. We ended up deciding against it because we added up our costs and it was cheaper to just pay for things regularly as many places have 50% student discount. A full day all access travel card, that we used instead, was 6.50 euros each. The public transportation was excellent! It was easy to navigate and everything ran on time.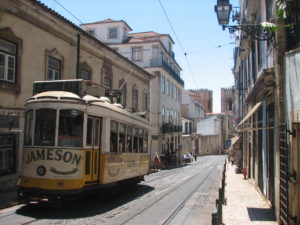 We went to St. George's Castle which offered beautiful sights of the city and a really interesting history about Lisbon and its various cultural pasts. I highly suggest it. We even saw a kitten and about 6 peacocks in the trees! After we walked down the streets to the coast. We stopped into a great little café and I had the most amazing soup I've ever eaten. I also had the strongest margarita I've ever had! It was really nice to eat at a real, small Portuguese café. We got to the main square and started to wander the main shopping districts. They have American stores that England doesn't have! It was so funny.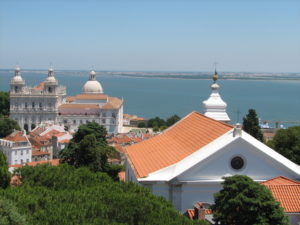 The other full day that we were in Lisbon, we went to the Tower of Belem and the Jerónimos Monastery. I don't think I have been somewhere so old. The monastery has been around since the 15th century. It was absolutely stunning! It was piercing white with ornate detailing everywhere you looked. I loved it there and enjoyed just sitting on a bench and embrace the peace. There is a room inside the monastery that tells the history of Portugal, the monastery, and the world all alongside each other. It was fascinating. I ended up reading all these monumental moments in the worlds history and when I was done, I had to remind myself that the monastery had been there the whole time.
The Tower of Belem was great too. You can walk along the patio, see where the prisoners were held, go on top of the tower, and go inside the king's chambers. It was a beautiful place to observe Lisbon. For dinner we went to the big red bridge that crossed the water Lisbon looks over. It is essentially the Golden Gate Bridge with only minor differences. We sat on a patio that was over the water. We had some great Portuguese wine and watched the fish swim next to us as the sun set.
It was an amazing few days in Lisbon. My feet ached after every night which just goes to show how much exploring we did. In my next blog, I'll tell you all about Sintra and Cascais!
Holly