Hey!
It is my first week on placement at Microsoft! It has been amazing so far and I am learning lots. I will tell you more about that later though. This blog I want to tell you about Sintra. Both Sintra and Cascais (which I'll tell you about in the next blog) are only about 45 minutes away on the train from Lisbon. The train runs really frequently and is very cheap because it is also used for commuters.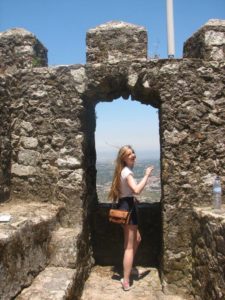 We went to Sintra first and immediately fell in love. It is a small town based on a hill side, so there are some amazing views. Once you get off the train, there are various tour companies that will ask if you want to go on their tours, but honestly you don't need them. There is a public bus service that runs to every site that you could want for less than 5 euros.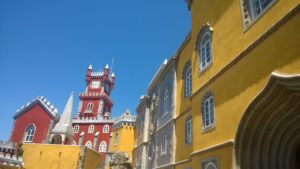 We went to the Palace of Pena first. It has bright, vibrant painted wall and looks a bit like it should be in a Disney movie. The entry ticket here was the most expensive, but you can choose options to get it cheaper. For instance, you can go just to the grounds which is 7 euros, or the grounds and the terrace of the palace for 10, or the grounds, terrace, and inside the palace for 15 euros (I cannot quite remember that last one). We decided to go on the grounds and terrace. It was stunning. It is not massive, but has some really interesting detailing and amazing views over the countryside, Sintra, and the Castle of the Moors.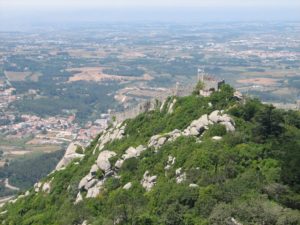 We then went to Castle of the Moors. It is a complex that has a really long history and was used to defend the area. It had been conquered a couple times, but that adds to is dynamic history. It looks like a mini Great Wall of China. We walked along the walls and read some signs about its history. The walk up to the entrance goes through the trees and points out various graves or silos that have been used in different time periods. It was a lovely walk. The smell of the trees and the peace was really welcoming. It reminded me of the walks that I took when I was at home. To top off the visit I saw a cat! It was so sweet. It was very focused on getting to the rather green fountain/pond. He really enjoyed it though! He then went to a little side pavement where there had been cat food left out for him. Apparently he is wild, but is taken care of by the people who work at the Castle of the Moors.
Finally, we went to the Quinta de Regaleria. It is a private home, or at least was, that was owned by a very wealthy family. The house has beautiful, ornate detailing, but the most interesting thing is the grounds. They have everything you could possibly want: multiple grottos, caves, towers, wells, fountains…It is definitely worth a visit.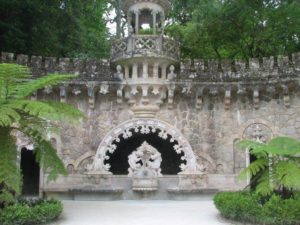 That is all for now! Cascais next blog.
Holly