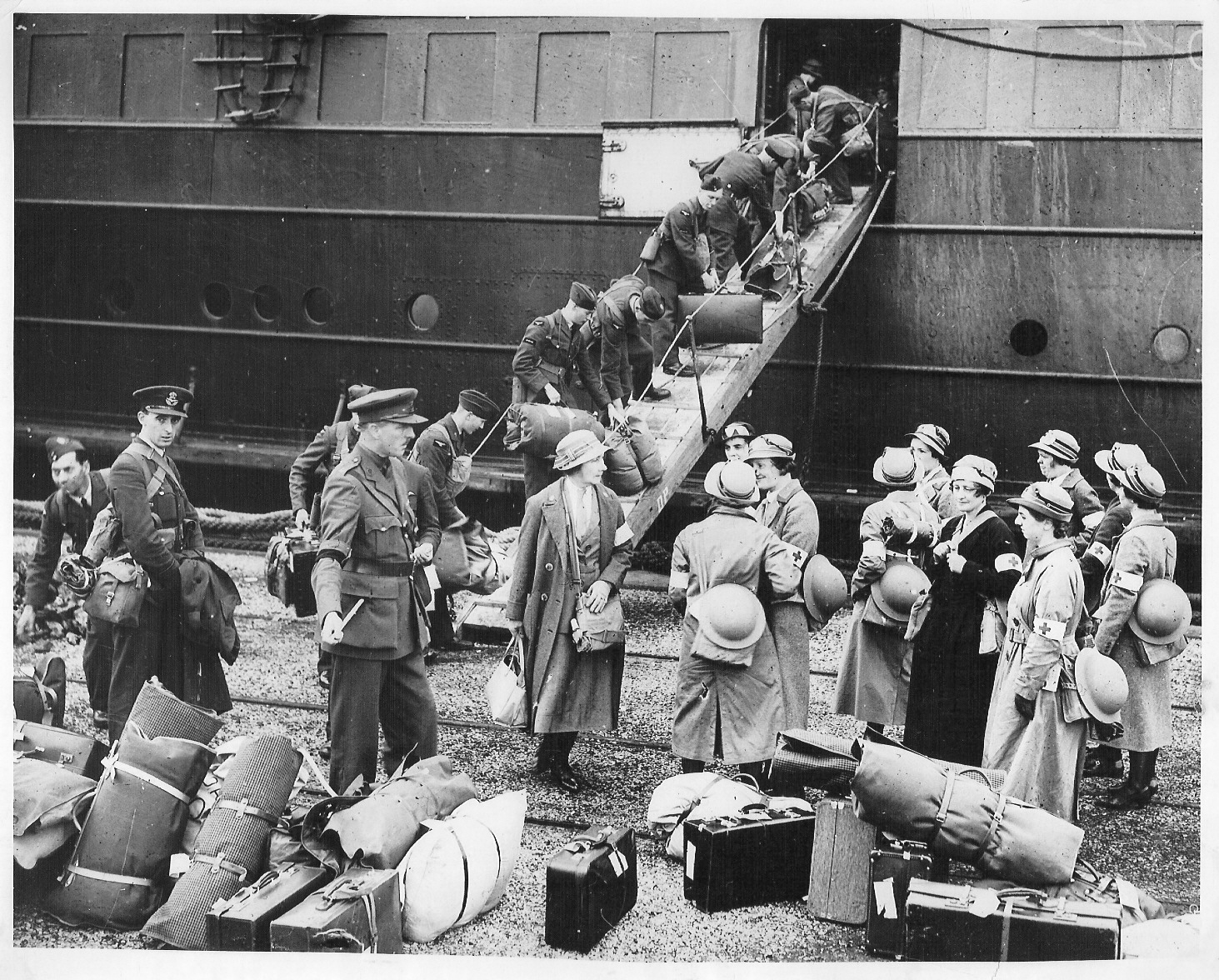 RAF personnel unloading baggage for a group of Queen Alexandra's Imperial Military Nursing Service at Cherbourg, having disembarked from the liner BIARRITZ, 16 September 1939. Eva McIntosh is in the centre of the photo, at the foot of the gangplank. By the War Office official photographer [Public domain], via Wikimedia Commons.
21 July 2017 is the official release date in the UK and USA of the movie Dunkirk (directed: Christopher Nolan). A preview in The Telegraph explains that dialogue is minimal and the action is largely relayed 'from three perspectives: from land, sea and air, to create suspense through unfolding events, rather than exposition'.
Some of the events surrounding the withdrawal of Allies from France and the Low Countries in June 1940 are familiar to us. Less well-known, perhaps, is that amongst the large numbers of troops rescued (significantly over 300,000) were civilians, and also members of the QAIMNS (Queen Alexandra's Imperial Military Nursing Service) and nurses from the VAD (Voluntary Aid Detachment). One of the nurses evacuated immediately before the siege of Calais was my 2 x great aunt, Eva McIntosh (1888-1977), a sister in the QAIMNS, who was part of the British Expeditionary Force when it set off to France in September 1939.
In the aftermath of the evacuation, Katharine Jones, Matron-in-Chief of the QAIMNS, invited the nurses to write about their experiences. The letters are now in the National Archives and they offer another perspective on the evacuation from France: that of women. Eva was one of those who responded.
At the time of the withdrawal of the allies, Eva was acting matron of No. 2 Casualty Clearing Station. Her carefully typed account, which, like the others, reads as a series of diary entries, provides a simple chronology. Short extracts have been published in The Guardian. It begins with an entry for 10 May 1940 in which Eva describes the first Air Raids and sightings of German aircraft, and the sounds of approaching gunfire. She records that on the same day she also witnessed large numbers of Belgian and French evacuees begin to pass through the area.
Nine days later, Eva and her fellow nurses boarded a train towards the coast, but after a further two days they had made little progress, and had run out of drinking water. Seeing the chaotic crowds of civilians and vehicles carrying badly injured soldiers on the road, which ran parallel to the train line, they made the decision to proceed on foot, although they were fortunate to be soon picked up by an ambulance. After sheltering, first in a wood (where they were given some tea), and then in an empty chateau, they were finally able to make quicker progress.
The entry for 22 May 1940 reads:
By 8 a.m. an ambulance was ready to take the nine sisters with Padre Hobson Matthews [the army chaplain] in charge. We were to proceed to Dunkirk. At this point we had to abandon our heavy baggage.
We travelled rapidly and at Bergues, where Headquarters were stationed, our orders were changed. We were told to proceed to Calais. We passed through Dunkirk about 12 noon, it had just been bombed and at one part a huge fire was blazing. Between Dunkirk and Calais we were delayed 3 hours, as we were refused permission to cross a fortified bridge. Our route was changed, we again encountered many hundreds of evacuees, so progress was slow.
We reached Calais at 4 p.m., the Air Raid alarm sounded as soon as we got to the town and we had all to take to the Shelters. The place was deserted except for evacuees, the shops were shut, buildings were burning and smoking and much damage had been done.
We said goodbye to Padre Hobson Matthews who handed us over to the Area Commandant. We were given rooms in their Headquarters for the night. There was an Air Raid at 12 m.n. [midnight] and again we had to get in the cellar.
The next morning the nurses, along with 2000 troops and 120 civilian evacuees, boarded a cargo ship and sailed to Southampton, while dog fights continued in the sky above them.
The Reverend Geoffrey Gervase Hobson Matthews (Order of St Benedict, Downside Abbey) remained in France, tending to the wounded. He died, aged 36, on 31 May 1940 and is buried in Dunkirk Town Cemetery.
Eva's narrative is closely echoed in another written account by a fellow nursing sister from No. 2 Casualty Clearing Station, Helen Joyce Cholmeley. It seems likely that Helen had read Eva's version before producing her own. But a handwritten letter from a third sister from the same Casualty Clearing Station reveals rather more of the trauma of the events.
Miss D. Sinden, writing from the Military Hospital in Edinburgh Castle in January 1941, acknowledges that she knows that Eva has already provided a detailed narrative and states that 'The accuracy of my memory is somewhat blurred by the passing of time. To me it was a hideous nightmare'.
Her summaries of the events in her letter and attached record are more evocative than those of her two colleagues—she describes the fear and panic experienced by some of the nurses, and their physical privations during their haltingly slow journey. She also captures something of the horror of the scenes they witnessed, especially at Calais, 'a pathetic sight', where many of the soldiers on the quay side were isolated and confused: 'They just seemed lost'. Such emotive details are absent from Eva's narrative and from Helen's.
While the history of the women who were evacuated from France in 1940 may not be at the forefront of the public imagination, the writings and records of Second World War nurses have been mined extensively by successive generations of writers, historians and genealogists.
One of the most famous fictionalizations of wartime nursing experiences is Ian McEwan's Atonement (2001), which was adapted into a film, directed by Joe Knight, in 2007. Key sequences centre on the military retreat to Dunkirk and on the training and daily life of a hospital nurse in 1940's London. In a review published in 2003 in the website The Truth About Nursing, McEwan's novel was praised for its unique focus: 'Here it is the nurses who take center [sic] stage in caring for the horrifically wounded soldiers who inundate the hospital, and the physicians who are so peripheral to the story that we are not even told their names.' Yet, it is perhaps no surprise that McEwan was able to capture a nurse's perspective so accurately.
McEwan's novel was marred by controversy in 2006 when the journalist Julia Langdon, citing the academic work of Natasha Alden (then still a doctoral student), 'exposed' the extent to which the author's portrayal of his main character, the nurse/writer Briony Tallis, appeared to be indebted to Lucilla Andrews's self-portrayal in her memoir, No Time for Romance (1977). While McEwan denied plagiarism (although neither Langdon nor Alden had accused him of this), and was defended by a phalanx of famous authors, there is little doubt that he drew heavily on Andrews's book.
Furthermore, while McEwan acknowledges having read No Time for Romance (alongside unspecified 'unpublished letters, journals and reminiscences of soldiers and nurses serving in 1940') in the author's note to Atonement, this is fairly well hidden at the end of the novel.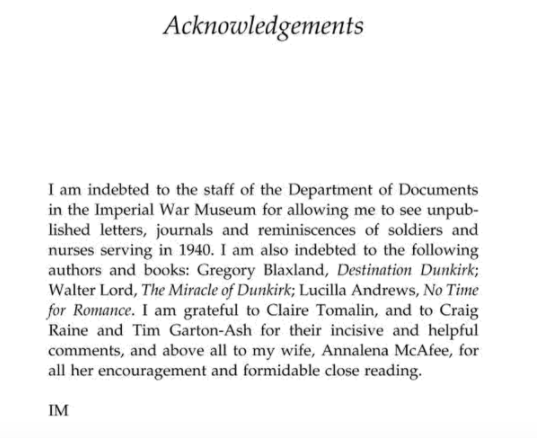 Screenshot of the Author's Note at the end of Ian McEwan's Atonement.
As Alden also points out, one of these unspecified sources to which McEwan's novel is also particularly indebted is an unpublished memoir written for the Imperial War Museums by another former nurse called Ann Radloff.
How do my great aunt's record of her experience of the withdrawal from France and the debates surrounding Ian McEwan's Booker-nominated novel speak to my own research on early medieval women's literary culture?
What strikes me first is the fact that even in the twentieth and twenty-first centuries, the process of forgetting women's relatively recent histories continues. Women's roles in world events are often ignored, and their experiences, and their writings, are not simply overlooked but sometimes appropriated, with little or no acknowledgment.
When I discuss these processes in relation to early medieval women, I talk about their words and works being 'overwritten' by male monastic authors, from Bede in the seventh and eighth centuries to the hagiographer Goscelin of St Bertin in the eleventh. While the concept of plagiarism was not around at the time ('originality' was not prized in the way it is today), it is still the case that male medieval writers like Bede and Goscelin sometimes relied heavily on women as sources, and like McEwan did not always fully acknowledge the extent of their debts. Paradoxically, they did this not deliberately to obscure women's histories but rather to preserve it and to make sure that it, or their own version of it, was passed on to future generations. Arguably McEwan's fictional narrative has had the same impact—its huge success as a book and as a film shifted public attention to the contribution of women nurses to the war effort in a way that Andrews' autobiography did not.
Yet shouldn't we be listening to women's own stories?
Ian McEwan's Atonement provides us with a striking contemporary example of the overwriting of women's texts. It is sobering to reflect that this process is still going on today. Women are still being denied the opportunity to provide their own accounts, to tell their own tales. Their contributions are dismissed and disregarded. Now as much as ever, sieving the surviving evidence to reconstruct (if sometimes speculatively) what has been lost and returning to the archives to locate what has been overlooked must remain dual imperatives of feminist literary criticism and history. But perhaps it is also time to begin reading more women's writing.
Note: The military photographs, medals, and uniforms of Lieutenant Colonel Eva McIntosh, ARRC, are held in the Museum of Military Medicine, which will soon relocate to Cardiff. Eva's own copy of her account of the evacuation from France is part of this collection.
In writing this blog post, I am indebted to the many archivists who have helped me research Eva's life, as well as to a number of academic and popular historians and critics, and to more distant family members. Special mention, however, should be made of Sue Light, who has answered my many queries and generously shared some of her research with me, and to Natasha Alden, who introduced me to the controversy surrounding Atonement, and who kindly read and commented on this post.