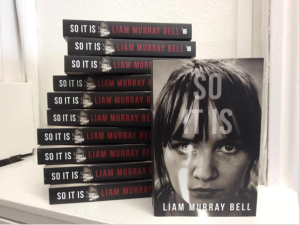 Over the past three years I have been writing and researching for a PhD in Creative Writing in the School of English and Languages at the University of Surrey. The aim of the project, from the outset, was to produce a novel for publication, and in June 2012 that novel, So It Is, will hit the bookshelves. Concerned with the role of women in the violence in Northern Ireland and representing the social and political reality of the Troubles, the book follows a dual-narrative between the coming-of-age story of Aoife Brennan and the thriller-style story of Cassie, a Republican paramilitary (full synopsis at www.myriadeditions.com/SOI).
Working within the University as a Graduate Teaching Assistant and lecturing on the Creative Writing modules at undergraduate level has given me the opportunity to engage, day-to-day, with the process of writing, but, more importantly, it has afforded me the time and space to write the novel and then edit it in preparation for publication. Every day – before, between and after teaching – I sat myself down with paper and pen and wrote or researched, following the mantra that it's better to put down a little bit every day, something you can edit the next, rather than to wait for a 'muse' or 'inspiration'.
In April, I got a finished copy of my novel for the first time and flicked through it to read paragraph after paragraph that I know intimately but which seem completely different – more definite, more concrete – when put down on the printed page. It's a wonderful sensation to hold the novel for the first time, and over the coming weeks and months I'll continue to tick off the new experiences: first pre-order, first comments from family, first review, first interview, first launch event…
The last of these, the launch, will take place in the Surrey campus bookshop on Thursday 24th May 2012, and I'm hugely looking forward to sharing the novel with the students and staff of the School of English and Languages, having the opportunity to read from So It Is, and raising a glass to its arrival (details of the event at http://tinyurl.com/cvwvlxn). Then it's on with the list of 'firsts' – first foreign rights, maybe even the first film option – and, more importantly, the first time I'll sit down, with my paper and pen, to research and write my second novel.
So It Is will be published by Myriad Editions on 14th June 2012. You can pre-order online from Amazon, or why not come along to the event on the 24th May 2012 in Appleseed Bookshop from 6pm. Advance copies available, wine and nibbles served.