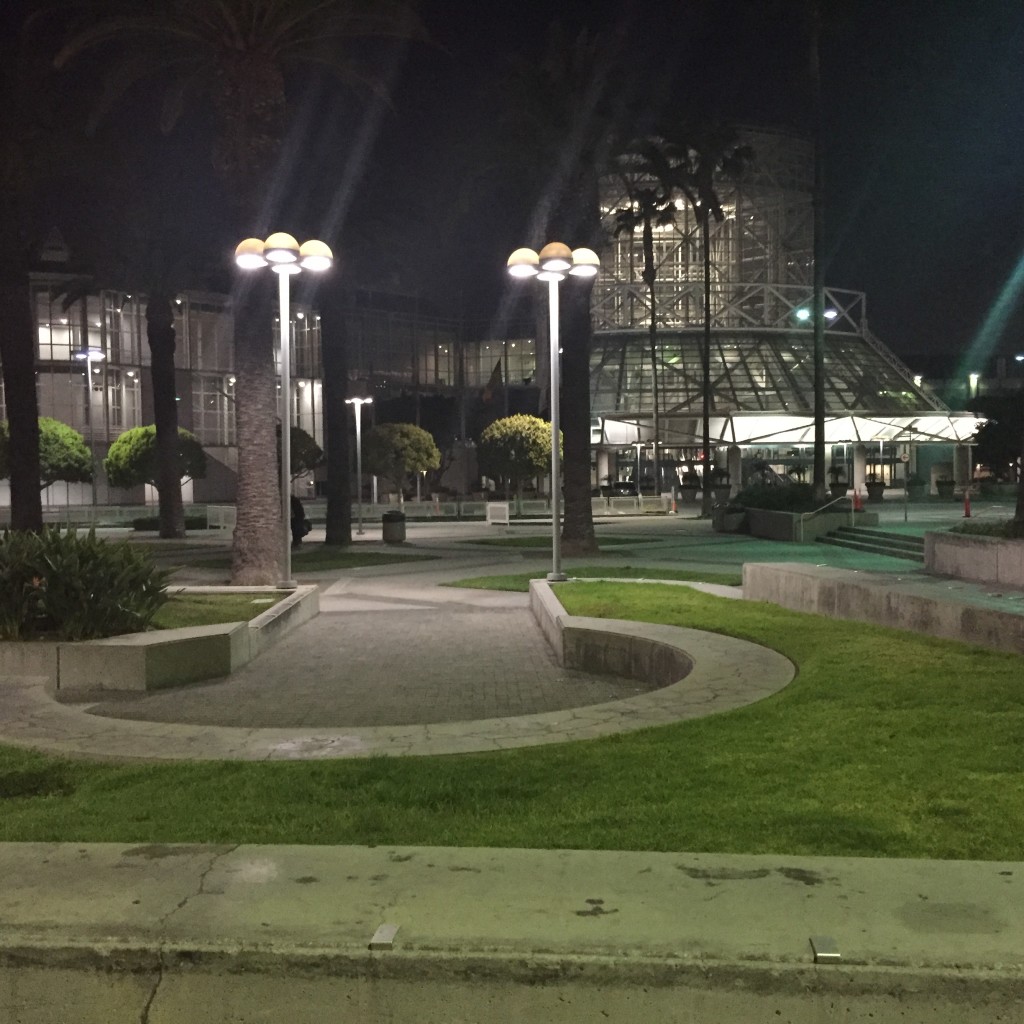 Dr Angela Szczepaniak (Lecturer in Creative Writing) shares her account of a successful and eventful week at the Association of Writers & Writing Programs Conference in Los Angeles. 
We are back in the sunny UK after a fantastic AWP Los Angeles (who needs all that Hollywood glam and Vitamin D anyway?)! All the lost hotel reservations and public transit mishaps were definitely worth the trouble for the amazing panels, writers, and publishers we got to see. There will likely not be a buddycop series featuring Holly and I (though there certainly should be!) because we were too busy letting ourselves get swallowed up in AWPness all week.
Conference highlights—where to begin?! The thought-provoking and inspiring keynote address from Claudia Rankine and the closing reading and conversation featuring Joyce Carol Oates, Peter Ho Davies, and Roxana Robinson, and so much other literary fun packed in between, have left us about to collapse into exhilarated but exhausted heaps.
The bookfair hall was jampacked and dizzying in all the best ways, as we chatted up a storm about Surrey's Creative Writing programmes (we were cleaned right out of all our Surrey brochures and swag—Surrey pens in particular took LA by storm, so watch out for celebrities signing autographs with Surrey ink). And our luggage is now ten times heavier than it was when we left, stuffed with all the latest books from Veliz Books, Coach House Books, ECW Press, BookThug, House of Anansi Press, Opo Books & Objects, Siglio Press, and so many others. Can't wait to sleep off the jetlag and recover from transatlantic travel with Malcolm Sutton's new novel, Job Shadowing, and the stunning book object anthology, baum bim baum bim baum bim bim which features "fifteen non-precious objects from some of the most talented visual-verbal artists working today," including Rachel Blau Duplessis, Kelly Connor, Maria Damon, Helen White, and many others.
Bookfair highlights: author signings with the likes of Jeff Sirkin (Travellers Aid Society, Veliz Books), and of course our own author signings at the Surrey table, with Jeanette Lynes and Catherine Graham—very special thanks to Jeanette and Catherine, who made our table hop at their author signings on April 1st. So exciting to have these wonderful writers with us, and to peruse their fantastic new books (Catherine's Her Red Hair Rises With the Wings of Insects and Jeanette's Bedlam Cowslip: The John Clare Poems).
We're already gearing up for next year's AWP—stay tuned for transmissions from Washington DC in one year's time!
Angela (& Holly)