Today's blog specially features three prospective engineers studying at Surrey. I had the wonderful opportunity to talk to Abhishek, Aditya and Liam and they are thrilled to talk to you about Formula Student Surrey and student life.
Aditya is a third-year student, studying aerospace engineering. He is originally from Trichy, lived in Bangalore and moved to the UK in 2010. Abhishek is a final year student, studying automotive engineering. He moved from Chhattisgarh to pursue higher studies in England. He previously undertook an industrial placement at Formula student Surrey. Liam is currently a placement student at Formula Student Surrey. He had been living in the Middle East but originally from Kerala.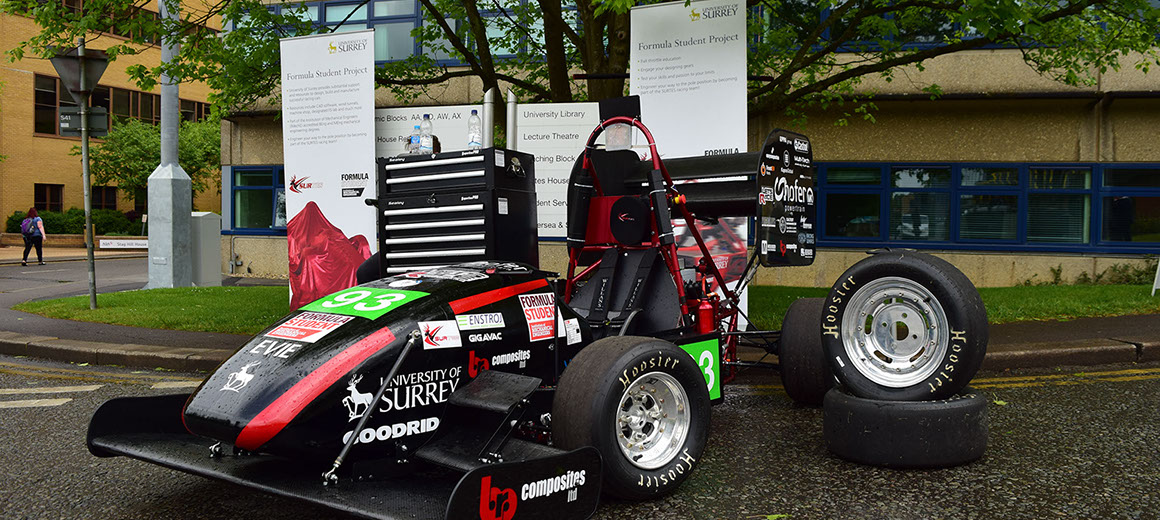 Formula student
The Formula Student competition is operated by the institution of mechanical engineers (IMechE). It takes place every year in the Silverstone circuit, Northamptonshire, UK. It is a student-oriented competition, predominantly aiming to attract and train the next generation of engineers, allowing them to gain practical, technical and soft skills along the way. This competition specialises in the design, manufacture and delivery of a single seater racing car, where more than 100 teams around the globe participate in both the dynamic and static events every year. The class 1 competition is made up of both dynamic events involving delivery and performance testing of a car and static events involving business planning, strategy, marketing and cost effectiveness aspects. The team based at Surrey, called team SURTES, participate in both events each year.
Team SURTES
Team SURTES are essentially the Surrey branch of Formula student and they are also a society within the University. SURTES is an acronym for Surrey University Racing Technology and Engineering services, taking inspiration from John Surtees who was a Formula One driver based in Surrey. I see what you did there!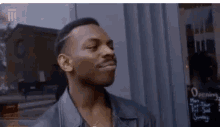 Quick facts:
Classes: Class 1 and 2 team work packages based on experience and year at University
Strategy: A car is produced every year and feedback from previous static car is used for transformation into a dynamic car, the following year. A fantastic 2-year strategy!
Facilities: Most work is carried out in the Design Centre, where all the tools, space and software are available. The tests are conducted in the physical laboratory and metal is cut in the workshop.
Achievements and Funding: Projects are partly funded by the University (£125,000) and sponsors. Recent achievements include the Santander Award, entitling them to additional funding for 2 years. In the 2018 competition, an award for the most improved class 2 team was received along with a top 10 title under the class 2 umbrella.
Placements: Industrial placements are available each year. Liam is currently undertaking his and Abhishek did his placement at Formula Student last year. According to both, it has been a great journey not only in the practical side of things but also getting to learn managerial skills. This placement is quite competitive, so well done!
Social: They seem like a very close-knit and social team. Aditya adds that he enjoys the social team building events (which may or may not involve go-karting!)
In conclusion, I think they are a very smart bunch of students from across the engineering disciplines, who are going above and beyond. Such commitment is an indicator of the hard-working individuals that I know they are!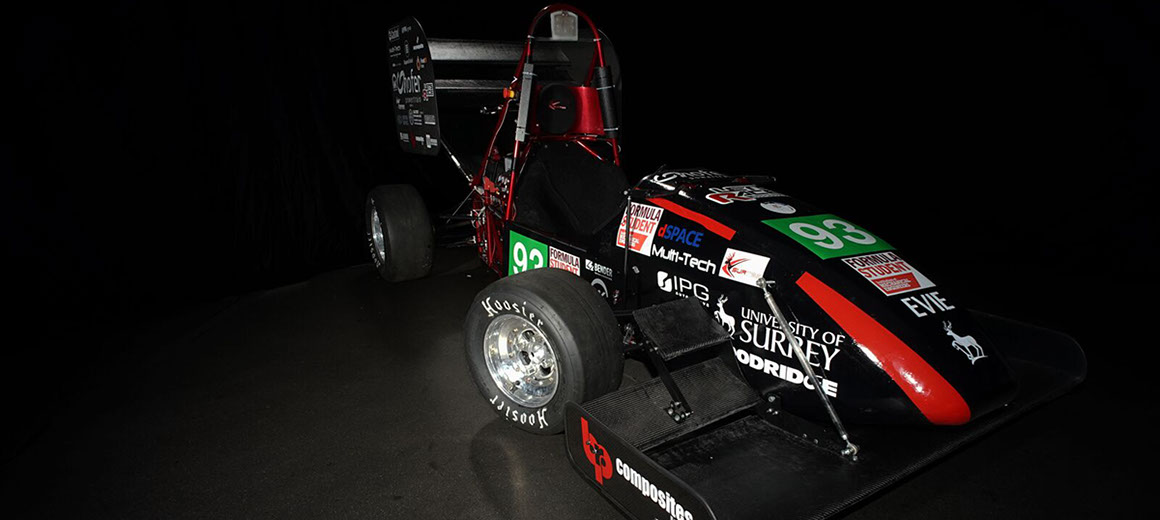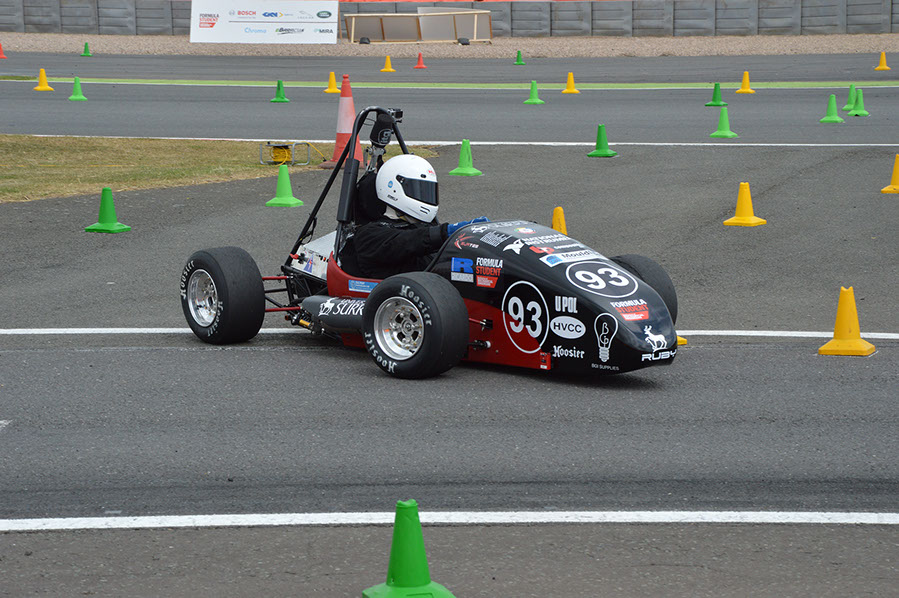 What do you get out of this?
Aditya says that being involved in Formula student "gives a good insight into the model sport industry and the applications of engineering. He has gained valuable work experience, along with problem solving and team work skills". Abhishek has immense passion for automotive engineering and he most enjoys the opportunity to "bring an idea and transform it into a car from scratch". Liam shares the passion for engineering and design and he jokingly adds that "it is a playground for curious engineers!" They all agree that this is a particularly unique opportunity to gain experience, build confidence and network with prospective employers.
Why Surrey?
When asked why they chose to come to Surrey, all three of them agreed that the University's connections with industry, quality of the education and proximity to London were the most influential factors. Abhishek added that he took a "virtual tour of the campus online and found the campus very beautiful". The University is ranked highly, especially with reference to employability and student satisfaction.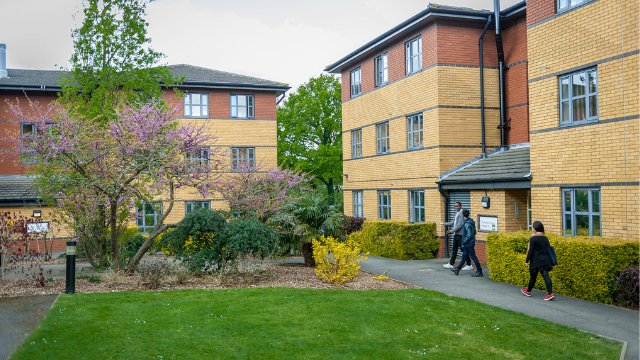 How easy was it to acclimatise to Surrey/the UK?
Aditya says "There is lot more freedom in the UK, lots of good societies and its easy to make friends. It took me about a week to get used to Surrey." Liam added that he did not find it particularly difficult. Abhishek remembered a lot about his first week, "I was welcomed by the meet and greet team at the airport and checked into my accommodation in Hazel Farm. I registered at the post office and went out a lot in Rubix!"
What do you get up to when you're not studying or working?
All three of them said that they like going to events organised by the Indian Students association! While Liam and Abhishek play cricket, Aditya likes to play badminton. Aditya also plays the Violin and participates in concerts, which was very interesting to hear! There were many other comments including the love for hiking, camping, travelling and going to the gym.
Accommodation:
Aditya lived in manor park during his first year. Liam and Abhishek met in Hazel farm and lived in the same flat in their first years. They shared a lot of memories about cleaning up after flatmates and Chai … I am sure we will all be able to relate to the warmth of Chai!