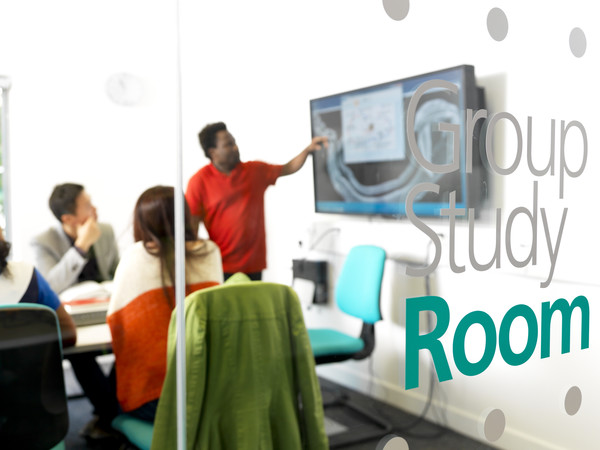 Our Library group study rooms are a fantastic resource for students wanting to work together on group assignments, practice presentations or work collaboratively in any way. Here's a few tips to get the most out of these popular group spaces:
You can easily book a group study room up to a month in advance using our online booking system
You can check out the facilities in each room online – do you need a computer, AV, or whiteboard? (You can borrow whiteboard markers from the Support Hub on Level 1 on production of a campus card).
Please do cancel a room as soon as possible if you're not going to use it – you can do this easily by going back to the online booking system and selecting 'My bookings'.
Don't forget they're not for single use – if you do see a room being used by one person let staff at the Support Hub know.
You'll need to turn up on time – if you're not there 15 mins after the hour, others are free to use the room for the remainder of the hour.
Please do clear up after yourself – other students hate coming to a room with rubbish over the tables!
And if you have any feedback or questions about use of the rooms just ask staff at the Support Hub or drop us a line at library-feedback@surrey.ac.uk.