Luana a Student Curators for the Intersectionality project has shared some reading recommendations. We hope you enjoy them too! You can find all these recommended books and many more on the reading list for the project.
Working on this project has given me the opportunity to find out about many enthralling stories that discuss intersectionality, allowing the reader to reflect upon this concept through multiple perspectives and lenses.
I believe this concept is one of the keys to understanding humanity in the 21st century, since we are becoming more aware each day of how the different characteristics that make us who we are can affect our worldview as well as how the world views us. More importantly, we should celebrate these differences and how they can help us connect and appreciate each other.
As an English Literature student, I have had the chance to explore this topic via multiple fascinating reads, so I thought I would put out some recommendations here which I'm hoping you will also enjoy.
Girl, Woman, Other (2019)
I think there is no other book with such fantastic representation of intersectionality as Bernadine Evaristo's best seller novel. Each chapter follows a different set of women, sometimes through time, which allows the reader to acknowledge the impact of the historical context on their worldview. There is also the prevalence of attributes like race, sexuality, age and religion; all contributing towards each character's unique perspective.
In about 500 pages, Evaristo manages to discuss a range of aspects of her characters and depict their difficulties, aspirations, distinctions and similarities. Grace struggles as a bi-racial woman in the 1900s England; Bummi opens a simultaneous conversation about race, nationality-being an immigrant from Nigeria-and bisexuality; Megan/Morgan and Bibi challenge gender binaries and misconceptions around transsexuality; and Penelope lets go of a lifetime of prejudice after learning about her past and meeting her biological mother.
In her review of the book, Sarkar (2020, source) suggests that "It speaks to womxn from diverse contexts without collapsing their differences." which I believe is why Evaristo's book is so powerful. Rather than focusing on a single story, she presents multiple narratives that interconnect, allowing the characters to question their own views and understand each other. For instance, in Chapter 4, Hattie embraces Megan/Morgan despite their disagreement on gender and sexuality, caused by a generational divide. This shows how love, rather than ignoring difference, celebrates it, which is the purpose of our Student Curator Project.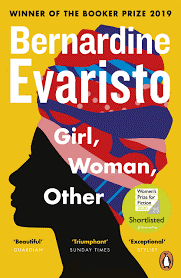 The Buddha of Suburbia (1990)
This entertaining novel written by Hanif Kureishi takes the reader on a journey with Karim, a bisexual half-Indian teenager who tries to make his way as an actor in 1990s London. There's also his father Haroon, who emigrated to the UK in the 1950s, and gained an interest in Eastern philosophy and Buddhism. Haroon begins a relationship with Eva, a white woman who helps him promote his yoga and meditation sessions for white upper-class people. Another key character is Karim's cousin Jamila, who is forced into an arranged marriage by her father.
This diversity of characters allows for expansive exploration of intersectionality and how it shapes each person's viewpoint. Through Karim, the complexities of sexuality and race are exposed and challenged. His development by the book's end has him learning to appreciate his Indian heritage, and counteract the racism he suffers by using people's biased expectations to his advantage. One example is when he accepts to play Mowgli in a rendition of The Jungle Book, a role that jumpstarts his career despite him only getting it because the director wanted someone 'authentic' to play the character.
Meanwhile, Haroom's presence opens a conversation about the connection between race and nationality, as his background in India differentiates his outlook from Karim's or Eva's. There are also the complications of his relationship with Eva, given he is married to Karim's mother at the time. Learning about this affair disrupts Karim's image of him as father and husband, creating conflict but also allowing them to connect after he starts seeing Haroom as a complex human being.
In addition, Jamila provides a feminist perspective through her reluctance to follow traditions that she views as oppressive. She also adds a political layer to the novel due to her involvement with activist movements, and criticism of Karim for reinforcing stereotypes in his depiction of Mowgli.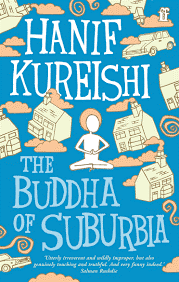 Fun Home: A Family Tragicomic (2006)
I have much appreciation for this graphic novel which details the journey towards self-discovery of Alison Bechdel, main character and also the author, and the complexities of her father's death. 'Fun Home' examines how the intersectional aspects of each character, such as Alison's identity as a lesbian and the discovery of her father's own homosexuality (or bisexuality), simultaneously drive conflict between them and bring them together.
Alison and Bruce have many things in common, from their queerness to their love for literature and art. However, according to Matos (2014, source), "[…] their divergence in terms of their gender alignment creates significant tension between the two characters." Throughout 'Fun Home', Bruce struggles to fulfil the expected role of husband and father since he could not be accepted as his true self in 1980s Pennsylvania. In contrast, Alison is able to live her identity as a lesbian, but not without difficulties. Recognition of their different backgrounds, gender, age and status is essential to explain their contrasting paths and ways of dealing with their sexuality.
As the book is a memoir written long after Bruce's death, it focuses on Alison's reflection about his life and all the attributes that shaped him, leading to her understanding of him as a complicated individual. After learning that he might have also experienced the difficulties of being outcasted as LGBTQAI+ people still are, this creates a connection between them, though it is rather bittersweet since he's long gone.
Still, I believe the message remains, that by appreciating the people we know as fully fledged human beings with multiple attributes which affect how they live and behave, we can create connections and maybe better understand ourselves too. We are all products of intersectionality, after all.
This is why I am recommending these novels, for I believe they manage to discuss how the different characteristics that make a person shape their worldview and affect how the world views them. Moreover, by recognising these differences between people, this can lead to acceptance and celebration of human beings as multi-faceted individuals with unique backgrounds and perspectives.