One of the great things about being at the University of Surrey is its easy commute to London. The city is only 30 or so minutes away by train and it is one of my absolute favourite places to be. I first visited London when I was 10 years old, and ever since then, I have taken every chance I possibly can to return. Now its so close to me, and I love going there to sightsee.
I don't think I've seen a city with such beautiful architecture before. The old buildings that still stand, coupled with the modern additions really bring out a different sort of vibe. My friends back home call London the "New York of England" (Having never been to New York, I cannot validate this statement). Big cities always have had a place in my heart. I love the busy culture, the big red buses, and the general feel of it all. If I could afford it, I would go every weekend.

The last time I visited, it was on Boxing Day. We took the risk of going to Oxford Street (for those who don't know, that's where all the shopping happens!). I have never seen so many people in one place before. We could barely walk through the crowd and I was separated from my family at least twice. Still, we spent a good day there, and got a lot of shopping done.
If you're new to London, I would highly recommend Oxford Street, especially during Christmas time. The lights are absolutely gorgeous.
Being a giant Harry Potter fan, the first thing I did was rush to King's Cross (fellow HP crazies will know) and find the 9 and 3/4 trolley and took about ten photos with it. It's one thing crossed off my bucket list now!
Every time I plan a trip to London, there's always somewhere new to go, or something new to do. I have yet to visit some places (The Tower of London and the National History Museum are next on the list). There is just so much to do and I look forward to all my London trips in these upcoming months. I'm glad I'm at a University so close to the big city. This way, I get the feel of the small, quiet town that is Guildford and one of the busiest cities in the world. The best of both worlds, so to speak!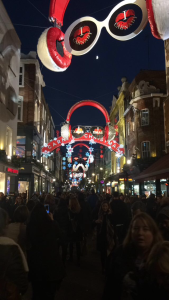 One of the many Christmas decorations near Oxford Street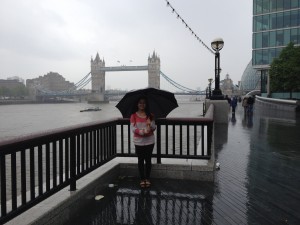 Tower Bridge (It poured that day but we still persevered!)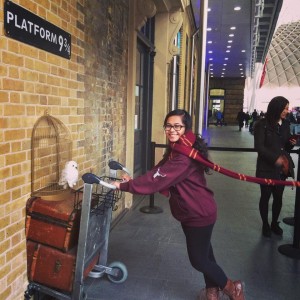 King's Cross – Platform 9 an 3/4