This year I was lucky. My exams were done with incredibly early and I had almost two weeks off before semester two began. So, myself and a couple friends decided to go visit Scotland — Edinburgh to be specific. We were there for a total of five days (4 nights) and I can honestly say that it was the most amazing experience. The very first thing we heard when we entered the city were bagpipes, which in my opinion, was pretty awesome.
We flew out of London Gatwick on the 31st of January and made it to Edinburgh via the shortest flight ever (only an hour and 20 minutes). Somehow we managed to catch a bus that took us into the city and found our way to the hotel. Obviously, it was pouring rain. But that didn't really dampen our moods. Our hotel was on the busy Grassmarket street, a beautiful location from where you could see the Edinburgh Castle
The first day there we were just in time for dinner, so we had some lovely Italian food, headed back to our room and just played cards and watched TV for the night.
The next day, it was still raining. So we decided to visit all the indoor locations first, such as all the museums. The National History Museum is massive and literally took us the entire day to walk around. It was free entry (hurray for students!) and we were inside pretty much all day looking at all the exhibits. We also visited the Museum of Childhood which brought back some lovely memories of the toys/books we used to own as children. We peeked into the National Library, which is also a grand old building.
Day 2 was more productive. The rain was lighter so we could wander outside a little bit. We walked up to the Castle for some amazing views, as well as visiting St. Giles Cathedral and Holyrood Palace (The Queen's official residence in Scotland)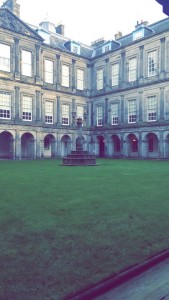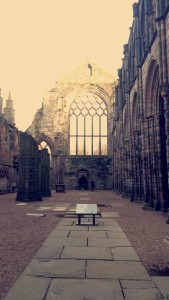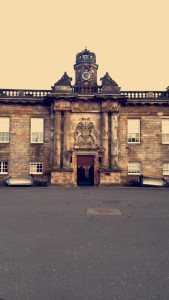 Although we weren't allowed to take photos inside Holyrood house, we were allouwed to snap some on the grounds and of what is left of the Abbey. The ticket included an audio tour (which I'm an absolute sucker for) and now I really know what happened to Mary Queen of Scots (who is apparently NOT Mary I of England – which seems to be an easy misinterpretation)
On the 3rd and last full day that we had, we visited the sites that were slightly outside the city. This included the Botanical Gardens and the hike up to Arthur's Seat. Both again, had free entry, much to my excitement.
Lastly we visited a museum of illusions. This was the most underrated and fun thing that we did on this trip. There were all sorts of illusions that you could interact with, with the top floor having a huge panorama of the city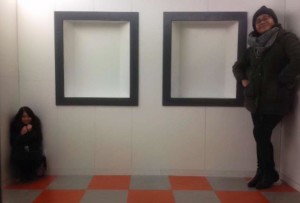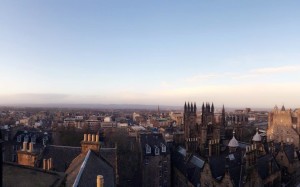 All in all, it's a beautiful city with such friendly people (although sometimes it was tough understanding their accents). Food wise, I tried haggis and black pudding for the first time and I'm not afraid to admit that I'm a big fan of both of these and I would definitely have them again.
However now, back to reality. Semester two is upon me and I'm two days in and I already feel behind. Back to making the library my second home and 37 more days till Easter break!!