Hello! Being that I am a very festive person and having Christmas break be only a week and a half away, I thought I would share some of the amazing Christmas related activities Guildford has to offer.
The first that I participated in was the "Guildford Christmas Lights Switch-on" which is a ceremony that takes place on High Street in town (which is a short 15-20 minute walk from campus). I headed down early to do some Christmas shopping and already there was an amazing Christmas atmosphere as Christmas music was playing and live performances were happening. My friends and I met up about an hour before the actual procession where there were different announcements and performances happening on the Town Hall balcony. There were different vendors offering free mulled wine and candy which is always appreciated! Finally, there was a countdown before they switched on the lights and started some fireworks. The whole crowd started singing this British Christmas song that my friends and I unfortunately did not recognize but happily danced along to. It was a really good start to the Christmas season.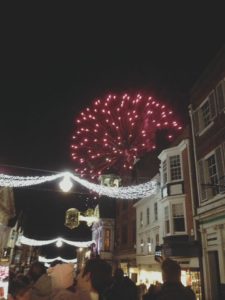 Something else to look forward to around Christmas time is the shopping on High Street. There is an amazing selection of independent and chain shops in the area which will allow you to find something for everyone on your shopping list. Although a lot of the shops are more on the high end side, as a student on a budget it is quite easy to quickly scope out the spots with budget friendly prices (Primark and Poundland are definitely go to spots). As my cousins and I spent a Saturday morning doing some Christmas shopping we stopped at a roasted chestnut stand which was blasting some Michael Buble Christmas music which was amazing. I had never tried this festive snack before but it was quite delicious, much sweeter than I had expected!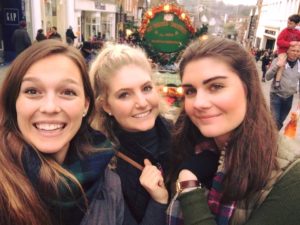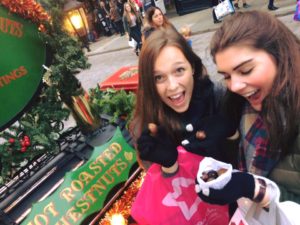 My next Christmas related activity is one that my cousins and I actually brought over with us from Canada. This is a Christmas Cookie Exchange! My Godmother organizes this event every year at the beginning of December where a group of us get together and exchange baked goods which is a really good time. The girls and I were a bit sad that we would be missing the one back home this year and so decided to rent out a court reception common room and invited a few girls to participate. We ate cookies and played games while listening to a Bing Crosby Christmas playlist. It was a lot of fun and so easy to coordinate!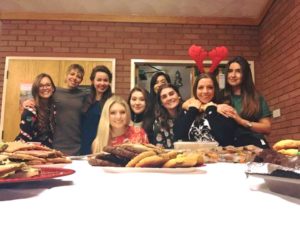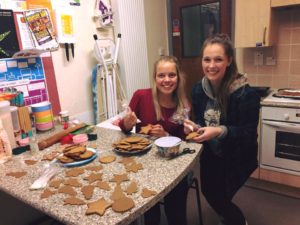 There is also on campus activities that happen across the month of December by the Student Union and the different university societies. For example the UoS Concert Band is putting on a Christmas concert this week which I am really looking forward to, the Student Life Mentors planned different Christmas themed competitions, and the Student Union organized different trips to English Christmas markets, one of which I will be attending this Saturday in Winchester. There is something for everyone to celebrate the upcoming break before exams!
Cheers!