Hello! Today I wanted to share with you my weekend exploring some more of England.
As I have mentioned previously, I am very lucky to have my two cousins here with me in England. Gabrielle is here in Guildford, but her sister and my bestfriend Victoria is up in Sheffield studying Speech Therapy as they call it here. This weekend Victoria kindly offered to host me in her corner of England so after a big day of lectures and tutorials on Friday, I took the coach up to see her. It was quite the trek to get there as I had to transfer in London and due to the first coach being over 30 minutes late, I missed my connection. I was really disappointed as it is over 6h of travel in total, but the staff at the station were really helpful and put me on the next bus. I finally arrived around midnight where Victoria picked me up in an Uber. It was so nice to see her and I was so happy to finally get to see where she lives and studies. She even greeted me with some treats which was really sweet!
On Saturday we decided that we would head out and have ourselves a little day trip in York. It was really exciting as one of Victoria's friends had previously studied there so we had a nice list of things to do. We first discovered this adorable little coffee shop on our way into center town right on the river named the Perky Peacock. It had such Harry Potter vibes and was really adorable so we had to stop and grab a little something to drink.
We then continued into town where we visited the Museum gardens and the Cathedral. There are so many cute shops to stop into, Victoria and I had a great time checking out places such as the Imaginarium and a Christmas shop. The ceilings were so low in this one, Victoria and I had to crouch!
We found a great little pub in the Shambles market and had a quick lunch before going to admire the rich architectural history that is so present in York. The medieval buildings are really beautiful and interesting which adds to the amazing feeling of history in this city. We decided to have desert at Crumbs which is right behind the cathedral. We tried out 3 different cupcakes but were left a bit disappointed in the freshness of the pastries – we still had fun chatting, tasting and enjoying the amazing view!
In all, York was a really beautiful city with a lot to see and some great shopping. I was really happy that we decided to spend the day exploring it. A little friendly warning I wanted to share with you that came out of our day in York… Always double check that you are going in the right direction when embarking on a train. It wasn't until Victoria and I were in Newcastle that we realized that we had gotten on the wrong train haha! Again the staff were really nice and told us which train to get on and didn't charge us anything extra but let's just say that Victoria and I will hopefully never make the same mistake again.
On Sunday I was excited for Victoria to finally show me her city, Sheffield. We started our day with brunch at The Cabin which is an amazing waffle house which channels Canadian vibes! The owner had Canadian flags up, pictures of Banff and Lake Louise, and even had Canadian merchandise. Even better was how delicious the food was – The portion was super generous and we were able to upgrade to real Canadian maple syrup, yum! So if ever you are in Sheffield, make sure you stop by this adorable spot.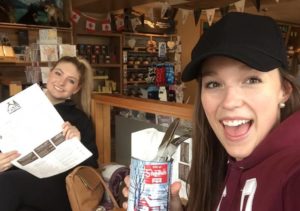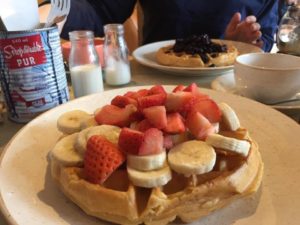 We then explored more of the city center where we saw Town Hall which has nothing in it which is truly disappointing given that it is such a beautiful building. We also decided to visit the nearby church. Here we were greeted by Rob P. Brown, a wonderful tour guide that was so happy to show us around and tell us his story. We felt really lucky to have crossed paths with him that day.
We then headed home where we had a home cooked meal. Victoria made an amazing cinnamon loaf which I devoured. We watched movies and hung out which was so fun and relaxing and long overdue!
I think its important to take advantage of the fact that you have the whole of England at your finger tips, especially if you have someone who can host you, and travel as much as you can.
Cheers!