Hello! I cannot believe reading week has already come and gone… On to my next and final semester at Surrey.
Despite having lived 40 minutes from London for a year and a half now, I have only visited the City once… Once! So I thought that for this reading week, rather than planning a bigger trip, I would explore more of this beautiful city that is at my doorstep.
I first headed to London on the Tuesday where I took a quick 40 minute train to Waterloo station and even quicker tube rides to my first stop, The Victoria and Albert Museum. I tend to find that museums can be very overwhelming at first if you don't have a game plan as they are full of amazing things to see, but often too large to get around in a few hours. I thus decided to join an introductory tour that highlighted six items in the museum's collection. I learned that the V&A is home to one of the world's oldest dated carpets, the Ardabil Carpet from Iran. It is dated all the way back to 1539 AD. It is lit for only 10 minutes at a time on the hour and half hour to preserve the richness of the colors. It is also only ever cleaned with Welsh water as it is softer. Perhaps I should book my next facial in Wales? I also got to see a piece called the Korean Red lacquer Chest which was inlaid with mother-of-pearl decorations which was absolutely mesmerizing. As I watched a video that explained this art technique, I found a new appreciation for the very intense work but beautiful technique required to make lacquer furniture. I was also able to see the Canova sculpture of Theseus and the Minotaur, a beautiful royal belt from Thailand and the incredible Cartoons by Raphael. Although I did not attend the Winnie the Pooh exhibit, I could not resist visiting the gift shop which had so many adorable Winnie the Pooh merchandise.
After the tour I headed across the street to the Natural History Museum. I was especially excited to visit this one as I have been away from my science textbooks since my undergrad and getting some lessons on dinosaurs and earthquakes was exactly what I was hoping for. During this visit I learned about dwarf elephants. Apparently they would have been approximately the same size as a pig. I also learned that for some time some Japanese mythology explained earthquakes as being caused by a giant catfish that thrashed about in the mud under the islands of Japan when it was unguarded by the God Kashima. On this same topic, I learned that the seismic system was initially used to detect the faint echoes of Russian Nuclear tests during the Cold War. I thought these facts were quite interesting. Further into the museum I got to see the famous whale skeleton which is hung in an incredibly beautiful hall. In this same hall there is also a slice of a sequoia tree which size was incredible to see in person and reinforced my hopes to one day walk through a sequoia forest. It was really fun to slowly walk through this museum. I particularly enjoyed the rocks and mineral collection which was displayed in a beautiful hall. As the sun was setting through the windows, the stones shimmered in the golden hour – it was quite beautiful.
On the Thursday I decided to head back up to London to visit The British Museum. This time my friends Alice and Katie agreed to join me for this visit. Although there is something very relaxing in visiting museum on your own, I have to say that it was much more fun to have company with me this time. I was very excited to visit this museum as my best friend Victoria had told me so much about her experience here and how there were so many particular pieces she wanted me to see too. Again, given the sheer size of the museum's collection, Alice, Katie and I decided to participate in two different tours, an Ancient Greece tour and an Ancient Egypt tour. They were both very nice but quite brief. It was really special to see the Greek pottery as I had taken a class during my undergrad on Greek Mythology and some of the pottery we had studied were at the museum. I was completely memorized by the Egyptian hieroglyphs. The British Museum's collection is really quite impressive and I was pleasantly surprised to find a hall dedicated to native North American history. There was so much to see at this museum, but I would have to say that some of the highlights were the Rosetta Stone, the Greek pottery and the beautiful clocks and watches collection.
Although not a museum, I did visit the giant department store Harrods. With the price tags on most items it might as well be a museum. I was completely taken aback to find a 1,350 pound bathroom rubbish bin… And that was not even the most extravagant item in the store. It was quite fun to just browse a little bit through the store but almost intimidating as a student. It felt quite outrageous.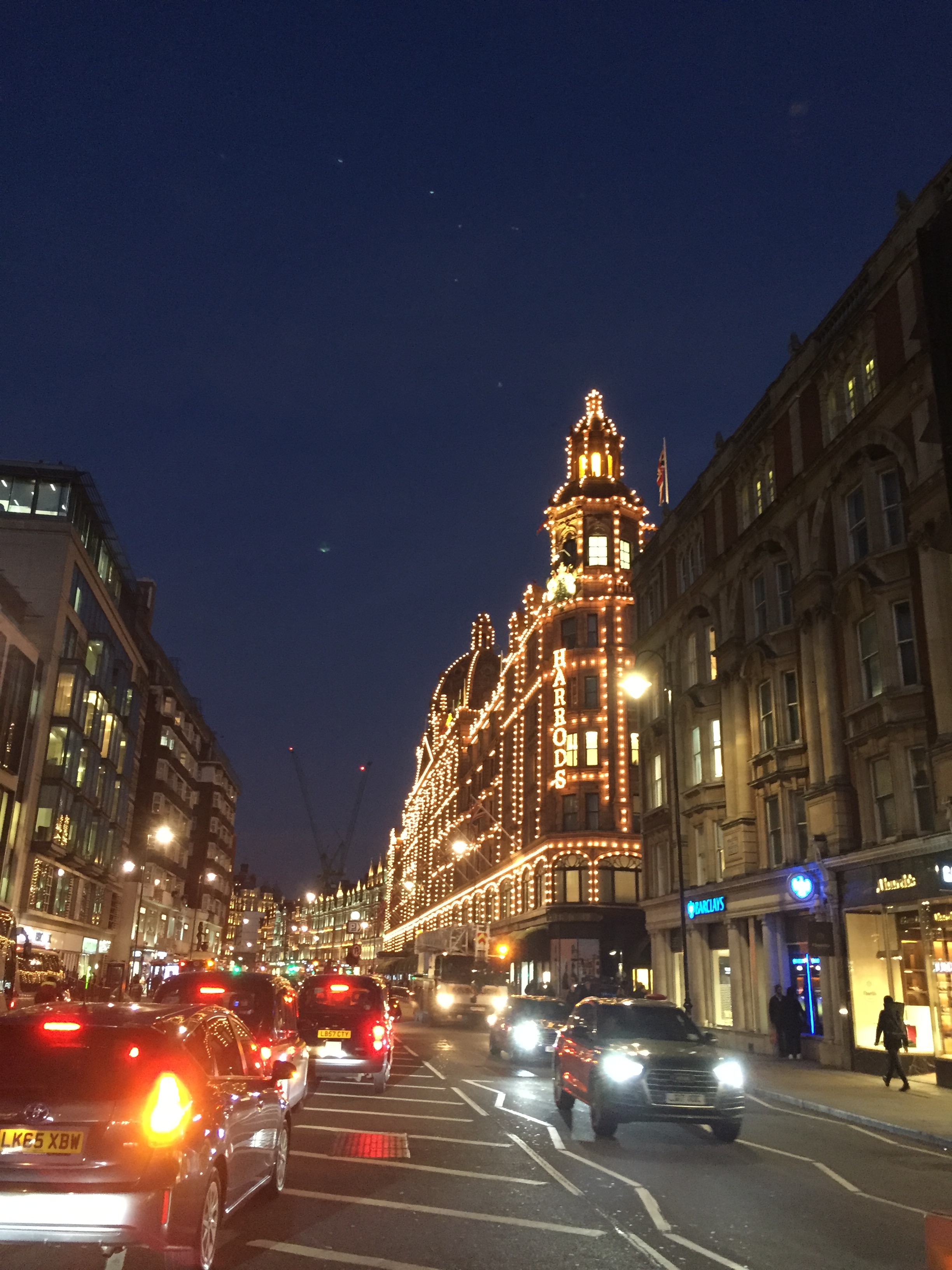 Well that is it for my museum touring for the week. I will definitely try to be back in London soon to visit more of its many museums. Part 2 of this post will be about the different theatres I was able to visit during my reading week.
Cheers!