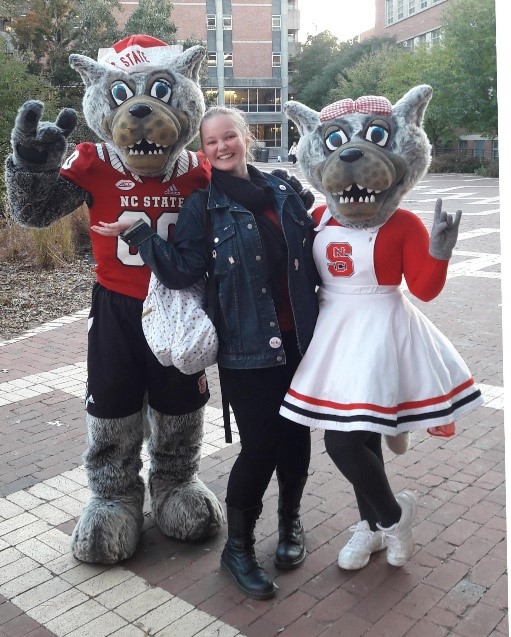 I am currently 3859 miles away from the University of Surrey where I study Microbiology. This blog is part of a series on how Surrey helped me become a student intern in Raleigh, North Carolina. I knew that America was where I wanted to be, secondary to that I wanted to gain lab experience that would help me in the working world. Fortunately, placement years at Surrey can offer exactly that.
My name is Kimberley, I have been a part of the Surrey microbiology cohort for two and a half years. This year has seen me on placement in the United States studying foodbourne pathogens for what will be a total of 12 months. I am currently half way through my stay and there are a number of aspects that lead me to this point and there were many things that I encountered that have changed my outlook on the world.
Why University of Surrey?
I knew from the start what I was looking to get out of University: I wanted to study abroad, preferably in America, for a portion of my degree but I would need help with finding a placement; funding and the university needed to offer microbiology as a degree programme. The final criterion rounded my choices to a handful but Surrey's progressive way of offering placements really caught my attention.
They were one of the only Universities with such an extensive network of placement providers, and with a system in place to support you while you were away on placement too. Surrey had one of the most straightforward and supportive approaches to placements. You get access to a huge list of live vacancies, but can also source your own placement with their guidance if you have a specific employer in mind.
What to Consider
You have to first consider the location, do you want to go abroad and do you have a specific destination in mind? Second, is language a barrier – can you speak the language of the country you are going to? Finally, financing the trip: Are you able to get a loan, are you working to save money and can your family help you?
For me personally, I knew my family would never be able to help fund the kind of excursion I wanted to take so, I had a part time job since before I started university. I also applied for any loans and scholarships that I could find; you'd be surprised at what you are entitled to. Research as much as you can beforehand but, don't worry if you decide to do a placement late, there are plenty of places to get information on funding and applying throughout second year. Next time I will talk about what I had to do to prepare for my placement. Needless to say I was terrified!
The whole experience is scary but nothing new will happen if you don't change your life up a little bit. So, step outside your comfort zone, it's where the magic happens after all.