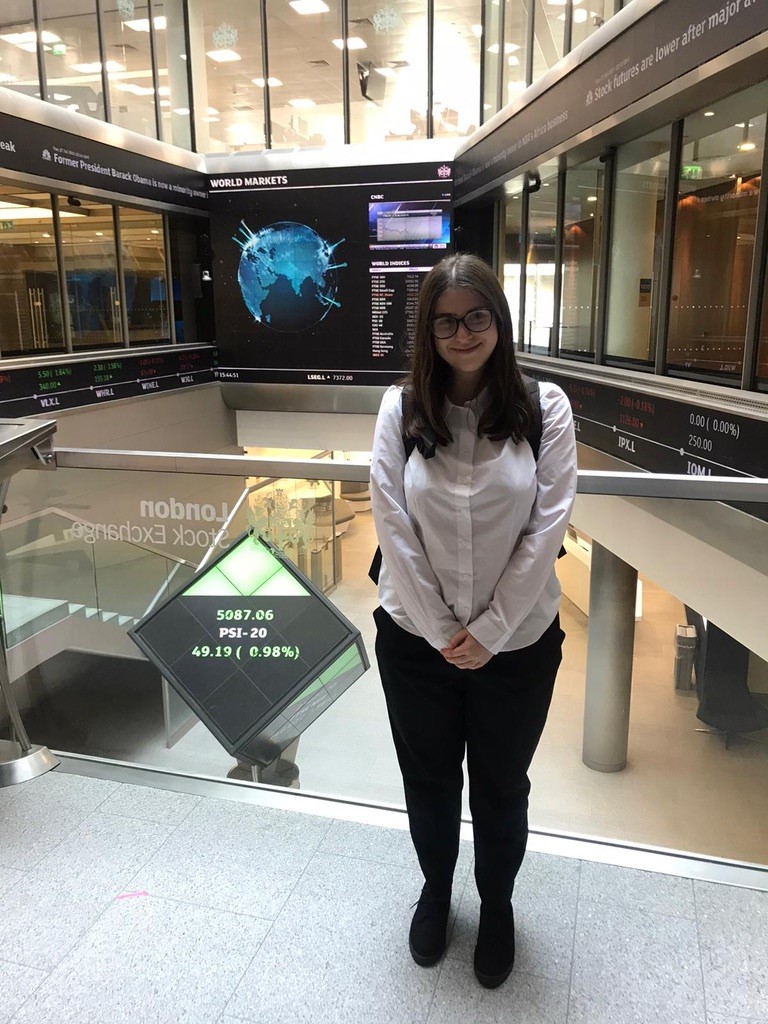 My name is Cristina and I'm a third-year English Literature student. In mid-July, I started my 12-month placement at London Stock Exchange Group (LSEG) as a Marketing Associate. In this blog post, I'd like to document the initial application process, how my placement is currently moving along, and some advice for first- and second-year students considering a placement year.
Survive the gruelling application process and reap the benefits
Applying for placements is hard work and time-consuming, particularly when you're also studying full-time and working part-time. I started my placement search in October last year and spent many hours filling in applications, answering questions, taking tests, and preparing for interviews before I received my placement offer. But it's 100% worth it.
With each application you fill out and each interview you attend, you will improve your technique, become more efficient, and increase your chances. I found that tailoring my cover letters and applications to the companies I applied to really increased my chances of making it to the next stage and later boosted my confidence in interviews.
Applying for placements was particularly difficult with the uncertainties of the pandemic. This meant that there were fewer vacancies with more competition. I didn't give up, though, and continued to look for any vacancies I could find.
My hard work soon paid off, and I received an offer in June from LSEG after two interviews and an online reasoning test.
Why LSEG?
LSEG is a financial markets infrastructure and data business with more than 300 years of history.
I was interested in a marketing placement from the start of my placement search. I was first attracted to LSEG because of the wider scope of the role and the exciting content that LSEG produces, including financial markets shows, blogs, various reports, and podcasts.
Of course, LSEG's prestigious reputation as both a place of work and as a company was also highly attractive. As a larger, global company, I wanted to meet more people and get involved in opportunities across the group.
When I received my offer from LSEG, I had a final interview scheduled with another company and knew I had a good chance of getting an offer from them as well. It was a no-brainer that I was going to say yes to LSEG's offer, especially after the smooth interview process. I could feel that this would be a great place to work with many opportunities to be found.
My application advice:
Start your placement search as early as possible. The earlier you start, the more time you'll have to improve your application and interview techniques before the cut-off deadline.
Spend a bit of time each day checking for placements, filling in applications or preparing for interviews. Having a consistent routine will help you be productive in small bursts and avoid taking up a huge chunk of your day that could be dedicated to your studies.
Research companies in-depth before an interview to help you stand out – but make sure to tell your interviewer through your answers. They are not guaranteed to ask you directly what you know.
The value of learning on the job
Other than taking Google's free online Digital Marketing course, attending Bright Network's three-day Business, Marketing and Operations internship, and using social media to promote my freelance proofreading business, I had no previous marketing experience.
As a result, I've learned a lot these past four months. By attending optional meetings about SEO and PPC results, marketing campaigns in development, and much more, I have been able to learn incredibly quickly and apply my knowledge to my work. Moreover, immersing myself in meetings and learning from my colleagues has sped up my learning significantly.
As a Marketing Associate, I am working on multiple projects across the business, from the London Stock Exchange to Refinitiv. A few of the tasks I'm working on include creating scripts for a video series, writing social media copy, producing desk research for multiple projects, and helping to lead the marketing and planning of two large projects. I'm certainly not bored!
Seize the day and let the opportunities come your way
Not long after starting my placement in July, I faced some uncertainty due to organisational changes in the company. Many thoughts went through my head: What will my new team be like? How will my role change? And I wasn't alone – I am sure many of my colleagues felt the same way.
As the uncertainty passed and I joined my new team, these changes brought even more opportunities my way. I have since been introduced to new projects, extended my network, and experienced working from home as well as in both the LSEG and Refinitiv offices in London. By joining at such a tumultuous time and witnessing these changes, I have also learned to be flexible.
What I love about working at such a large and global company is that it has provided me with a huge range of learning opportunities and projects to dive into. The organisation is structurally complex, meaning that I learn something new every day, particularly when I meet new colleagues, read internal and external communications, and attend meetings.
Also, meeting new people didn't stop after the first week. I'm continuing to meet new people, and with that, I am given opportunities to learn about different career paths and parts of the business. I am very grateful that many of my colleagues have been willing to tell me about their roles, offer me advice, introduce me to other colleagues, and help support my development.
My placement advice (so far):
Familiarise yourself with the company as much as possible before and during your placement. The more you know, the more confident you will be!
Keep a diary. Writing down every small thing you do each day will be very useful as a reference for your Professional Development Review, as well as helping you keep track of your tasks day-to-day and what needs to be done next.
Reach out to your colleagues and ask them about their roles. Networking is very useful and will help you learn about the organisational structure of your company and different career paths. Also, use LinkedIn to connect to those you meet!
Make the most of the opportunities in your reach. If you have the capacity, take on additional work and show your enthusiasm.
Only the beginning…
Although I have achieved a lot already, there is so much more out there to learn. I want to improve my copywriting skills, get more involved in social media marketing, and become more confident so that I can contribute more in meetings, to name a few things. To push myself to develop further, I'll write another blog once another four months have passed. I'll see you then!
Thank you for reading!