Let's leave the university related blogs for today.
We all know that apart from the quality of the university and the opportunities it gives you, it is really important to have a great surrounding that lets you make the most of your time here!!! And… is there anything better than being around 36 minutes away from London by train?
Last year, every time I though about coming to study to England, I automatically thought about how amazing was it going to be to travel all around, to have people visiting, live experiences together here… Flights from all over Spain to London are so cheap!!! There is a direct train service running from Gatwick airport to Uni, and Heathrow airport is also close, but you will need to take a bus and a train if you are flying there.
Since I came, I have been to London around 5 times, with uni friends, or my Spanish friends visiting me here. It is definitely a great Saturday plan, to do some sight seeing and shopping! I have always bought a return travel card (which costs around £20, not expensive), but there are a lot of ticket options depending on the hours and the number of people travelling. You can buy the ticket online or in Guildford Station (which is 5-10 minutes walk from uni).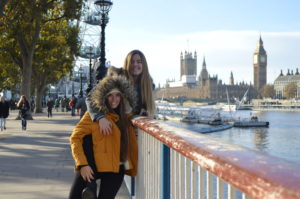 The train goes directly to Waterloo Station, which is located really close to the London Eye and the Big Ben. Every time I have been I have just walked all during the day, visiting Piccadilly Circus, Trafalgar Square, Leicester Square, Oxford Street… there is not need to buy underground pass (I feel that's great), but if you wanna you further or you're just lazy to walk, there are travel cards including all day underground service too. As you all probably know, you can find anything you want in this beautiful city, no matter what your tastes are, you will always have a suitable plan. For example, one friend from home is coming on May, and we are going to a concert together in London. These are the kind of days you will surely never forget!!!
In addition, being located near these airports also gives you the opportunity to travel all around Europe (and the world). Flights are way cheaper here than in Spain. I know a lot of friends who have been to Amsterdam for just 30 pounds, you can go to Milan for 24 pounds and basically all around the continent for less that 80 pounds. In fact, I have a friend who is going on exchange, and I´m planing to go visit her to Florida (which living in Spain would be almost impossible considering prices). You might be asking yourselves how we have time for all of this, but if you manage to organise well yourself and studies, in University of Surrey I have had a lot of holidays comparing to Spain (almost one month on Christmas, literally all April…).
I strongly recommend to buy a 16-25 railcard, I think that this will help you save a lot of money when using the train service. You can apply for it online and it costs 30 pounds for a year. Once you buy it, you get almost a third part of the amount spending off. Considering that you will at least pay for the train each time you are going home, you should definitely consider this option.
In conclusion, apart from all the things unique that this university has in the academic and every day living aspect, thanks to the location and facilities around it I would say (and already started experiencing) that a UNFORGETTABLE and LIFETIME adventure is guaranteed!!!