Goodness me. I just had an incredible weekend. No trips around Europe, just a full weekend (my first in months) to relax and hangout with my boyfriend. He came up from Guildford to see me on Friday evening and stayed until Sunday night. As life just simply gets in the way, we haven't been able to spend much time together.
We have found the perfect way to catch up is to go for walks around one of the many incredible parks in London. So far we have been to: Regents park, Primrose Hill, Kensington Gardens, St. James's Park, and now Richmond Park. They all offer something unique and have some of the most stunning wildlife.
Regents park had beautiful stylized gardens with everything prim and proper, lovely paths for walking, a sculpture garden, and even a marshy pond area that they created to enhance the wildlife. We saw Black Swans! Black swans are my favorite and I had just been telling my boyfriend how I had always wanted to see one in real life when we turned the corner and there was one just waiting for us.
Primrose Hill is quite nice, not my favorite, but on a clear day has views of the London skyline. It has great open spaces for picnicking and playing football. It is also connected to Regents Park, so we walked through both on the same day.
Kensington Gardens is one of my favorites. We went at the peak of Autumn, so all the leaves were golden yellow, orange, and red. They have very tall trees that line the pathways letting you walk in a tunnel of colors. There were happy dogs running everywhere! In the center of the gardens is a lake/pond that had been added to bring in wildlife. It captured the attention of so many birds that I couldn't not even name. We saw a trail of geese leave the lake and move on like a herd, single file to their next destination. Kensington Gardens also has Kensington Palace where some of the princesses spend their time. You can take tours of the palace or just eat at the café they have inside. Next to the palace is an orangery. You can wander the orange tunnels and take a seat looking over the courtyard.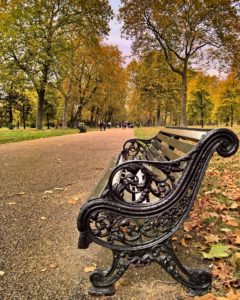 St. James's Park has long been one of my favorites. It is smaller than Kensington Gardens and Regents Park, but is absolutely gorgeous. It is located between Westminster/Big Ben and Buckingham Palace which can make for a lovely walk to the sights. They have a big lake in the middle of the park that is blocked off as an animal refuge. Again this means there is plenty of wildlife to appreciate and take in. If Kensington Gardens is better in Autumn, I would say St. James's Park is better in Spring/Summer so you can sit out in the sun and relax.
This weekend we went out to Richmond Park which is a bit further than the others we have gone to. It is at the end of the District line tube and takes about 25-30 minutes to get to from central London. It was incredible though. It is the most massive park I have ever been to. We had been walking for about 2 hours and realized we weren't even a third of the way through the park. The most spectacular thing about this park is It's wildlife. It is known for the Red Deer that live in this park, but I never thought I'd get to see them….boy was I wrong. We saw at least 4-5 groups of them. We had a picnic by a group of male deer. They had stunning antlers! Later we saw a group of female deer crossing a patch of ferns. Then another group of males in the ancient oak forests. And another and another. It was the most amazing experience. I think we saw probably 30% of that park after 3-4 hours. I would go back in a heartbeat. As Richmond Park has ancient Oak trees with massive limbs, such a variety of different areas and nature, and incredible wildlife, Richmond is a perfect park for the winter.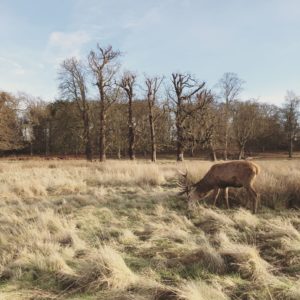 I still would like to visit Kew Gardens. It is all lit up for Christmas and would love to see it. It recently added a Hive. It is supposed to represent a bee hive and supposedly hums when it is warm out…I need to check it out for myself.
An incredible park closer to Guildford is Painshill Park. It is about a 20 minute drive north of Guildford and has some incredible things to see: Crystal grotto, lake, towers, gazebos, eastern style tents, hills for laying on, beautiful bridges, etc. It is 100% worth a visit. As are all of these. They are free to visit and are some of the most amazing parks I have ever seen.
My next blog will be about visiting a London icon that took me year to arrange!