First trip of 2017 was to the beautiful city of Copenhagen in Denmark! My sister and I have wanted to go for years, but only had the opportunity since she moved to England with me in September. We went with three of my other friends from the university.
Hostel:

The hostel we stayed at was amazing. We stayed at the Urban House hostel. By far one of the nicest I have been in. It was very clean and well designed. The check in was automated and has lockers to hold your luggage before check in and after check out. There were also other amenities you don't expect to find like bike rental on site, a movie theatre, and live music. We booked a six person room that had an ensuite bathroom and shower. It was perfect for us and only cost £22 a night when split between us. I highly suggest looking for a room to book when traveling with a bigger group. You pay for the room and not individual beds. This also meant we were guaranteed to have all the space to ourselves even if we didn't fill all the beds. We stayed for dinner one night at the bar to take advantage of their happy hour and ordered burgers. They were delicious and fairly cheap. There were vegan and vegetarian options too!
Urban House: https://urbanhouse.me/
I'm also a fan of the Generator Hostel brand that can be found around Europe: https://generatorhostels.com/en/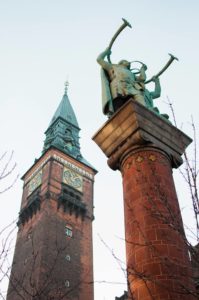 Prices:

I was pretty impressed by the prices for food in Copenhagen. I was warned it was expensive, but was pleasantly surprised. It wasn't absurd. We took out £130  or 1,133 DKK each and I even had money left over. We spent most of our money on food and drink. We didn't really go to any attractions that cost money. Not because we didn't want to, but because the city itself is gorgeous and we spent our entire time exploring.
Transport: 

We flew in on Norwegian Air from London Gatwick Airport that offered great prices and times. We only spent £50 on a return flight. From the airport, it is 36 DKK for a direct 15 minute train to the main central station. From the station it was a 5 minute walk to our hostel.
We did not buy a travel pass that covers transport within the city for about £20 nor the Copenhagen Card that offers the travel pass and free entry to various attractions for about £85 for three days. We walked everywhere! We did over 24,000 steps in one day.
The Copenhagen Card will show you how much money you will save if you select the attractions you want to see. I appreciated their transparency. It made you feel like you were getting the best deal, when many other places try to get as much money out of you as possible.
Copenhagen Card : http://www.copenhagencard.com/?ld=0&currency=eur
Things to do: 
The Round Tower – Great for a view over the city. The city has a limit on how tall the buildings can be, so this tower has a vantage point over the city. Only about 25 DKK to climb, the tower is an ideal place to see the city, especially during the sunset.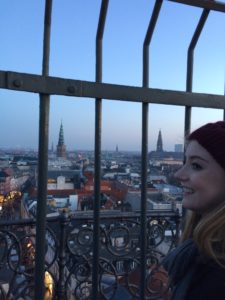 Nyhavn – The most well-known area of Copenhagen. The colorful houses are recognizable around the world. They certainly are picturesque. I suggest grabbing some coffee or hot chocolate nearby to appreciate the beauty of the canals. The boats in the canal were trapped there one unusually hot summer when the bridge morphed closed because of the heat and could no longer open. They are now a staple of the city.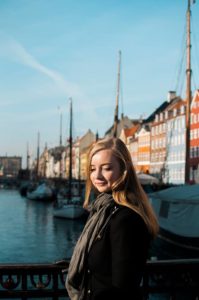 Paper Island Food Market – From Nyhavn, you can cross the recently opened bridge to Paper Island. This is where Christiania is located as well as the best food market I have ever visited. The food market is inside a warehouse that contains permanent food stalls. This food was incredible. I got organic freshly made pasta and parmesan cheese. My other friends got delicious pad Thai and duck burgers. There were plenty of vegan and vegetarian options too. Tables are hard to find, so get a table first and take turns getting food.
Shopping District – While I didn't actually buy anything, but just walking around the streets was amazing. Everything was so clean and pedestrianized. Coming from the busy London streets to Copenhagen streets, showed me how chaotic it is in London. It was much quieter and slower paced without cars speeding past you. Plus the shops, for the most part, were different from the ones I see in the rest of Europe. I liked seeing their own unique fashion.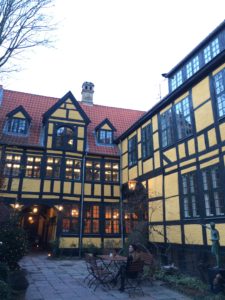 Studenterhuset – While walking around the streets, we stumbled upon Studenterhuset. A non-profit student café/bar. It is for the students of the University of Copenhagen, but anyone is welcome. It had a great atmosphere of young people. Food and drinks were relatively cheap and there was live music! I highly suggest it for a real feel of life in Copenhagen.
Torvehallerne – These two glass markets are a must visit. Lit by fairy lights, they are beautiful in the day or night. Inside are about 60 stalls of food, drink, and just various things to buy. We bought lunch here one day and had some of the best food I have eaten. I got a focaccia sandwich with rocket, balsamic vinegar, olive oil, and fetta. It was incredible and so fresh.
Rosenborg Castle – This castle was beautiful. It was smaller than most castles I have been to, but definitely worth a visit. The gardens are free to walk around, so we just did that. It is rather unique. It is not symmetrical which I find common in many castles. This meant every view you got was slightly different.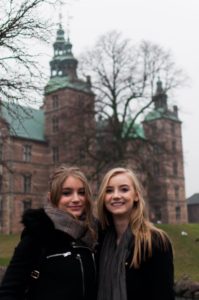 University of Copenhagen Botanical Garden – This garden is also free to walk around. The building itself is stunning and what you find inside is beautiful. There are many different sections with varying foliage. My favorite was in the palm room where you can climb the spiral staircase to a platform that runs the circumference of the room. You get to view the palm trees from the top. It was lovely (and warm). As it is across the road from the Rosenborg Castle, they are worth doing together.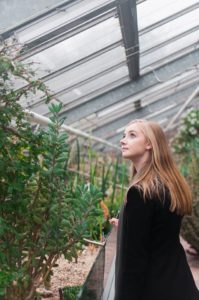 Free Walking Tour– From the hostel, a free walking tour was hosted. They took us around the city, told us about the history of the city and their Viking heritage. They pointed out a great Viking museum that, if I had more time, would have loved to see. They took a 25 minute break at Nyhavn to let us grab a coffee at the café and warm up a bit.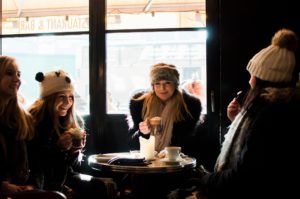 Copenhagen was incredible. It led up to the praise that people gave it. The city was much bigger than I thought. I was impressed by the cleanliness, friendliness of the people, the beauty of the city, the amazing transportation options, and the history. I highly recommend everyone visit.