London is an epicentre of culture and arts. With the West End, the equivalent of Broadway, thriving in central London, attending a theatre show is a must. There is an incredible variety of shows that are available with varying prices. The West End can be expensive, but buying tickets at the right time can help. Several months ago, I signed up for SEE Ticket's email list. I receive updates about events to attend and various discounts. One of the best emails I received was before Christmas and offered half-off West End tickets for the months of January and February. The deal included all major shows including The Lion King, Book of Mormon, Wicked, and Phantom of the Opera. I bought two tickets to Wicked for my sister and I for only £40 total instead of £80! We had amazing seats with an incredible view of the stage. The deal goes on every year, so sign up and experience the West End in all its glory for student prices!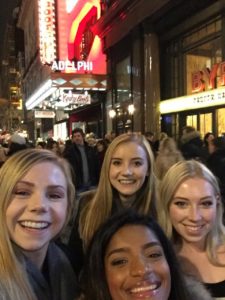 Guildford has its own theatre called GLive that hosts various plays, comedy shows, and live music. I have been to several comedy shows that have all been hilarious. By signing up to their mailing list you can stay up to date with the latest performances. Another Guildford location is The Boileroom. It is a smaller venue, but also has an eclectic mix of entertainment. It is very popular amongst students for comedy shows and music acts.
During the holidays, a type of theatre is available: A pantomime. A pantomime or more casually called a panto, is a British classic. As they are typically less money , they are a great alternative to a West End show. I saw my first one when I was about 8 years old and haven't forgotten the experience since. A panto has a few key features. First, the characters are very dramatic and outlandish. There is always a main character that is a man dressed in drag whose outfits change throughout the performance. Another defining feature of a panto is audience participation. There will be phrases that characters will make you repeat and specific panto phrases that are common across all pantos. Finally, much of the humor is based on pop-culture or political references, so be sure to stay informed and up to date with the latest drama before walking through the doors of the theatre. It is a show like nothing else. All ages engage and love the silliness of the panto. You haven't experienced a British holiday season until you have seen a panto.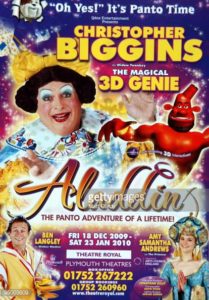 Visiting the cinema, or the movie theatre, is an easy way to get out for some innocent fun. Buying tickets in England is slightly different to the USA. During the purchasing process, you select your seats. I thought this was strange at first, but has loads of advantages. No longer do you need to show up early to a movie to get good seats or worry if your group will be separated. The downside to the cinema is that it can be rather expensive. Generally, outside the M25 (the motorway that runs around the perimeter of London) is cheaper than within the M25. This is great for visiting Guildford's Odeon Cinema in town. If you are within the M25, I have recently found a cinema/gallery called RichMix in Shorditch, London that offers £5 tickets to three of the top movies that are showing. Currently they have Jackie, Manchester by the Sea, and La La Land.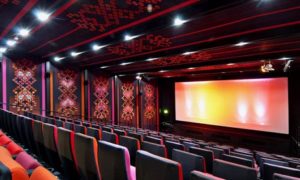 For a more immersive experience, London has the largest IMAX theatre in Britain in the BFI IMAX theatre a short walk from Waterloo Station. There is another IMAX theatre in the Science Museum in South Kensington. Both are incredible experience, especially for movies in 3D. They are fairly costly, but worth an experience. In both RichMix and BFI IMAX you can buy a variety of snacks, drinks, and alcohol to add to the event.