Guildford has plenty of paths to soak in some beautiful nature, and now that it's getting warmer outside, I've taken the opportunity to explore some of the more hidden gems in this quaint British town.
The not so hidden natural beauties
The Campus Lake: My favorite spot on campus is the little secluded patch of greenery containing the campus "lake" on the edge of campus. The nice thing about it is that it feels so far removed from your academic worries, yet it's not a two minute walk from the library! It's got everything you need, benches, trees, grass, various types of birds, and a cute little body of water to stare at. The sunnier the day, the more people there are chilling at this hot spot, so it's wise to get there on the earlier side if you want a bench.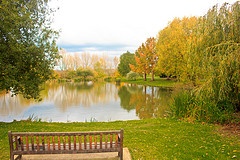 The River Wey: Guildford is one of the lucky towns that has a river running through it, which is famous for being one of the first navigable British rivers (you can learn more if you visit the Dapdune Wharf ). A quiet path hugs the edge of the river for a serene walk that continues into the neighboring towns. As the path extends away from the town center, there's a classy pub, the White House, just off the path, and large grassy areas to lay a blanket out to picnic not far beyond that.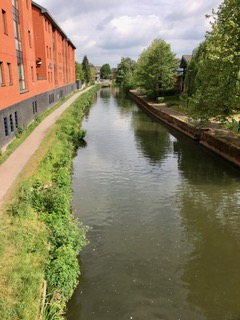 North Downs Way and more: North Downs Way is one of 15 national trails in England and Whales. It's a 153 mile journey ranging from Farnham to Dover, but runs through Guildford and the Surrey hills of outstanding beauty (that's what it's actually called… the Surrey hills of outstanding beauty, and they're not wrong about that). This path connects to other forest paths leading to magnificent views, like up to St. Martha's church or the picturesque Surrey hill not far from Loseley Park that you can see from the top of High street.
The more secret spots
The Surrey fields: One of my first weeks here, I went on a discovery run, which is very much what it sounds like. I had no idea where to go, so I explored different paths around where I live (Manor Park) to see where they would lead. I found what then became my go-to running path amidst many incredible vast fields of the rapeseed crop. I considered this my special spot because I rarely saw other people out there, though I saw the occasional resident walking their dog. It's super accessible, not more than a few minutes walk from Manor Park, which is even closer than the Surrey Sports Park. Little did I know that these rich green fields in the fall would morph into yellow seas of wonder during spring time!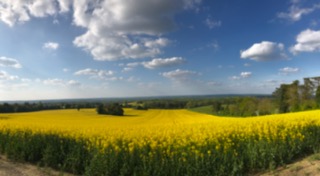 The mystical forest path: While exploring the paths around the fields discussed above, I noticed some trails in the foresty area behind the fields. I continued to test these trails to see where they would lead, and at first I only found mini paths along the edge that soon lead back to the fields or paths that petered out because they hadn't been used in a while. But this past week, I found the the main forest vessel! It was wider than I could imagine and extended beyond what I thought was possible behind Manor Park and passed the Research Park. This main path in the forest branched off into trails beyond that lead to other fields of yellow or open grass where residents were wandering about with their dogs.
My main takeaway from finding these special spots is not to wait to explore the incredible nature that Guildford has to offer and to stay curious about what else is out there. Venturing out into new areas that provide a range of natural settings has been one of my favorite parts of my stay here and something I've never been able to get from growing up in cities. I would definitely recommend taking the chance to get out of your comfort zone to check out the not so secret beauty of Guildford.