The new academic year is upon us – the beginning of my third full academic year as Surrey's Vice-Chancellor. After a brief summertime break, September means it's time to hit the ground running. A VC's year is challenging, exciting, unpredictable, unbelievably busy, fascinating, rewarding, exhausting….and more!
In this blog, I'd like to share some insight and thoughts on what a Vice-Chancellor does, and the changing role of the modern Vice-Chancellor, in a sector that is facing rising pressures and a growing number of challenges.
For colleagues who have worked for a while in Higher Education, the function and responsibilities of the VC's role are part of a professional landscape we know very well; for the casual observer, however, the same is not quite the case. One can be forgiven for imagining that the life of a VC is an endless round of high-profile events, where fascinated audiences hang on your every word….after all, it does seem like it must be glamorous – at least at times! — to play a leadership role.
In reality, the roles of a VC are four-fold: leader, supporter, ambassador and advocate. 
As the University's chief executive, my responsibility as leader is to set an inspiring vision and sound strategy. I lead the senior management in setting and achieving our goals and ensuring continual improvement in our educational and research performance.  I also steer the development of the right initiatives and priorities to make sure this happens in a financially sustainable and culturally robust manner.  To do so effectively, I chair and work closely with the executive board to make decisions on strategic, resource and policy matters.
The supporter role involves attending events – whether I'm speaking, presenting, or just being present to show our students, staff, alumni and community how important they, and their work, are. In a sense, I am the chief 'cheerleader' for all our staff and students, across the whole range of their endeavours, and it is an enormous privilege to be invited to see first-hand the broad range of life-changing work we do; in this way, I hope to encourage even greater efforts and achievements from across the University community.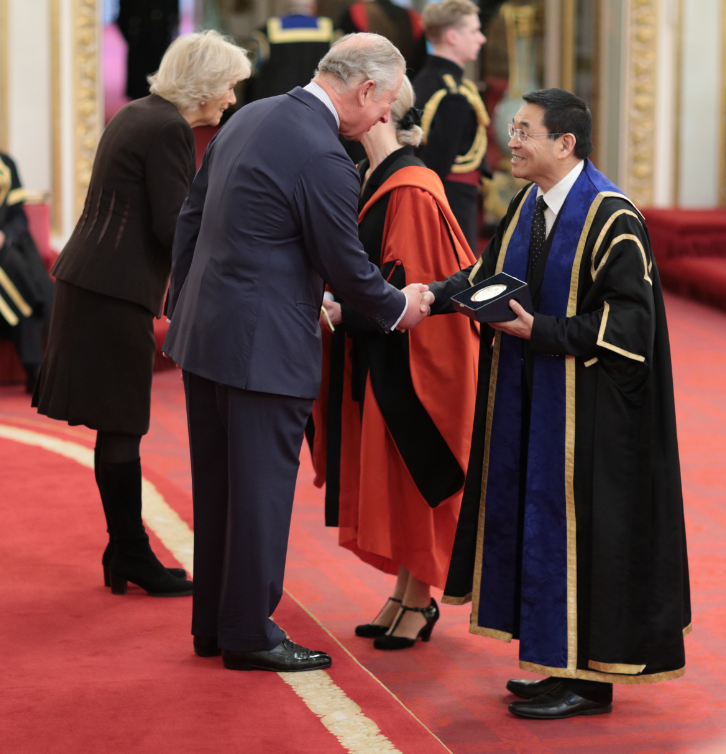 Accepting the University of Surrey's Queen's Anniversary Prize for Higher and Further Education, with Professor Susan Lanham-New.
In the challenging climate of HE, with decreasing funding from government and stronger competition for students and staff, a crucial role for the modern Vice-Chancellor is also an ambassador, increasingly required to represent the University. For example, I spend a significant amount of time meeting alumni and friends of the University, both here in Guildford and globally, to tap into goodwill and encourage future financial support.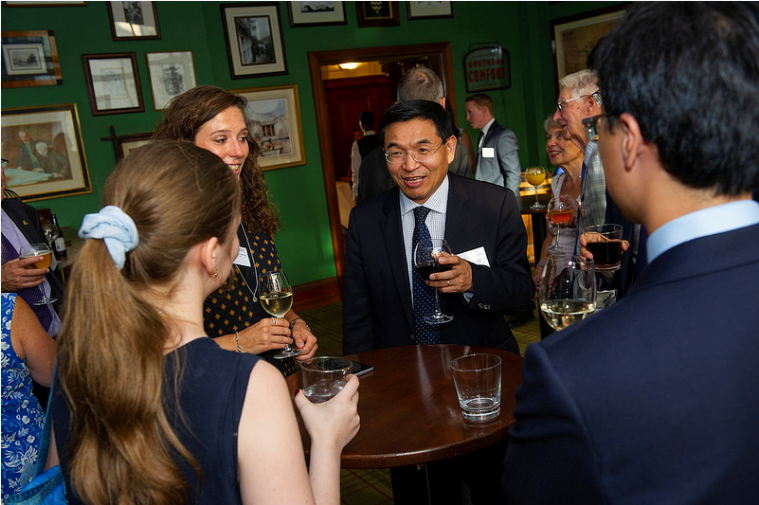 At the School of Hospitality & Tourism Management's Alumni Reception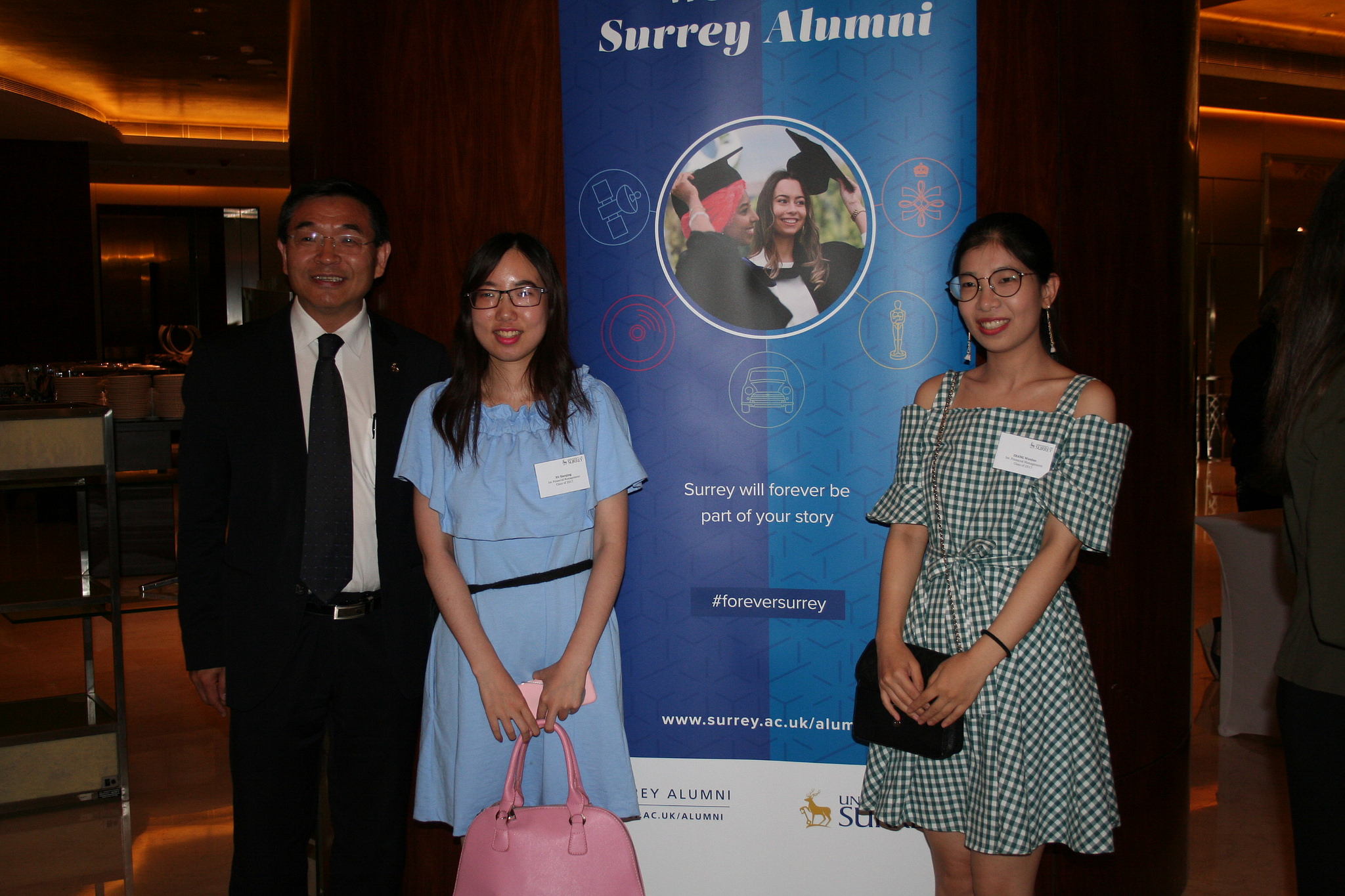 With alumnae in Shanghai
As chief advocate for the University, I spearhead relationship building for our growing reputation and capabilities. I am closely involved with engaging broader sections of society, including industry, local community and international institutions.  Externally, I serve on several high level boards and councils, to contribute to the national policies and strategies pertinent to the higher education and research sectors.  These include being a member of the Prime Minister's Council for Science and Technology, Director of the Board of the National Physical Laboratory, Director of the Board of UKRI, and Director of the Board of UUK.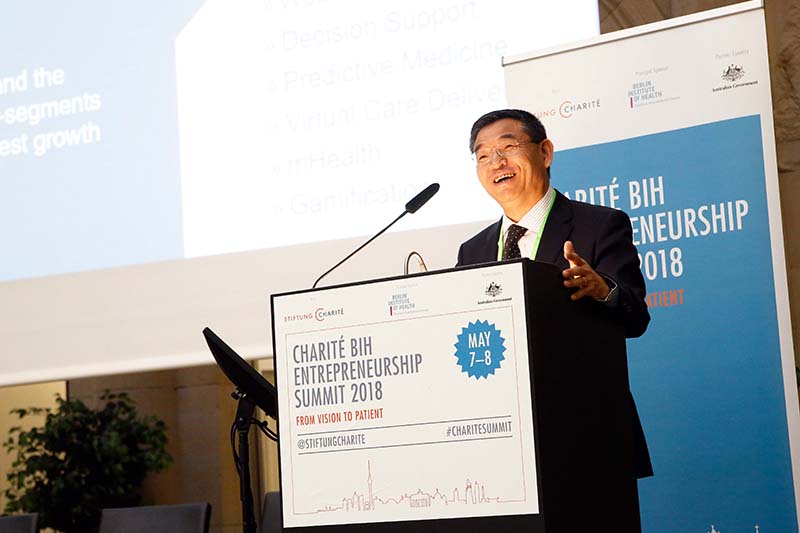 Photo: Charité BIH Entrepreneurship Summit 2018 – Sabine Gudath
To perform my external facing roles, I need to travel frequently both nationally and internationally.  This often involves trips over weekends, and a very tight schedule.  The immensely talented and committed people I get to meet on these trips, and work with every day, make it all worthwhile; they inspire me to excellence in my own work.
And, nearly every day, I chair or participate in numerous meetings, connecting with people all over the University, the country and indeed the globe. In this way, I am able to advise, empower and inspire colleagues to fulfil their own potential.
This description barely scratches the surface: there are virtually endless opportunities to do all the above, and more! A typical work-week is about 75-85 hours on the job which, believe it or not, is not nearly enough to achieve everything I want to…. but apparently it's important to sleep and eat as well!
Life in the fast lane of the Vice-Chancellorship is both challenging and rewarding.  I am in a unique and privileged position to help our fine institution to improve, and to directly impact how the world perceives Surrey, how the research we do inspires positive changes in the world and how we empower the students we teach to become the leaders of society.
Working hard comes naturally to me; I do enjoy working, as well as seeing my effort and leadership make a positive difference to the University's reputation, and ultimately to changing people's lives through education and research. That is what gets me out of bed every day, and I can promise you that it's all worth it.