'To put everything in balance is good. To put everything in harmony is better.'
-Victor Hugo
We've just celebrated two new milestones in student experience that are already transforming student life here at Surrey. MySurrey, our brand new online 'hub', is now live. This gives students a dedicated platform through which to engage with staff and access a range of content and services to assist with day to day academic and campus life. Staff are also able to login and access content in the same way that students can, making this a key online tool for the whole university community.
And MySurrey Hive is a new student-focused physical space that connects with MySurrey's digital platform. The Hive provides access to immediate face-to-face support and advice from staff on student-life related queries, and is also somewhere to meet friends for informal discussion, group study and socialising.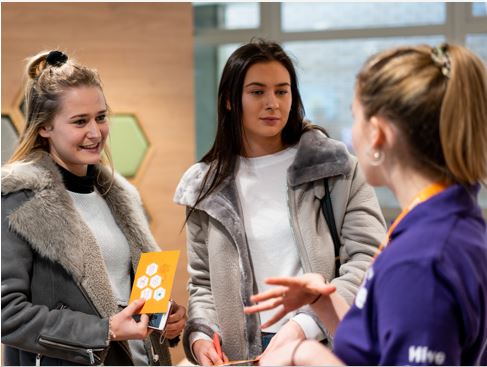 A photo from the Hive Grand Opening, above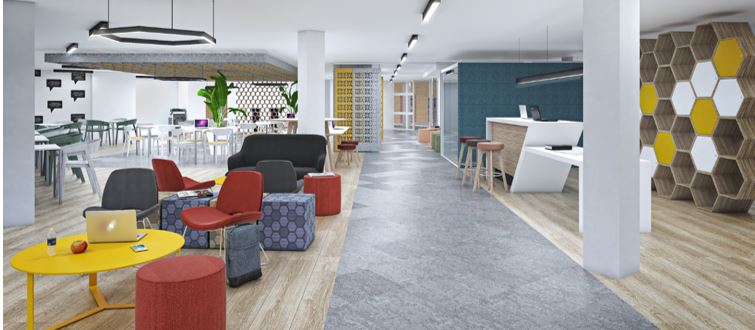 These are huge steps forward for Surrey, and it has been a very exciting time as we invest in our future in such a satisfying way. The Hive had its official opening ceremony earlier this month, and I even got to take part in a documentary film  about its development and launch.
MySurrey and the Hive are the next evolutionary steps in the way we serve and communicate with our campus community. We want to ensure that students experience excellent learning, personal support, accommodation, and social and community life.
But I have been asked by some why we invested in something like the Hive now, in the face of significant financial pressures, changes and uncertainty like much of the sector – not to mention the nation?
On the face of it, it would seem to be the time for the opposite approach: freezing spending, playing it safe and leaving the improvements and investments for some later, unspecified date when the financial future is brighter. In the short term, we could thereby possibly avoid some difficult decisions, and reduce the stress upon all of us.
At Surrey, we are always seeking to strike the right balance between the here and now – a sustainable income, while safeguarding our core business of education and research – and embracing what the future holds while being as well-prepared for it as we can. The 'perfect' time to invest rarely arrives – when all is secure, predictable, and risk-free. Of course, it's tempting to dig in and wait for that. But great things never came from comfort zones. And we have to get into the virtuous circle of targeted strategic investment that leads to sustainable and affordable growth.
We are not alone in this – at a recent meeting of more than 100 university council chairs, 90% were undergoing similar changes, and the other 10% were aware they faced the same in the months ahead. But despite the impact across the sector, there is not always comfort in the crowd.
Change is painful – especially the kinds of dramatic changes HE is seeing presently – and it has a very real and personal impact on all our staff at the University, including myself. But change is also important, because it allows us to position ourselves for the future, and to transform. I believe we need to keep investing and laying the groundwork for what is to come, keeping everything up to date for our future students and attracting intellectual talent so we can keep pushing the boundaries of innovation, as we've become famous for.
To put it simply: we have to ensure that we have a future. It's a similar rationale to going to the gym every day: regular and consistent effort right now guarantees you will be fitter for the long term, and have resilience in difficult times. It doesn't make sense to start an exercise regime only after we've suffered an injury!
So, 'fitter for the future' has to be one of our key drivers.
Running a research-intensive university in the current economic and political environment is the ultimate balancing act. We are assailed from all sides at the moment: Brexit, the Augar Review, planning a sustainable Pension strategy. And yet, post-EU opportunities seem to be improving now that the likelihood of a no-deal Brexit is receding, and the Government's commitment to increased R&D investment is still a fantastic opportunity for universities to collaborate with industry to deliver impact for society. The future may be brighter than we think, and we have to be able to play our important role in it. And, to paraphrase Abraham Lincoln, the best way to predict our future is to create it ourselves.
We want the best experience for current students, and to attract the staff who will contribute now so we can grow into our future: we strive for both balance and harmony.  Finances must be robust, to achieve it. With prescient leadership, we can find the equation for sustainable growth that serves us during the good and tough times equally, and ensures that Surrey will always be a cornerstone of the nation's higher educational landscape.