Good evening everyone, and a warm welcome!
We are delighted to be hosting this symposium for the second year.
Last year's inaugural event celebrated the 60th anniversary of the Surrey Hills' being designated an Area of Outstanding Natural Beauty. A year on, and we have seen issues of environment, sustainability and climate change take centre stage with protests, demonstrations and a young Swedish woman sailing across the Atlantic to remind politicians — and all of us — what accountability means.
When it comes to these issues, the status quo is now a thing of the past, and organisations like University of Surrey and AONB will be called upon with increasing urgency not only to play our part, but to lead.
It is fascinating to see the illustration from last year's event, which is featured in the new AONB Management Plan.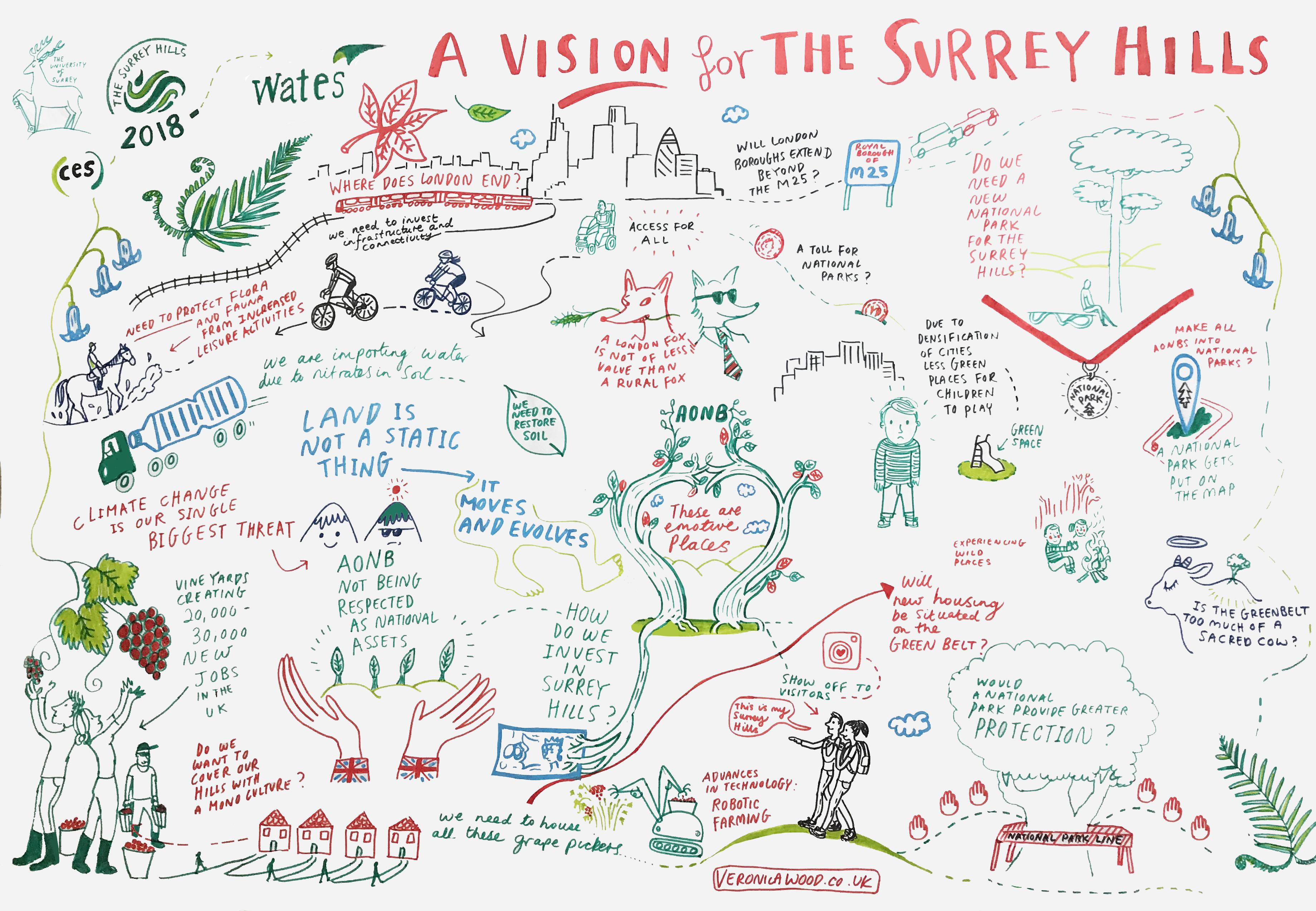 In fact, the talented artist – Veronica Wood — is with us again this evening, to capture new ideas that we'll take forward into the coming year. May I also take this opportunity to thank the Rutland Group, who are sponsoring the illustration.
This drawing from a year ago reflects many of the issues the University embraces: from remote sensing the impact of climate change from outer space, to inspiring local residents to care for their natural environment through citizen science programmes. We are at the forefront of knowledge and innovation to underpin solutions for a healthy planet. Our Centre of Environment and Sustainability is an internationally-acclaimed centre of excellence on sustainable development, and our Global Centre for Clean Air Research drives a collaborative vision of 'clean air for all.'
At Surrey, we feel very strongly that the impact of our teaching and research must be to actively address our planet's grand challenges, and to improve lives across the world. This symposium is a wonderful opportunity for us to celebrate, inspire and engage with our mission.
It is also an opportunity for us to reconnect with the AONB mission for Surrey Hills – which is to manage a changing landscape in a way that conserves and enhances its special qualities, and to maintain the social and economic strength of Surrey Hills in a sustainable way.
Surrey Hills AONB covers a quarter of Surrey's land. This means that anything that impacts this rich and diverse resource affects everyone who lives or works in Surrey.
This year's theme 'Our Natural Health Service' is significant to everyone. It has been shown in measurable ways that spending time in a natural landscape benefits wellbeing. Gradually, the inter-reliance of people and nature is becoming an unarguable fact.
Addressing climate change, the wastage in our consumerist society, and the problem of plastics and pollution are among the highest priorities in this area. Our Surrey researchers are accelerating ideas into practice, and making a difference. For example, the MSc programme in Environmental Psychology has been running since 1973, and is the only one of its kind in the UK. Our Environmental Psychology Research Group explores topics like the experience of the built and natural environment, and explores sustainable behaviour and environmental attitudes.
Two of our academics – Dr Birgitta Gatersleben and Professor Caroline Scarles, from whom you will be hearing later – are leading initiatives that make the most of our natural resources in sustainable ways at both ends of the lifespan:
restoring young minds through contact with nature, and
living environments for healthy aging.
The University plays an integral role in this community, and we know we have a unique position of responsibility to Surrey and its citizens.
The political future is of course very uncertain, and the pace of technological and social change will impact on our ability to conserve and protect our precious natural resources for future generations. We look forward to deepening the University's partnership with AONB to benefit everyone who is fortunate to live in, or visit, the Surrey Hills, and to safeguard this beautiful landscape.
We are all grateful to AONB for over 60 years of inspired service to such a valuable natural resource. The theme of next year's Symposium will be Restoring Nature across the Surrey Hills in the Face of Climate Change. I hope that a year from now, we will find environmental issues positively transformed by our collective efforts.
But for now, it gives me great pleasure to introduce a long standing friend of the University and the Patron of Surrey Hills, Dame Penelope Keith, to reflect on what Surrey Hills means to her.
Thank you.