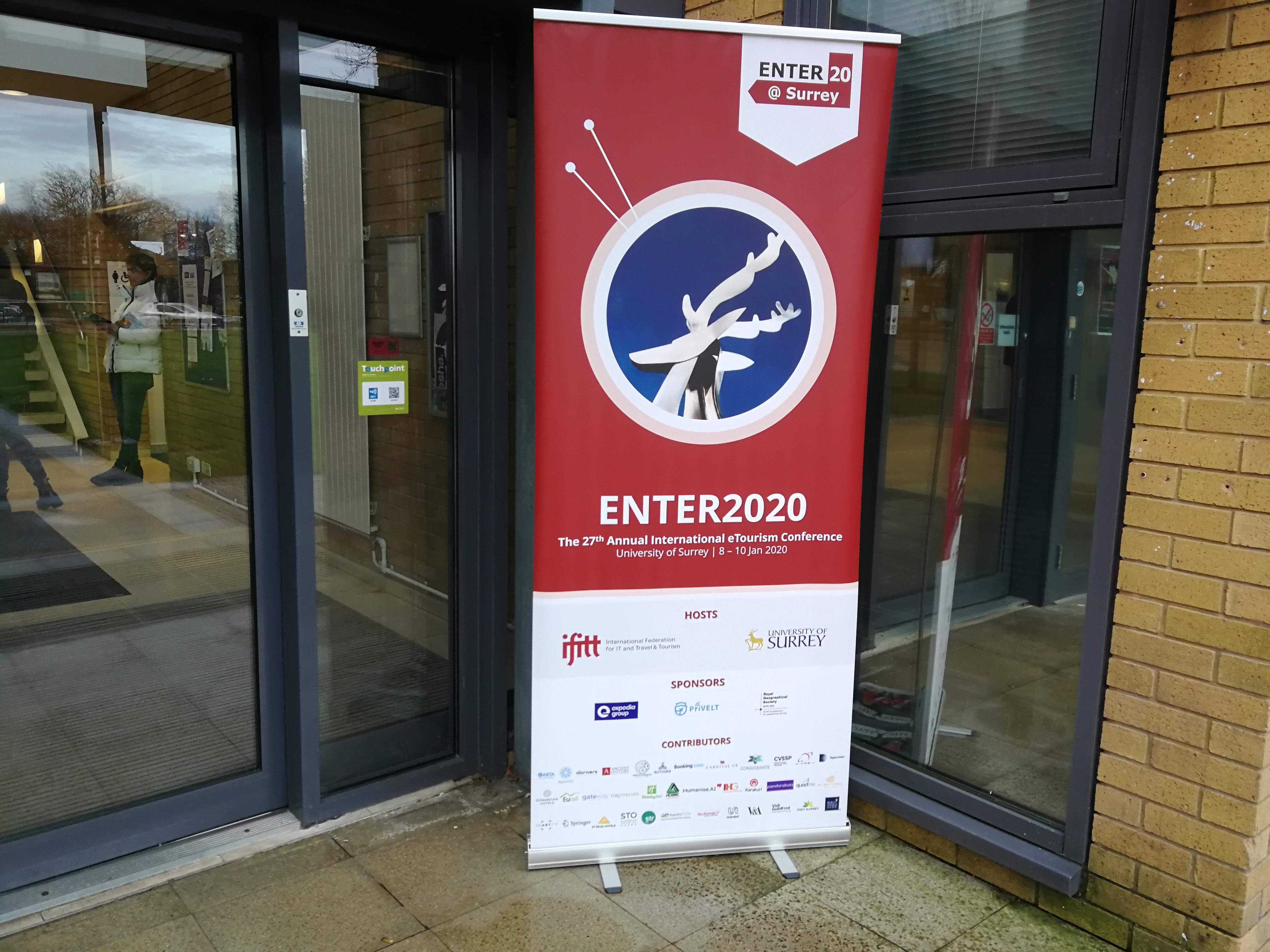 Good morning, and a very warm welcome to Surrey! I hope you will enjoy getting to know our beautiful campus and learning more about what we do here.
For those of you here who may not know us very well, let me begin by briefly introducing the University of Surrey. The University of Surrey is widely known as a leader in higher education, renowned for the quality of our graduates and impact of our research and innovation. Together they make a difference to lives all over the world.
We are delighted to host this conference. This is a great opportunity for leading researchers and practitioners in e-tourism from all over the world to gather, exchange ideas and foster collaborations. I am sure that many inspiring ideas and new partnerships will emerge from this conference, to address the challenges and find the possibilities in our fast-moving digital world.
The German philosopher Arthur Schopenhauer said: 'Research is to see what everybody else has seen, and think what nobody else has thought.' We can accomplish this only when we start conversations, imagine the unforeseen, and think the unexpected ideas. The tourism sector, and indeed our whole economy, depend upon it.
Your theme of responsible eTourism addresses how we can leverage technology to ensure the positive impact of travel and tourism, and this is very interesting and timely. We are seeing an extraordinary rise in awareness of our natural world and human impact upon it – but even more than this, we are seeing a growing appetite for action on the personal level that is reaching across the globe – and even into outer space, as our renowned RemoveDebris satellite starts the clear-up of galactic waste!
In my view, technology is accelerating and will continue to do so – but we must make sure it is being used to address the world's grand challenges.
So, I am very pleased that ENTER2020 will focus on exploring emergent and cutting-edge ICT that supports progressive and responsible transformation in travel, tourism, and hospitality. This ambitious aim touches a number of disciplines that are very important to us at Surrey.
For example, our Centre for Vision, Speech and Signal Processing celebrated its 30th anniversary last year. Thisis an international centre of excellence in artificial intelligence and machine perception, as well as augmented and virtual reality. Its pioneering research has underpinned applications in biometric, communication, medical and creative industries.
The Centre of Digital Economy was founded in 2014 to explore Big Data, the Platform Economy, and the ethical and social implications of ICT.
The research pursued by our School of Law is making breakthroughs like the first-ever patent applications for two inventions created autonomously by AI.
The list goes on: there is no area of our lives untouched by digital technology. This '4th industrial revolution' is requiring a revolution in thinking too. It is breaking down boundaries between disciplines and forcing us all to examine rules and ideas that we thought were set in stone.
This is where imaginative collaboration becomes an urgent necessity, as we turn to each other to find new solutions to questions that are unpredictable, and evolving fast.
Great collaborations help us act quicker, work smarter, and stay at the forefront of higher education. We have many talented individuals, but it's when we work together, and connect with other universities, community partners, businesses and government that we are strongest in our research and innovation.
One of the jewels in our crown is your host for this conference — our School of Hospitality and Tourism Management, which is truly "an exceptional school" that ranks amongst the best in the world.
The School's beginnings are remarkable – and so are its innovations in modern hospitality and tourism. A Czech refugee named Professor Rik Medlik was its founder and was Head of School between 1967 and 1977. Medlik dedicated his life to studies in the service sector. He recognised that Britain could have a prosperous future in the hotel and tourism industry at a time when this country saw itself solely as 'the manufacturing workshop of the world'.
So, our School was built on foundations of innovation, vision and conviction.
Within the School, three pillars of research illustrate how much the modern tourism industry has grown into its natural role as economic driver, innovator, and leader in ethical and environmental responsibility.
One of these areas — the Digital Visitor Economy Research Group — is dedicated to researching and advocating the power of information technology and digital media in the visitor economy. Its 'Next Generation Paper' initiative could well be changing the face of tourism by blending paper and screen-based information to create tourist guidebooks that are truly interactive, adding to the depth and quality of visitor experience.
Ultimately, the School and the University share a vision: to be global leaders, making an impact through excellent teaching and cutting-edge research. We are delighted to share this vision with you, to learn from you, and together continue to serve society and change our world for the better.
Enjoy the conference, and enjoy Surrey!
Thank you.