Lady Toulson, our honoured speaker Baroness Hale, distinguished guests, ladies and gentlemen: good evening, and welcome.
On behalf of the University of Surrey, I am privileged to welcome and introduce Baroness Hale to deliver this year's Toulson Law Lecture.
Lady Hale is a formidable and inspirational figure whose reputation extends well beyond the legal world. Her extraordinary journey to the top of her field features more 'firsts' than I can list in the time allowed. She was the first from her school to attend Cambridge, where she came top of her law class, and the first woman appointed to the Law Commission. In 2004, she was made Britain's first female law lord. In 2009, she became the first woman to serve on the UK's new Supreme Court; in 2017, she became its first woman president – a post from which she has just retired. The list goes on.
Her professional integrity, breadth of legal knowledge, and clarity of thought and argument, are legendary. She has become a cult hero to today's law students. And, in an unprecedented television appearance in 2018, Lady Hale appeared as a celebrity judge on BBC's MasterChef.
This event is hosted by our acclaimed School of Law, and tickets sold out well before Christmas — which reminds me to extend a special greeting to those who are joining us remotely via live streaming.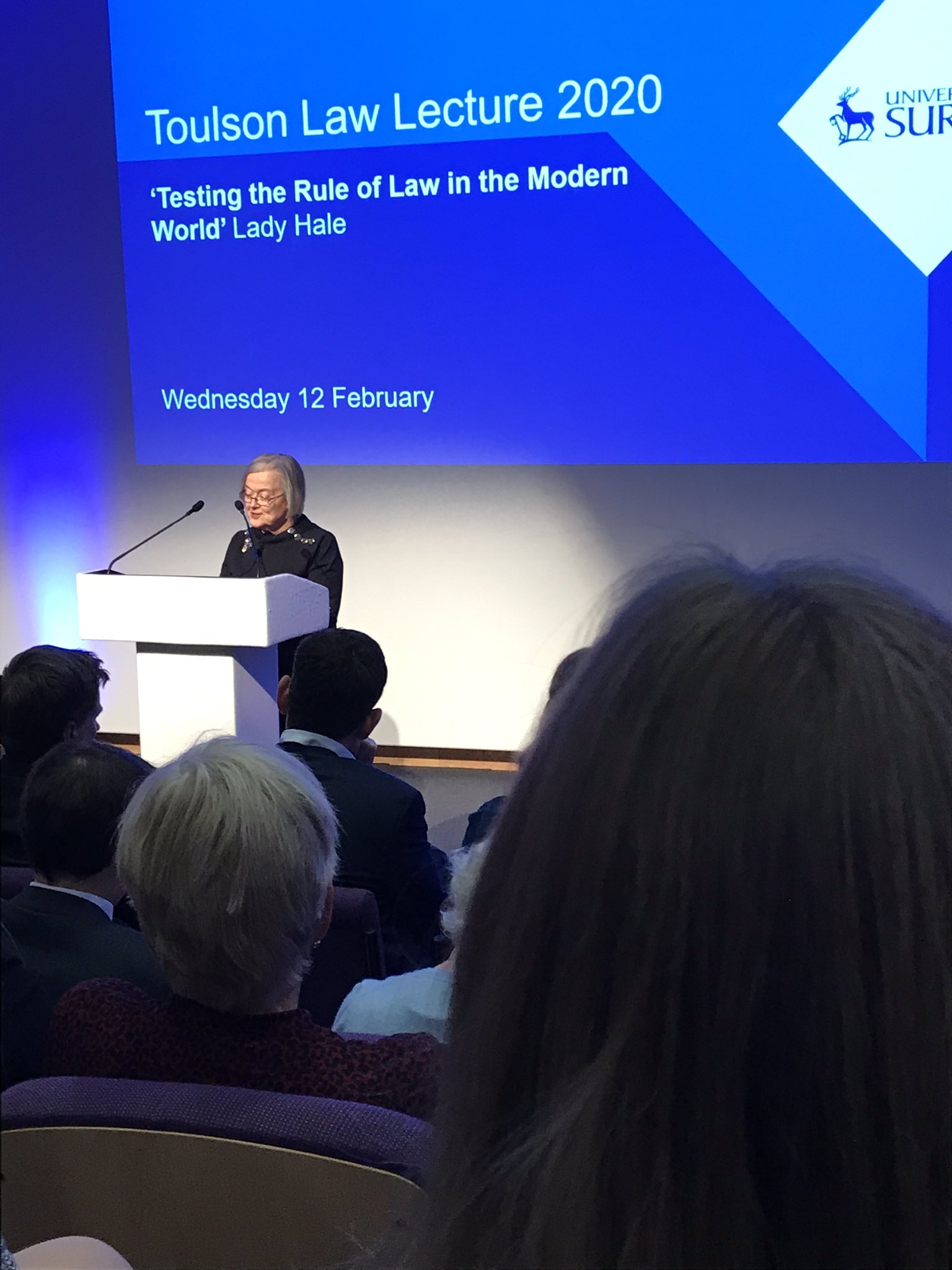 The Toulson Law Lecture series is held in memory of the late Lord Roger Toulson. Lord Toulson was a former Distinguished Visiting Professor at Surrey's School of Law, and one of Britain's foremost lawyers and intellectual leaders on the Supreme Court. This lecture forms part of the broader Global Challenges Forum, which invites leading thinkers from a range of sectors to address some of the biggest societal challenges of our time.
The subject of Lady Hale's speech this evening, "Testing the Rule of Law in the Modern World," is both timely and relevant. The Supreme Court's now-famous ruling that the Prime Minister's prorogation of Parliament was unlawful was read out by Lady Hale herself.  It is an excellent example of an unstoppable force meeting an immovable object. It reminded us in a dramatic and public way how the rule of law keeps public officials accountable, upholds democratic principles, and safeguards the integrity of the constitution.
In this nation, where a keen instinct for justice is woven into the culture, it is important that the law is tested, stretched and seen by the people themselves to be serving their greatest good. I am very much looking forward to hearing Lady Hale's insights and observations tonight.
But first, please join me now in welcoming Lady Toulson to the podium to say a few words.