みなさん、こんにちは。先週金曜日から日曜日にかけて、授業の一環でウェールズの首都カーディフ(Cardiff)に行ってきました。この授業のゴールは、デスティネーション(Destination)の管理について多方面から学ぶことです。今回の旅行は、これまでの学びを生かしてカーディフが抱えている課題を洗い出し、それに対する解決策を導き出すため現地で調査を行うことが目的でした。2〜4人のグループに分かれ、それぞれが調査に必要なアンケートおよびインタビューの内容を考えます。それに基づき現地で対象となる人々に聞き取り調査を行いました。今回はその様子について、1)調査、2)クラスメートとの交流、の二つの側面からレポートしたいと思います。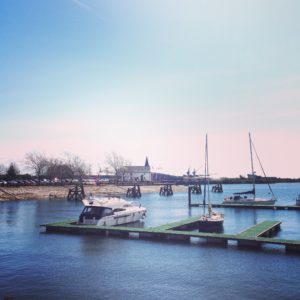 まずは調査について。私たちのグループの調査対象は二タイプでした。一つはカーディフを旅行で訪れている人たち、もう一つはカーディフのツーリズムに携わっているステークホルダーの人たちです。一つ目のグループには選択形式のアンケート、二つ目のグループには自由回答形式のインタビューを実施しました。全体として非常にスムーズに進んだのですが、その理由は二点あると感じています。一点目は調査の練習としてパイロット調査を大学近くのギルフォード(Guildford)の街で事前に行ったこと。アンケートとインタビューの内容が回答者にとってわかりやすいものとなっているか、回答者一人あたりに対してかかる時間はどのくらいか、街中でアンケート協力をお願いして快く受けてくれる人は何人につき何人か(回答成功率)等を事前に確認しておいたことで、当日のタイムマネジメントとターゲット回答数の決定が非常にやりやすかったです。二点目はグループメンバー同士の絆を深める努力を長い時間かけて行ってきたことです。2月にグループを形成して以来、ミーティングを定期的に行ってきただけでなく、授業後にランチをしてお互いを知る機会を意識的に設けたり、4人で旅行に出かけたりもしました。(以前のブログ記事参照。)今回の調査旅行までにお互いの強みと苦手な部分をきちんと理解していたので、どこで誰に手を差し伸べるべきか、或いはどこで誰に助けを求めたらいいか、といったことを容易に判断することができました。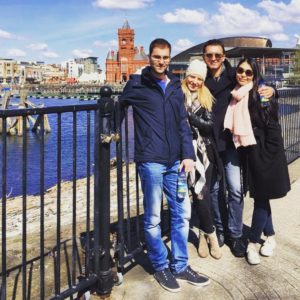 次にクラスメートとの交流について。この授業は必修ではないのですが、ツーリズムコースの大学院生の多くが受講しています。修士課程が始まって約7ヶ月が経過した今、クラスメート同士の仲は非常に良好で、良い関係を築いていると感じています。今回の旅行に参加していた生徒の国籍はなんと10カ国以上!1日目の夜はホテルのロビーでゲームを楽しみ、2日目の夜はカーディフ・ベイにあるパブに出かけてナイトライフを夜中まで楽しみました。調査だけで楽しむ時間がまったくないということではなく、どちらもバランス良く盛り込むことができ、非常に有意義な調査旅行だったと思います。このような楽しいアクティビティが組み込まれているのも、サリー大学でツーリズムを学ぶことのメリットの一つです。
---
Hello, everyone! Last weekend, I visited Cardiff, the capital of Wales, as a research trip for one of my modules. The module aims at leaning how to manage tourism destinations from a variety of perspectives. The objective of the research trip is to conduct research in Cardiff in order to find the solutions to the challenges and problems identified in advance by applying the learnings from class. The class is divided into groups of 2 to 4, and each group is encouraged to create questionnaires and interview grids for the research. Today, I will talk about the trip from two aspects: research and social activity.
Our group has two target groups for the research; one is visitors to Cardiff and the other is tourism stakeholders in Cardiff (e.g. managers at hotels, restaurants, and tourism attractions). We created a questionnaire for the first group with basically closed ended questions, and a interview grid for the second group with open ended questions so that they can give us more insights from the professional perspective. Overall, the research went very smoothly mainly because of two reasons; one is that we have conducted the pilot study in Guildford and the other is that we have worked on bonding ourselves since the very beginning. The pilot study gave us some important findings for our research, such as average time per interview, success rate per interviewer, and performance of the contents (how well the respondents understand the questions). Because we were aware of these points, we could easily plan on our time schedule and the target number per day. Developing close friendship between the group members was also a key. Since we formed the group in February, we have had formal meetings occasionally as well as casual gatherings including the weekend trip to Stockholm, where we found out about each other to personal levels. It was easy for us to identify whom we can ask help from as well as whom we should provide help to within the group, as we know who is better in what skill.
Social activity was another exciting part of the trip. Although this module is not compulsory for all the tourism students, most of us are in the class and we are very close to each other after 7 months has passed as course mates. On the trip, we had students from more than 10 nationalities! We played some games in the hotel on the first night, and we went out for drinks in Cardiff Bay on the second night. Overall, it was well balanced with research and social activities; just another reason why studying tourism at Surrey is the best choice!