Hi there!
I has been long since I last blogged and this is due to my COMMITMENT to final year.. .It really isn't that bad guys, I'm just trying to scare you. I was a little busy settling in…yes once again after a lovely summer break.  No matter if you are a fresher or in final year, there is always a bit to do when you  move in into your new accommodation.
We are just about to end the 4th week of our academic calendar today. Most of the students would have finally memorised their timetable now..unless they have one that changes every week. :/ There has been a lot happening in Surrey for the past few week. This blog would be dedicated to Freshers Fayre. On a side note..did you know that the Lawson was here at University of Surrey on the 26th of September for a Welcome party during Freshers Week??  I missed it to because I wasn't aware of it then.
Back to Freshers Fayre.. it was held on the 2nd October  at PATS field. Freshers Fayre is where students have the opportunity to find out more about clubs and societies that are available here at the University of Surrey and sign up to them. As Abhi has mentioned, Freshers' Fayre is the best place to meet people with similar interest and not to forget to grab some freebies as well. 😉  I remember signing up for so many societies in my first year as I was excited about all the options available, then during the second year I did reduce the numbers. Finally this year, I have grown wiser and only signed up for the societies that I would really turn up to.  But just saying, there is no harm signing up for as many societies as you want, because you never know what you would enjoy until you try it all. Hence why the following weekend was the Active Freshers Fayre. This weekend gives students the opportunity to try out the clubs and societies that they have signed up for. This includes sports clubs, martial arts, Zumba, and even rock climbing. I do recommend you to use this opportunity to try out activities that interest you to help decide if you want to stay on and be a member of a particular club. During my first year, I did try out Rock climbing and Archery during the Active Freshers Fayre. It was really fun and yet painful at the same time.
On the first week of University (starting on 5th Oct), if not all..most societies had their Meet and Greet.  Meet and Greet is for you to meet  people in the society and get to know what the society is all about and what events have they planned out for that year. So it is more like Active Freshers Fayre as well..but this time it is for societies.
The Malaysian society too had a stand at Freshers Fayre and we recruited quite a number of new members this year (I'm not very sure about the numbers but I remember seeing a lot of new faces). This  includes a few non-Malaysians who were interested in getting to know more about our Malaysian culture.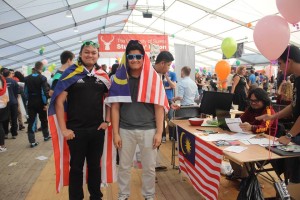 We had our Meet and Greet on the 9th October.The event started at 6.30pm with the registration of the members, followed by introducing the committee for 2015/2016 and an ice breaker activities. Then of course we had some yummy Malaysian food (Malaysian events are never complete without food..rite?) I have included a few photos from the Malaysian society's Meet and Greet.