Hello again!
For those who have been keeping track, welcome back to my incredibly long and rambling account of the best two weeks of my life. For those wondering what I'm on about, perhaps pop over to my previous post to gain some backstory. When last I left you, we had just finished the painstaking Roy's Peak, and were beginning our descent into Queenstown.
Friday 19th April
Our first full day in Queenstown was packed full of adventure and thrill – much like the rest of our time there. With Queenstown being the adventure capital of New Zealand, and the home of the bungy, it was undoubtedly going to be a major highlight and even before starting the trip we knew it would be an incredible climax. That morning half of the group was going bungee jumping while the other half (myself included) were set to do it the next day but still went along for the ride. They opted to do the bungee at Kawarau Bridge, which was the world's first commercial bungee site. The view was absolutely gorgeous and even though I wasn't personally jumping that day it was still tonnes of fun watching everyone go off and hear the screams of excitement.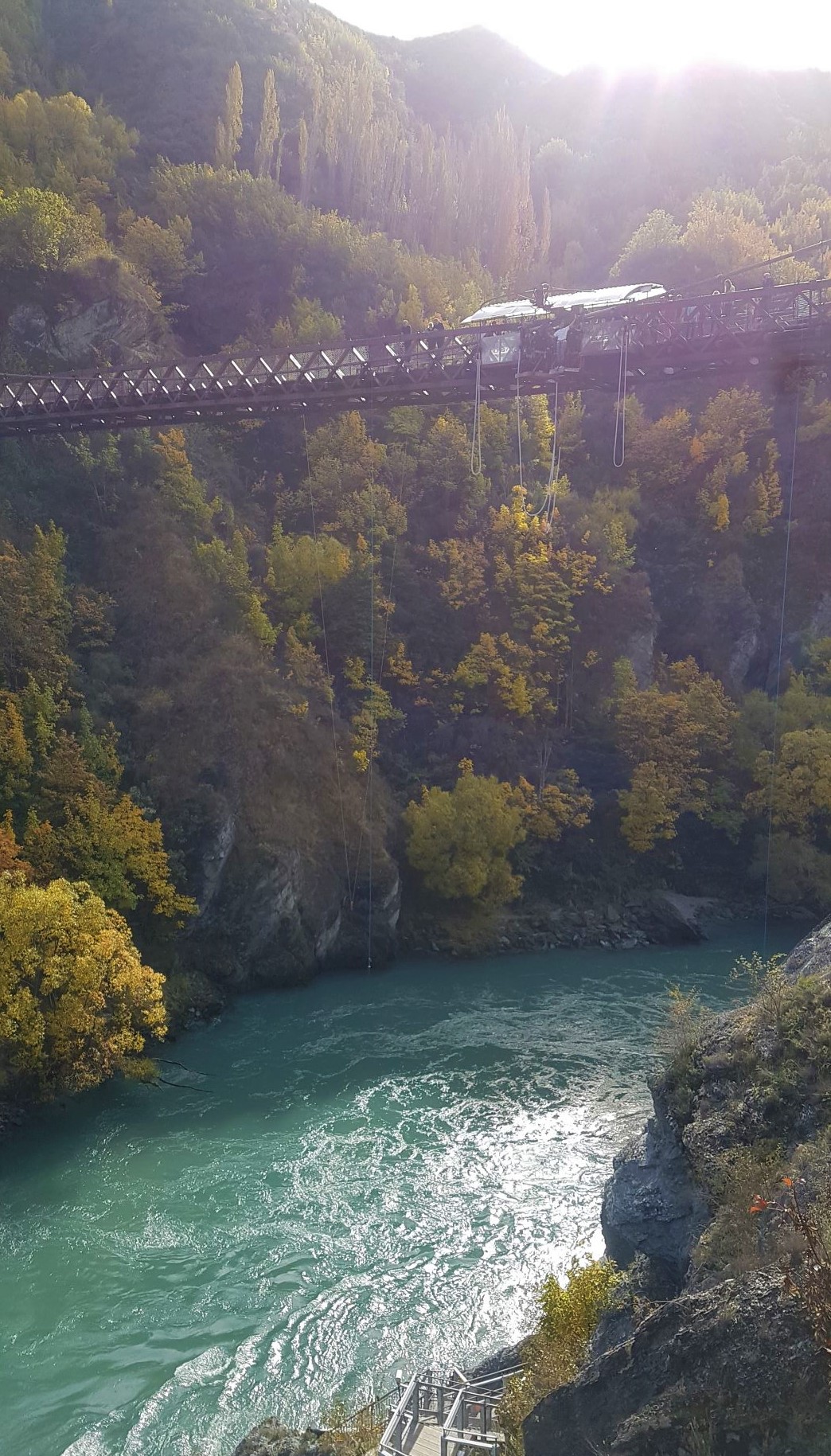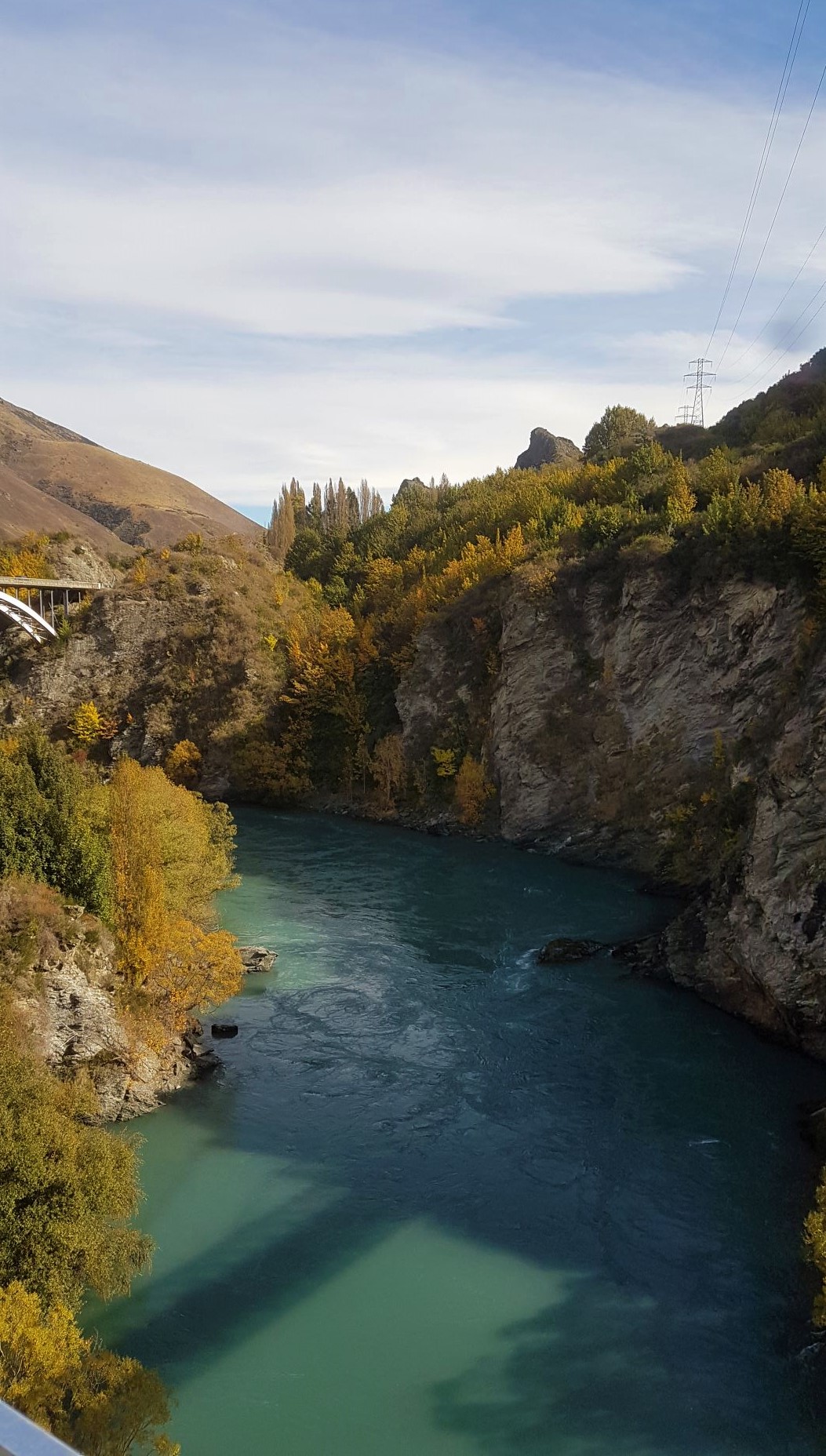 Once everybody was on the ground and the excitement had died down a little bit, we hopped on the bus back to Queenstown and spent the afternoon walking the lake and town and revelling in our surroundings. On the waterfront we watched a busker named Reuben Stone who was a rather eclectic musician. We fell in love with his songs and would come to run into him several other times around town, and his music provided us with the theme song to the rest of our trip.
At dusk, we were off on our second adventure of the day! A short walk from our hostel took us to the base of the Skyline Gondola, which we rode to the top to experience some beautiful views over Queenstown. At the top we then did the luge, and I cannot stress enough to you how fun that was. We only did two trips because we thought five would have been overkill, but I could've easily done that and then some. By this point in the trip we had walked the Abel Tasman Coastal Track, hiked Roy's Peak, Driven the Great Coast Road and other beautiful roads, and experienced an unreal sunset in Hokitika among other incredible things. However, I would be lying if I said whizzing down a track carved into a hill in a little plastic buggy was not the best part – it's the little things.
   
You can see the sheer excitement on my face
Saturday 20th April
This was it – the big day! That is, the day I would be flung off a ledge. We hopped on the AJ Hackett bus at around 12.30 PM for the 40 minute drive to the jumping site. There is only so much I could write about the actual jump other than it was SO MUCH FUN! I did the Nevis Swing which is the best of the both worlds as you get a 70m freefall drop and a 300m arc swing. That way you get both the fast-paced, no-time-to-scream thrill of a bungee jump, with the added fun of swinging across a canyon (who doesn't love a good swing?) that's a little slower. You also get a couple of minutes before they hoist you back up to sit there in the awe of this thing you have just done, and take in the scenery around you, which was awesome.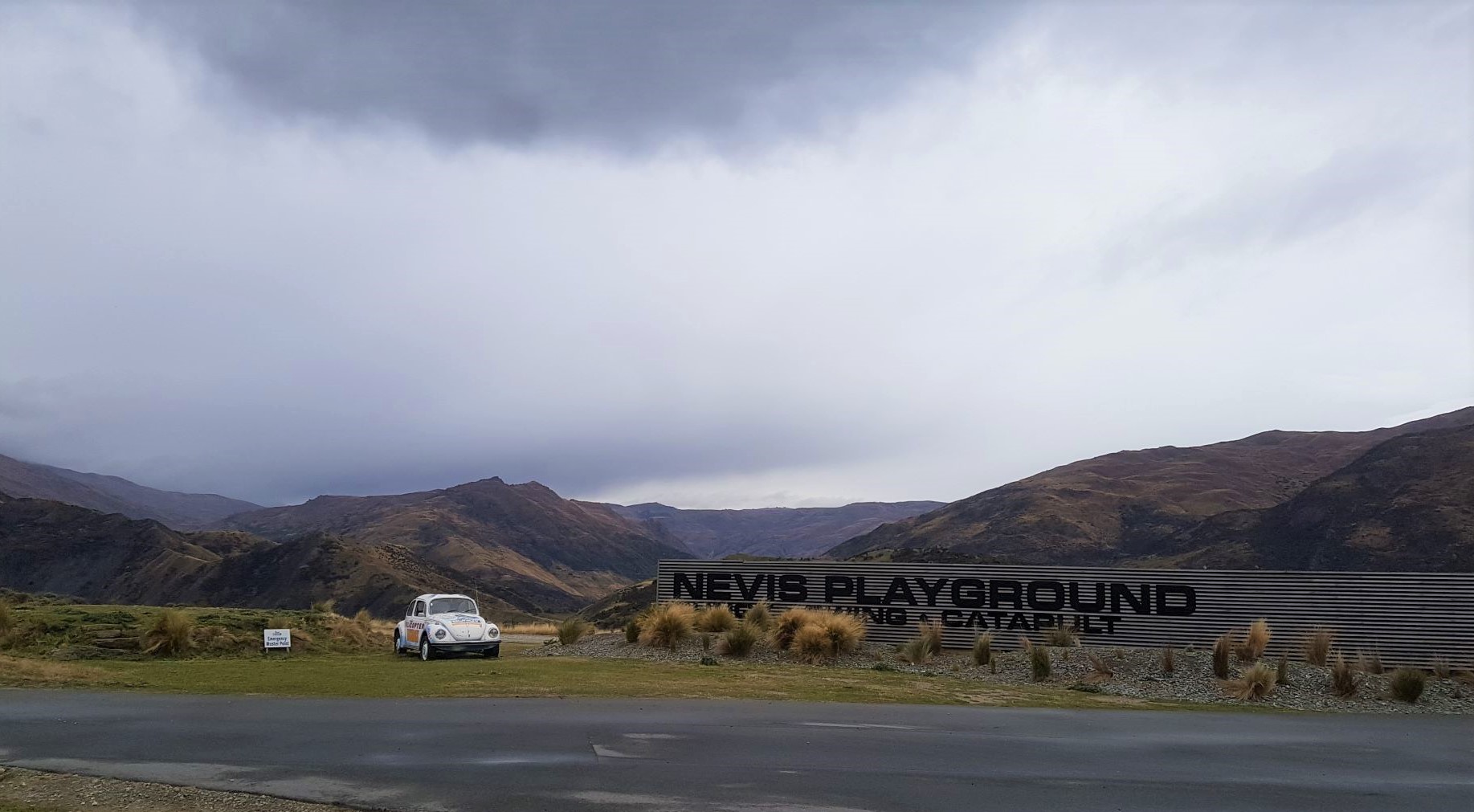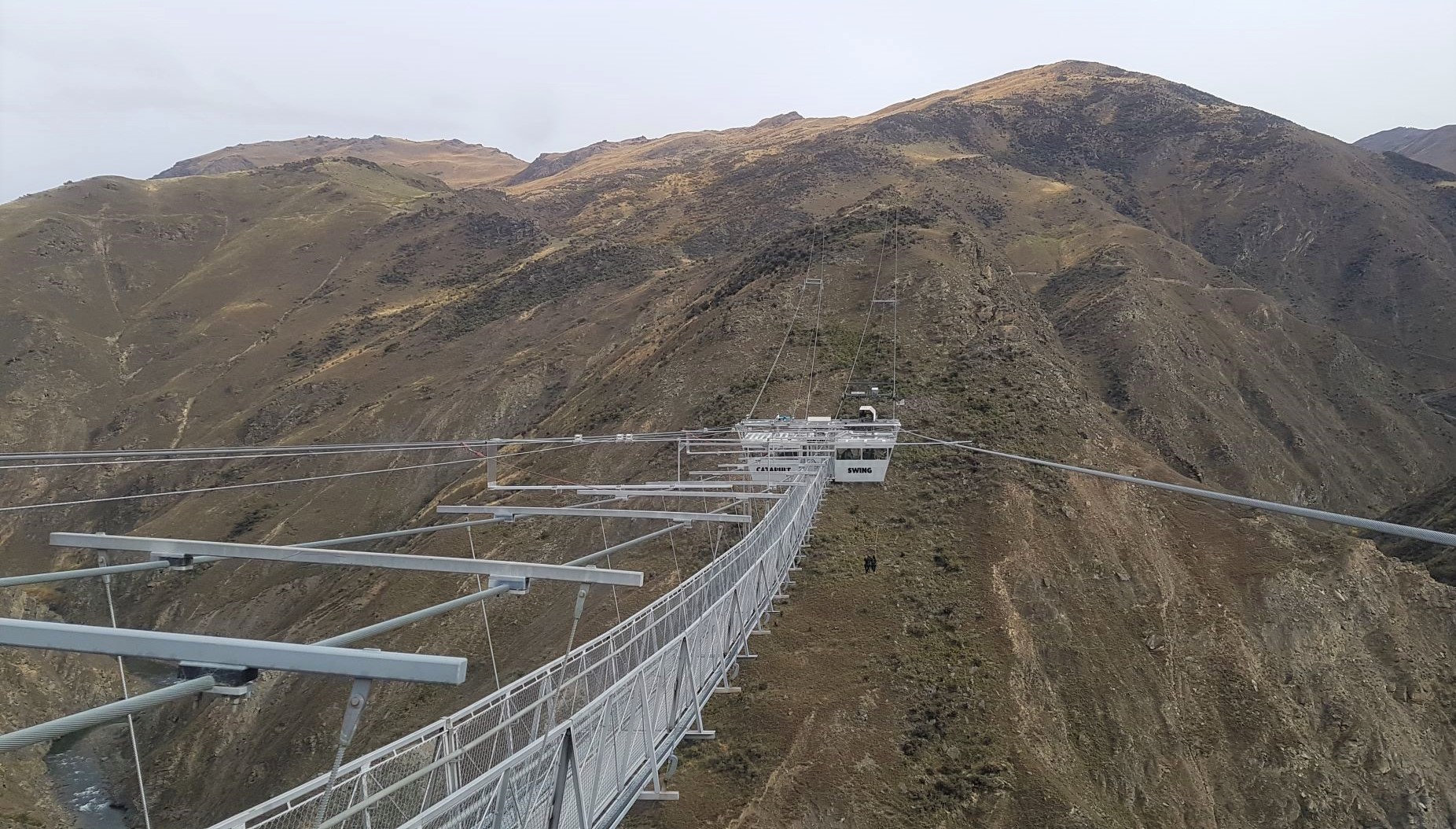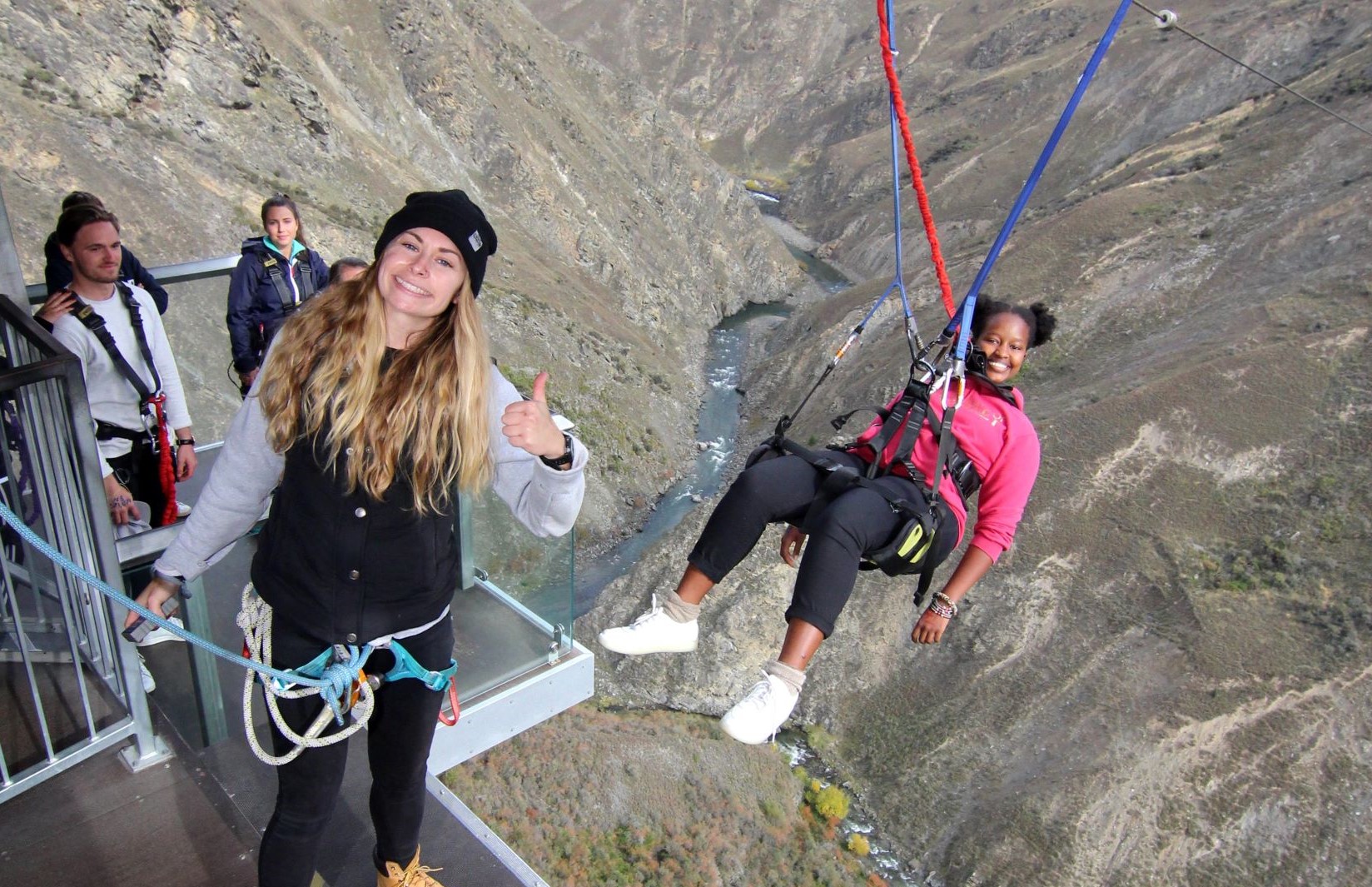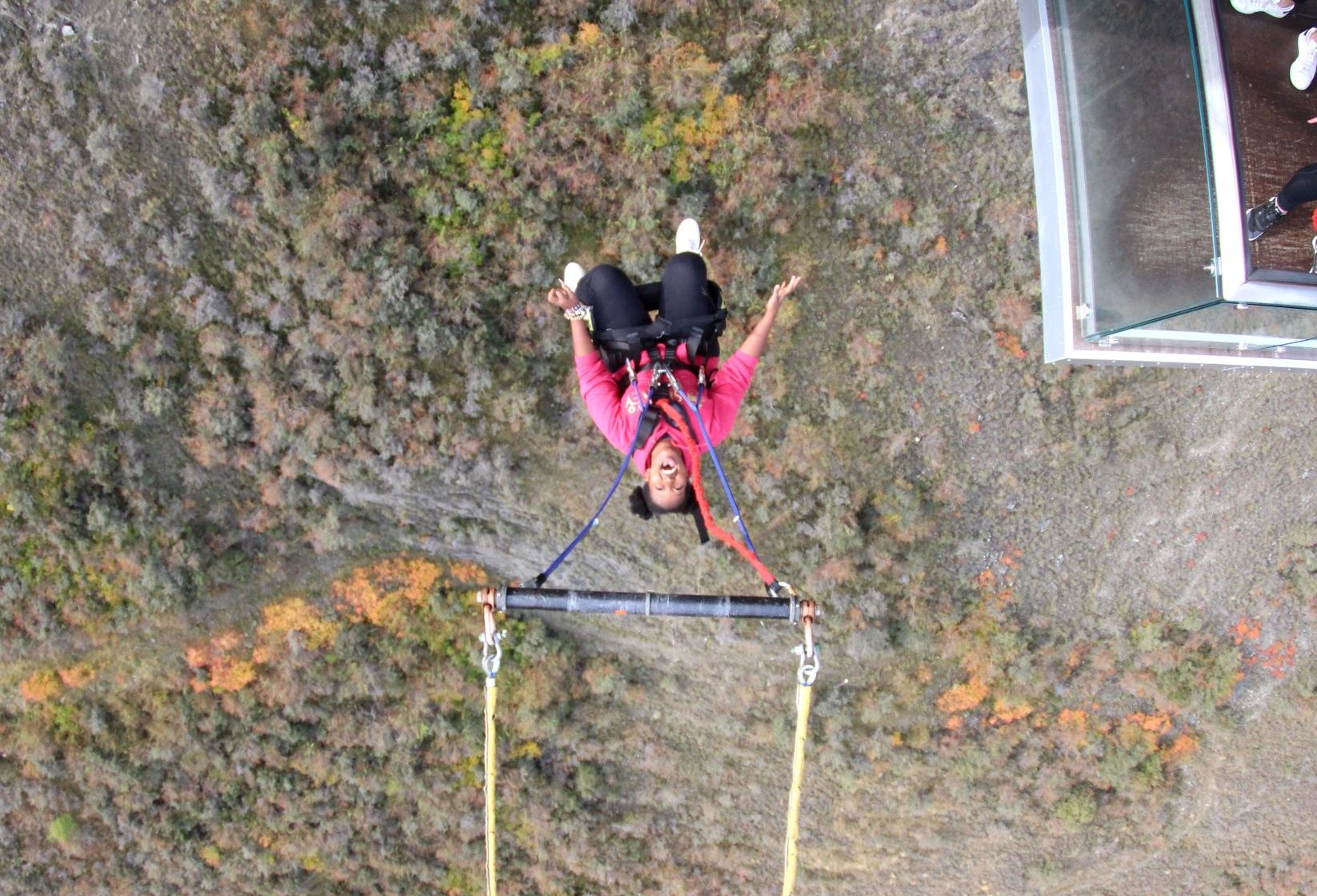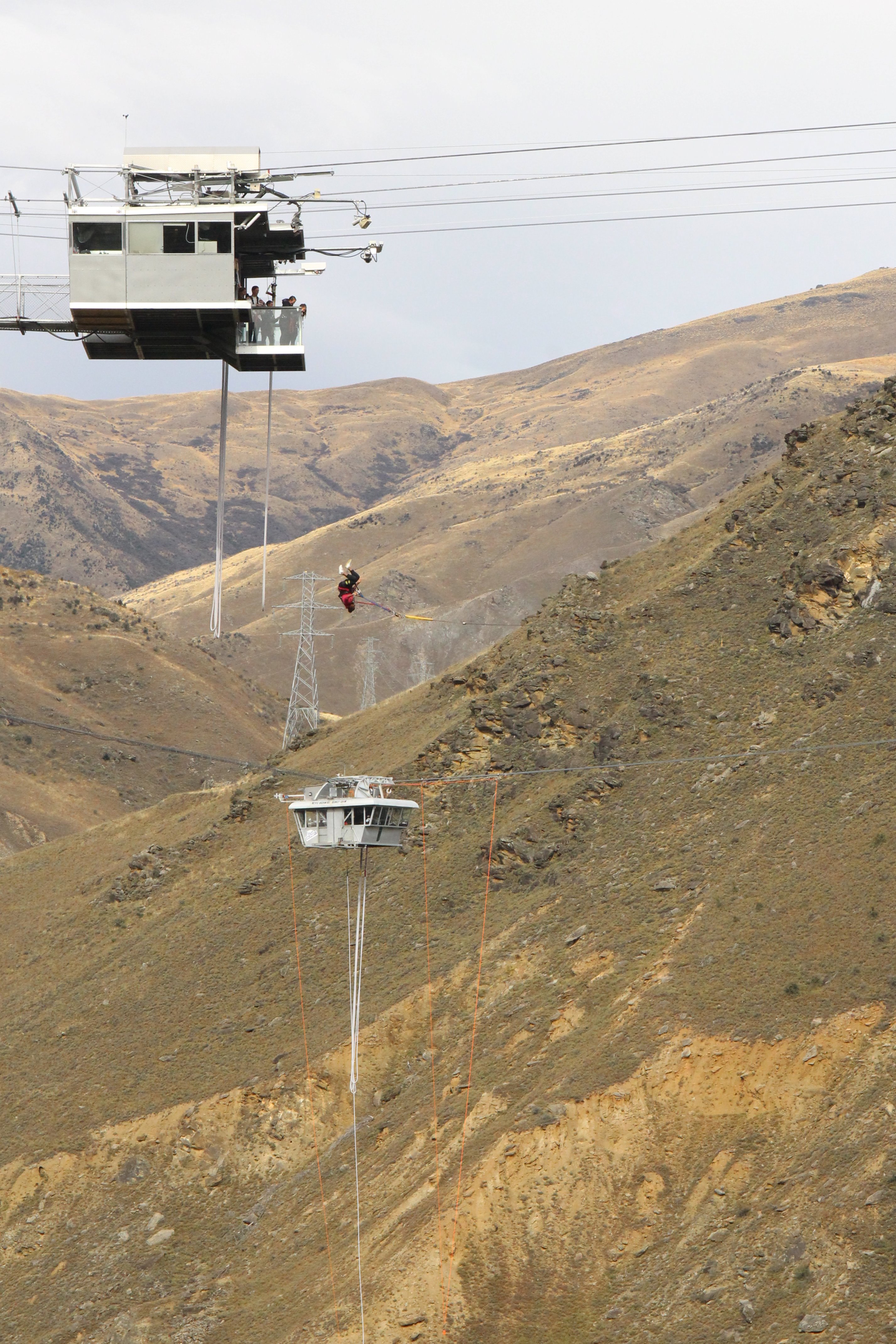 This side shot shows the height we were at. At 393 feet, the Nevis is the tallest bungee in New Zealand and almost 3 times taller than the second tallest. 
At night we went on a bar crawl to experience the Queenstown nightlife. We had originally signed up to do it on Friday but quickly found out that the bars weren't open as (fun fact) it is illegal to sell alcohol on holidays in New Zealand, and that happened to be Good Friday. After a wonderful night out we got what little sleep we could in preparation for what was going to be a very long day the next day. The reason you ask? Two words – Milford Sound.
Sunday 21st April
We clamoured awake at 5AM – much to the irritation of our other roommates – to be on the road by 5.30 for the 4 hour drive to Milford Sound. It was a couple of hours into the drive before we started showing the first signs of life – made possible by a hearty breakfast of rice pops and rice milk – and only after then did we start to appreciate the drive. We hadn't seen Lisa for a couple of days at this point so it was refreshing to be away from the hustle and bustle of the town and our hostel and be back on the road in our loveable Toyota Corolla hatchback. On arrival in Milford Sound (which, fun fact, isn't a sound but a fiord!), we made the short walk to the jetty for our cruise around the sou- erm, I mean, fiord. Milford is often touted as a must do in New Zealand and was even once termed the 8th Wonder of the World, so safe to say (as I'm sure you're picking up by now), it was pretty spectacular.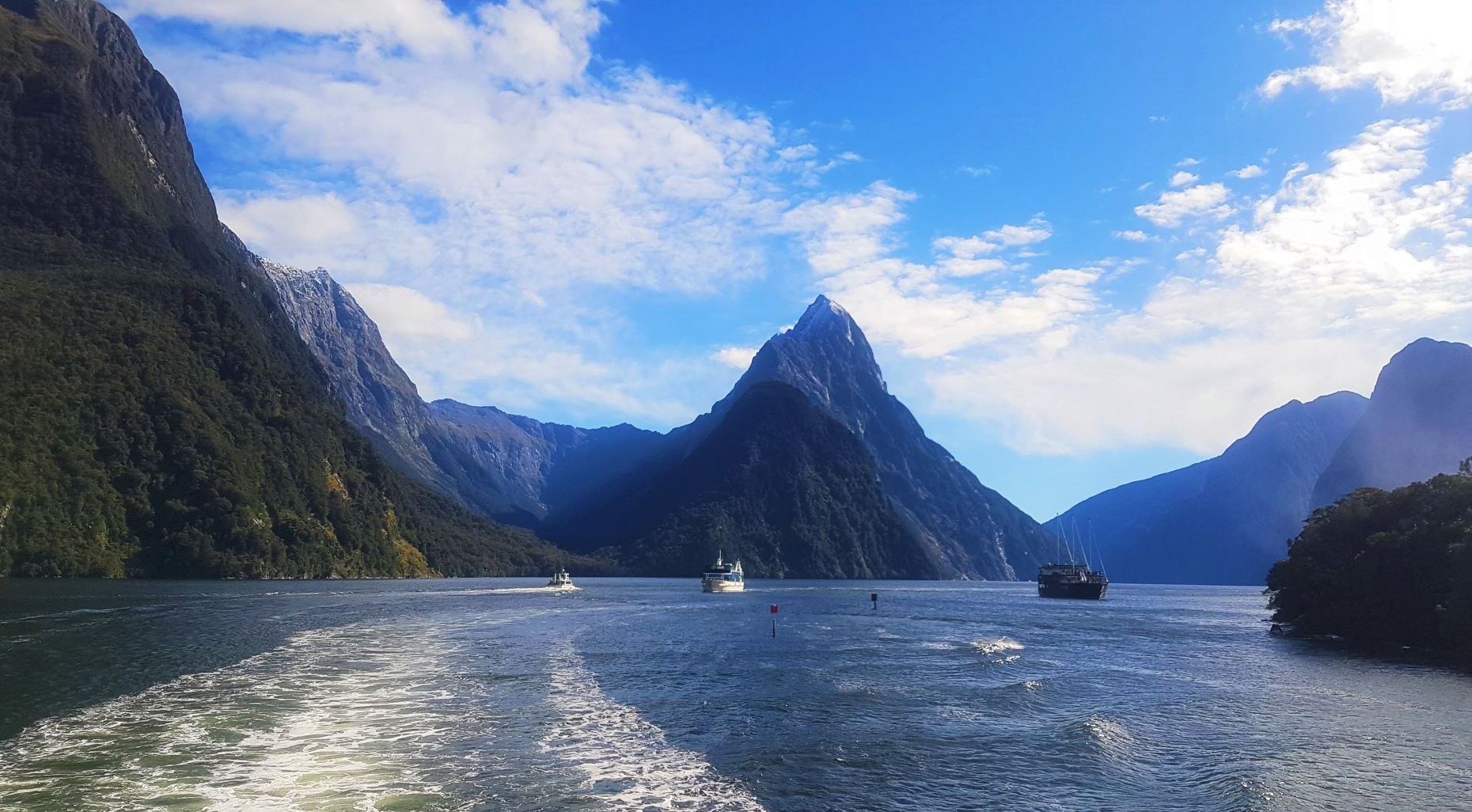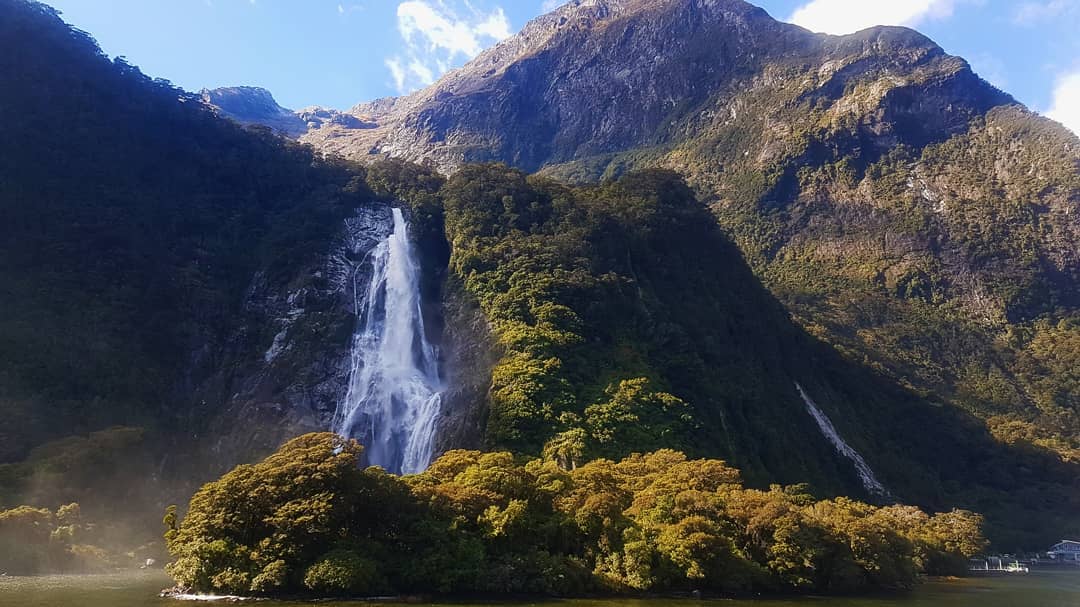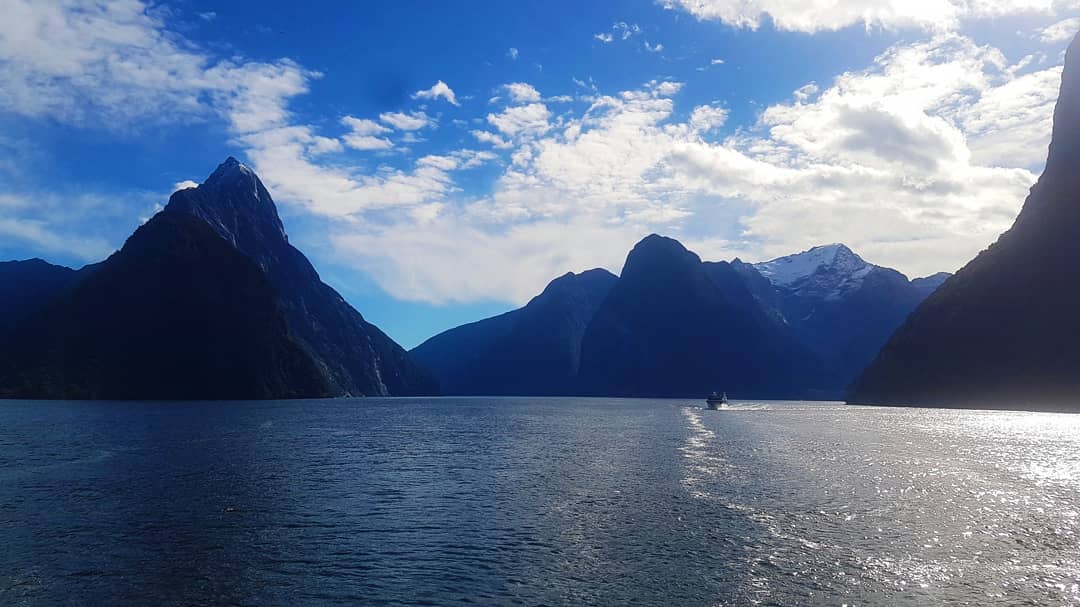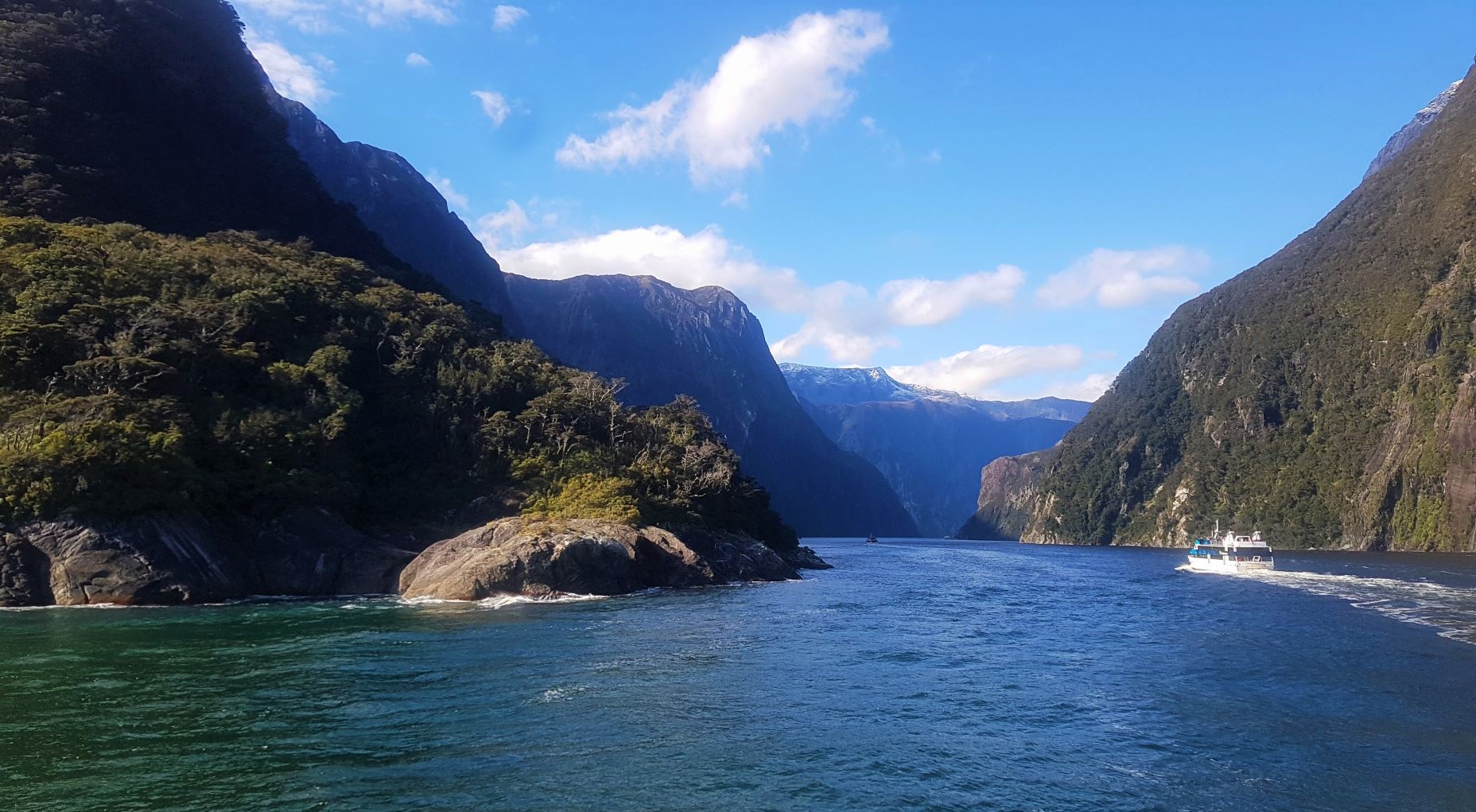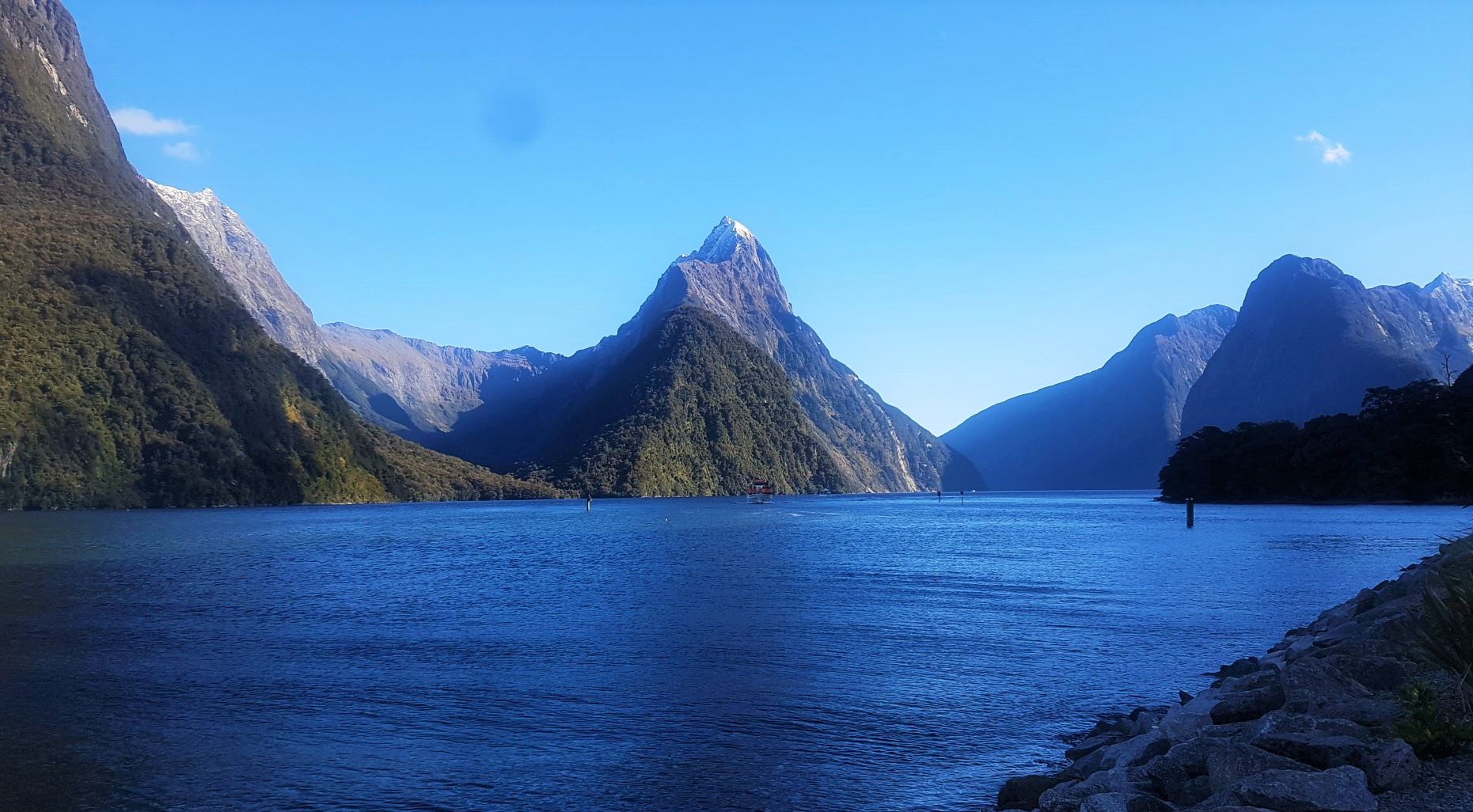 The drive back to Queenstown, though long, was so much fun. Whether it was the tiredness setting in, deliriousness, or the energising lunch we had (PB&J sandwiches, chicken flavoured crisps, carrots and hummus, apples), I don't know. All I remember is we had loads of laughs and a stellar time – the whole way there blasting the tunes of, of course, Reuben Stone. When we finally reached Queenstown, we caved again and ordered another Fergburger for dinner (so good!) and then spent the night chatting, hanging and laughing some more on the floor of the lounge in our hostel.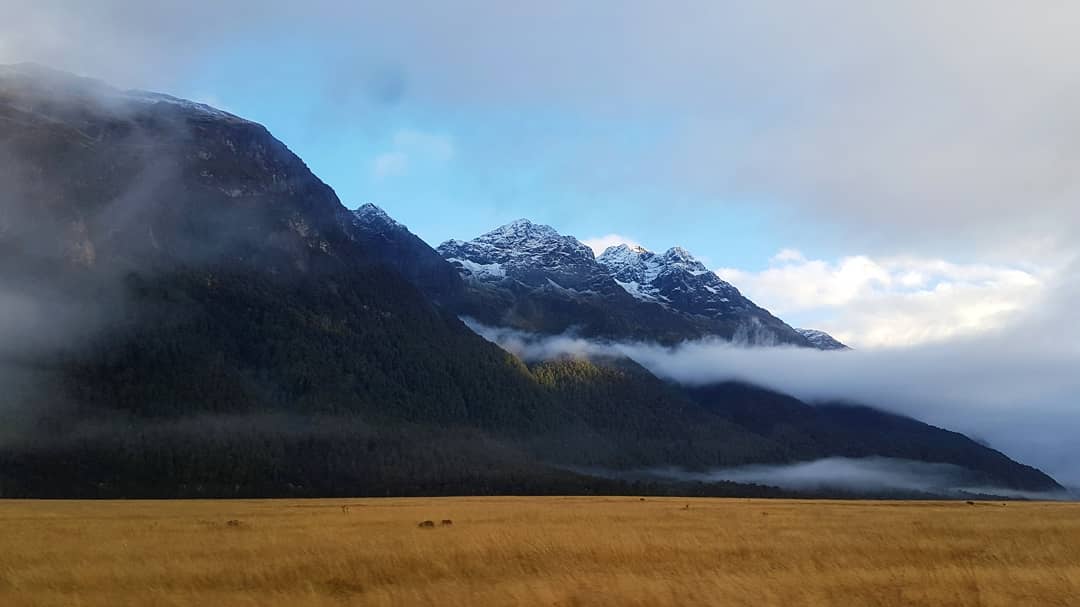 Sceneries on the drive between Milford Sound and Queenstown 
Monday 22nd April
After a lazy morning, we were back on the road again for another long day of driving. This time our adventure would take us from Queenstown to Christchurch, via the majestic Lake Pukaki and Lake Tekapo. At Lake Tekapo, the water was the most incredible turquoise blue. My camera did it's best to capture it but these pictures do it little justice.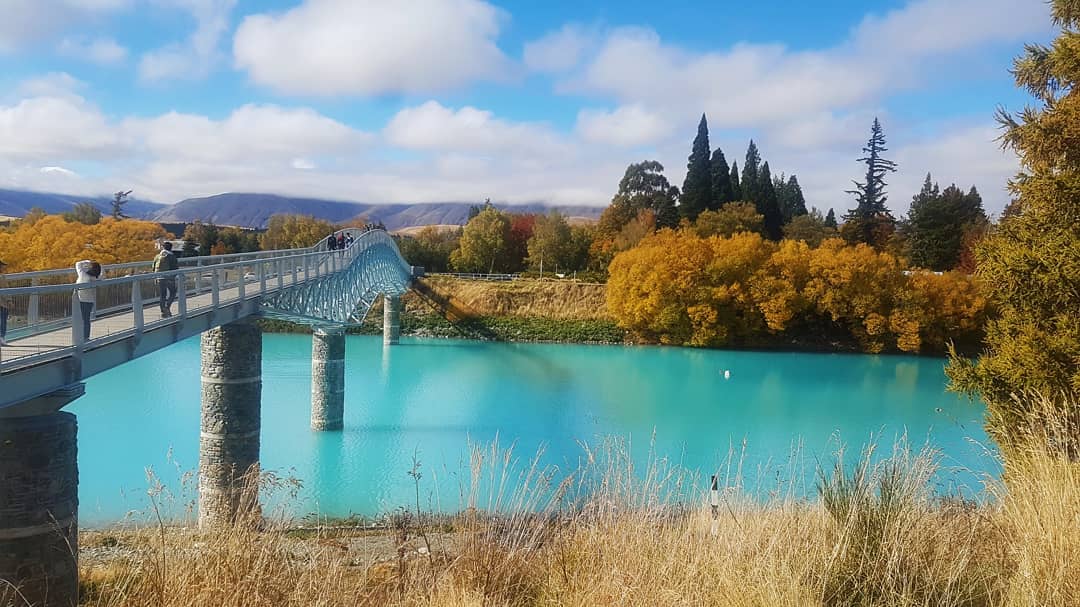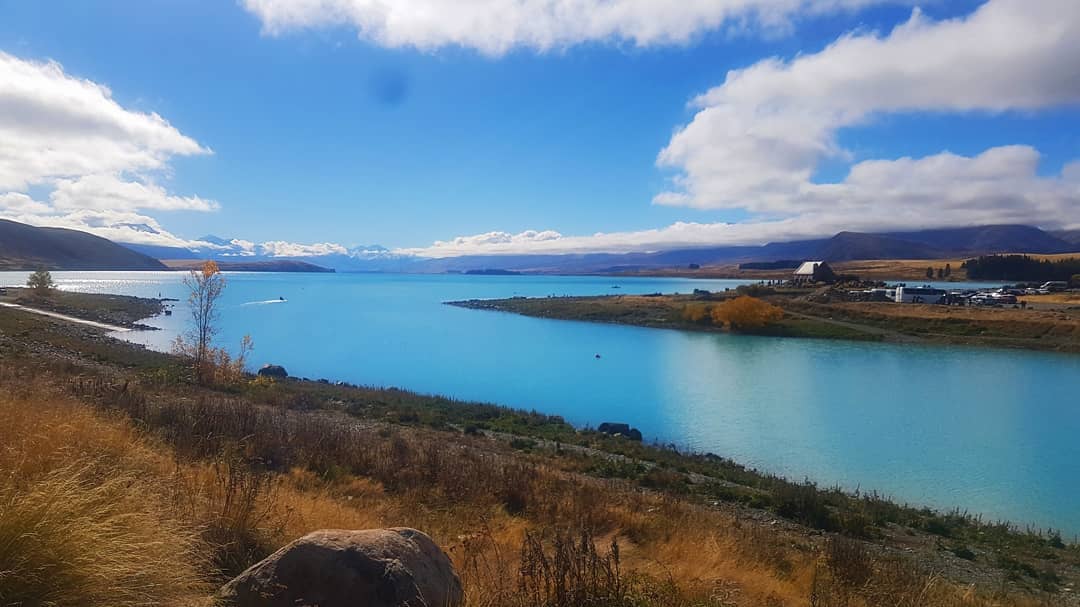 We stopped for lunch in a town called Fairlie about 30 minutes away from Tekapo to experience what the internet had deemed some of the best pies in New Zealand – they did not disappoint. By the time we arrived in Christchurch and had set up the tent we were pretty tired, so we just did a grocery shop, dinner and then settled in with a night of Cabo.
Tuesday 23rd April
The next morning, we spent a bit of time walking around central Christchurch. It was so sobering to see the ruins of Christchurch Cathedral sitting proudly in cathedral square, and even more moving to walk past the botanical gardens and the Masjid Al Noor mosque and see all the beautiful tributes to the victims and families of the tragic Christchurch shooting. If there is one word I would use to describe this city it's strong – there is quite possibly nothing that could break the spirits of the people. Even after two such devastating events, the people of Christchurch – and New Zealand in general – respond with so much love and support towards one another and I would be lying if I said I did not shed a tear to see it all immortalised in front of me.
We then set off for Castle Hill, about an hour and a half outside Christchurch, were we walked through some cave streams! This was another major highlight of the trip and one of the very few cool things I have done with my life. Armed with our headlamps, sneakers/hiking boots and clothes we didn't mind getting wet and dirty, we waded in icy cold water through a formation of sacred caves – it was quite something. The water level was anywhere from waist-deep to ankle deep, but right at the beginning when you start the walk it gets chest-deep!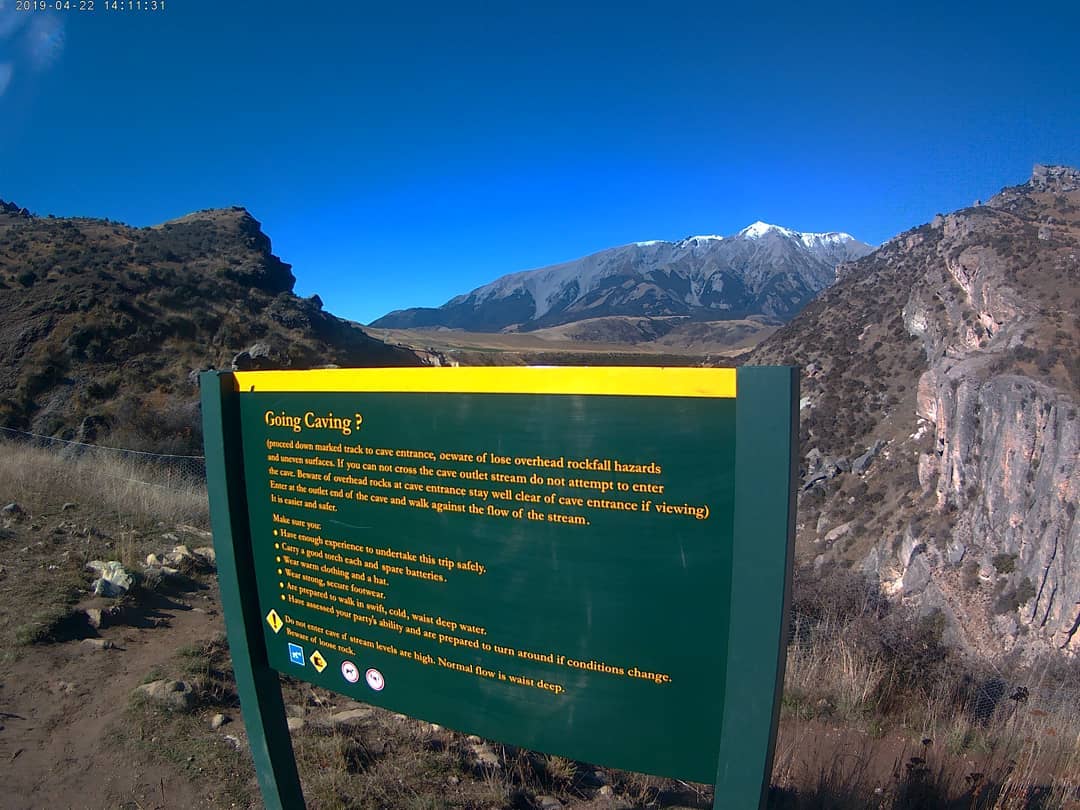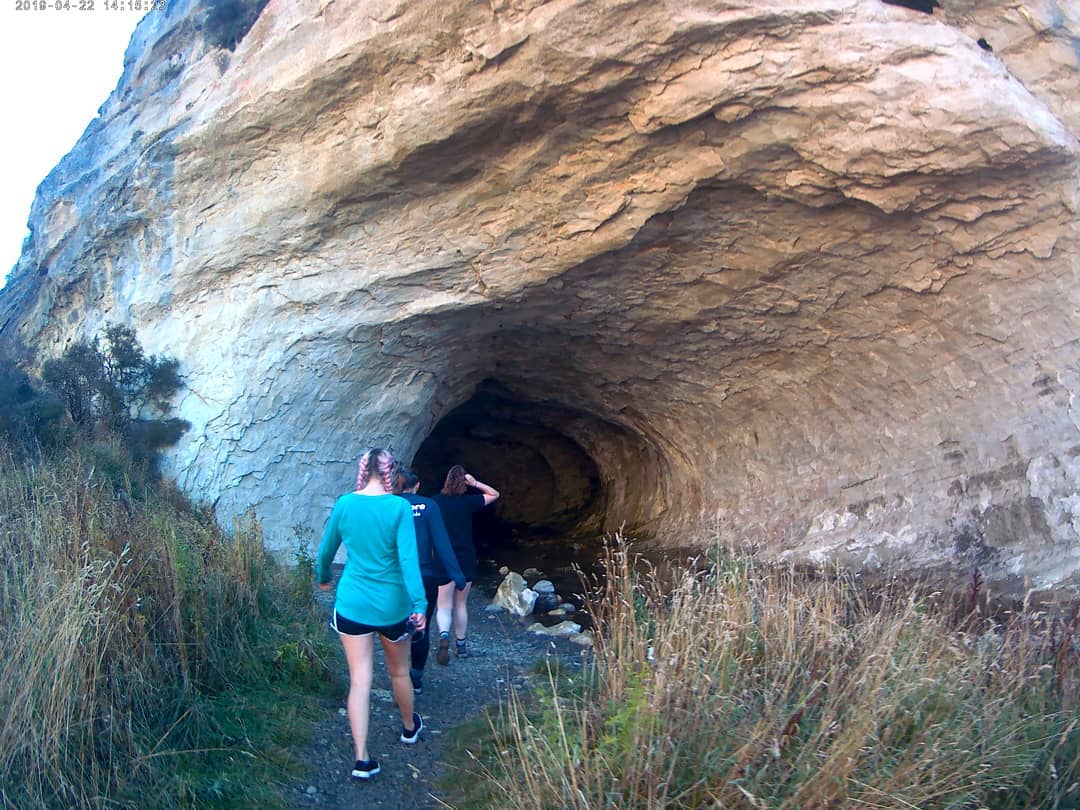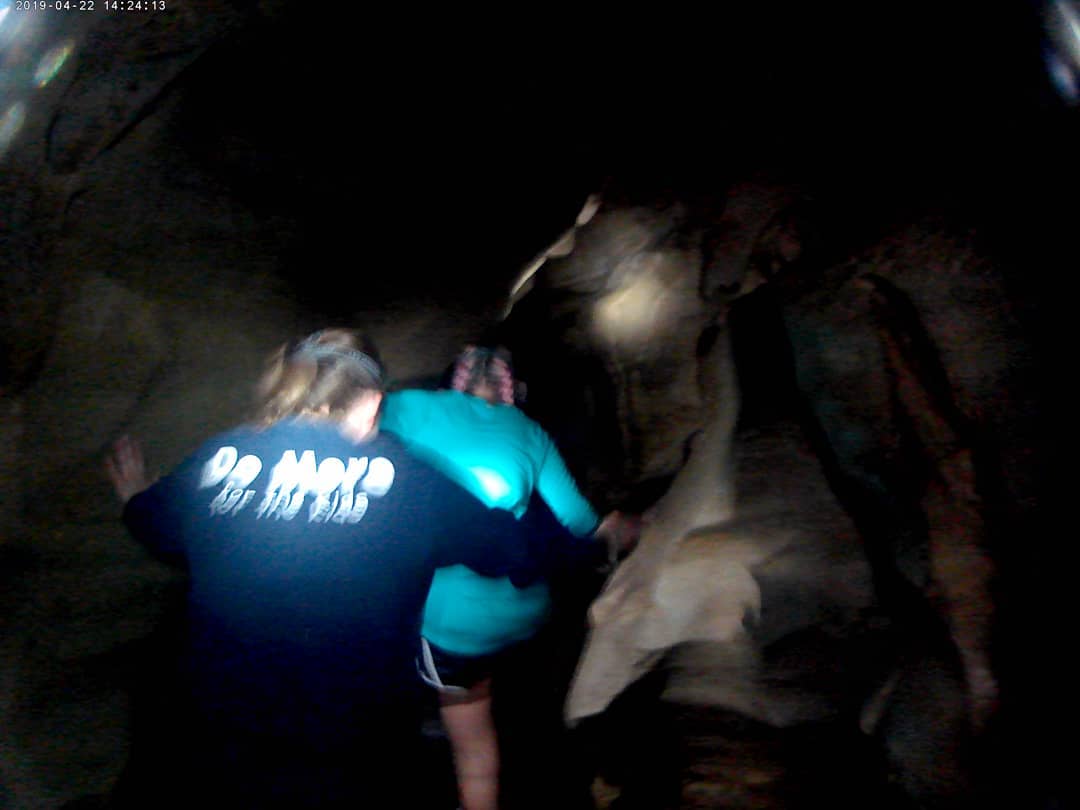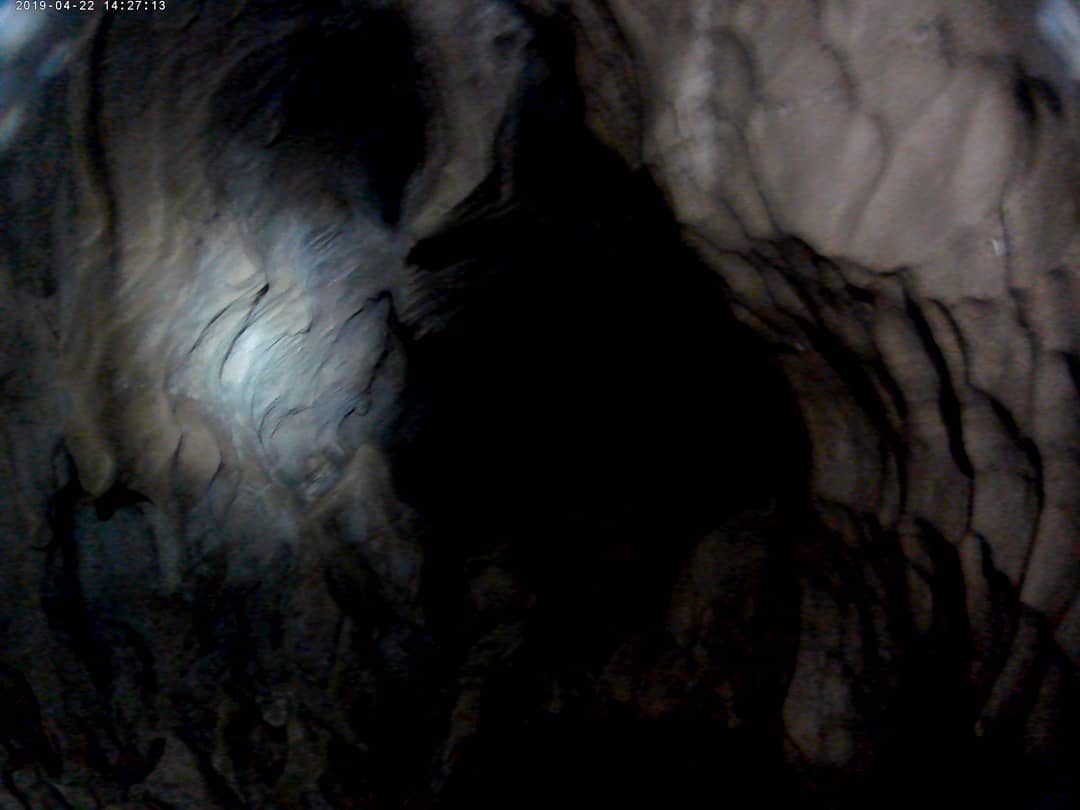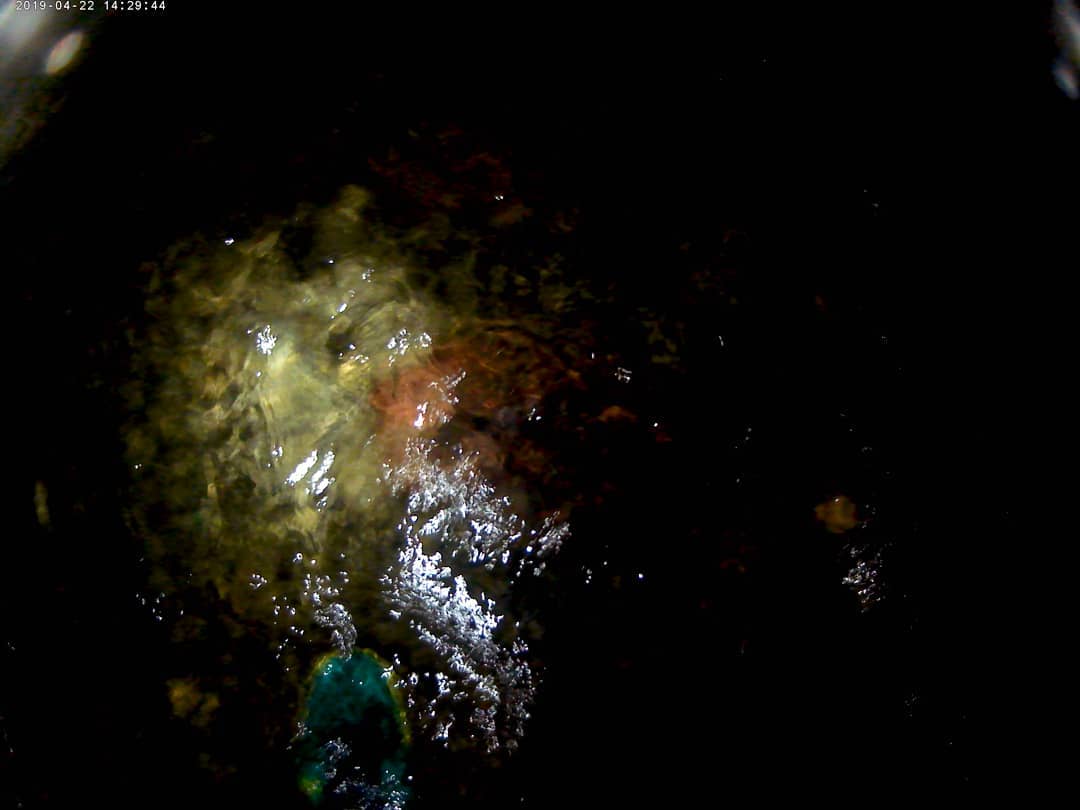 Cave streams - note the warning …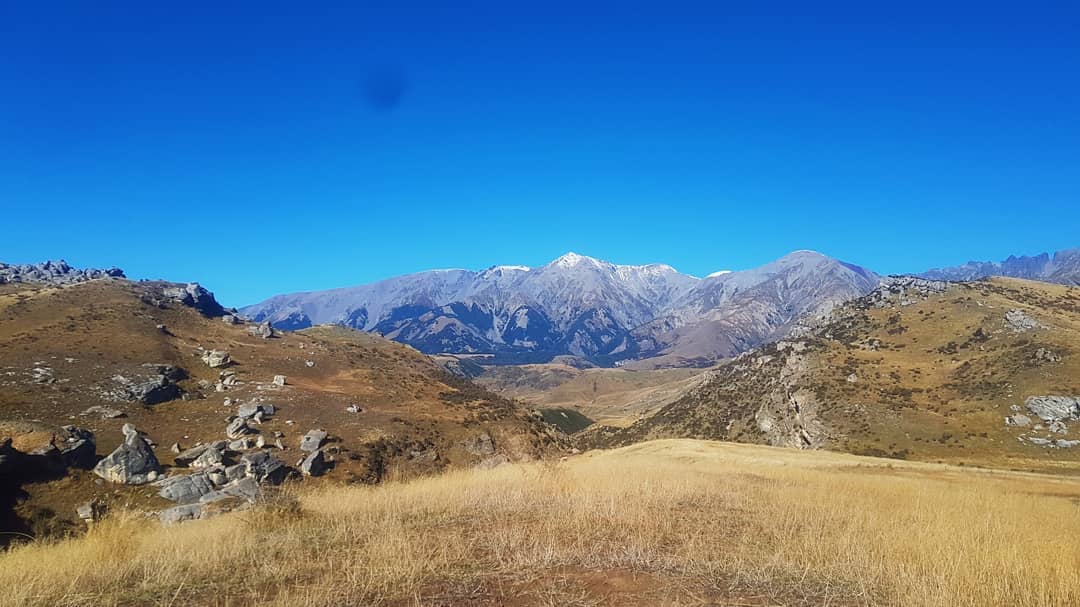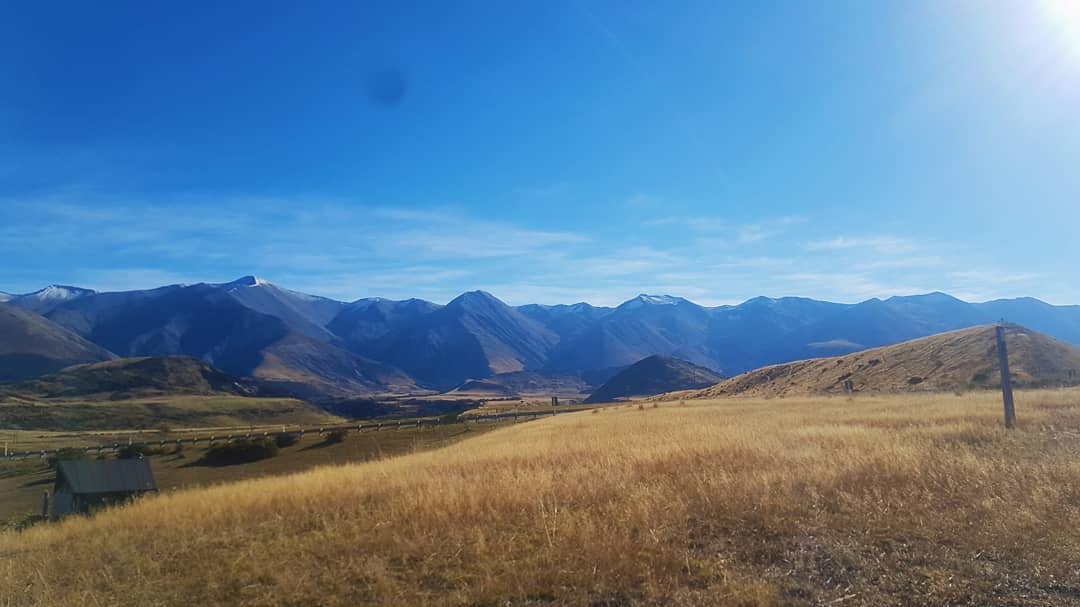 Our view at lunch, overlooking the beautiful scenic reserve 
After we had dried off and had a fabulous picnic lunch, it was back in Lisa to make our way back to Franz Josef for the skydiving that we had missed the first time. On the way there we drove via Arthur's Pass, a beautiful stretch of road that cuts all the way across the island from the east to the west coast. We came out the other end at our favourite little town, Hokitika. Again, just like the first time, we found ourselves arriving at the break of dawn and hastily made our way to sunset point for an even more spectacular sunset than the last one.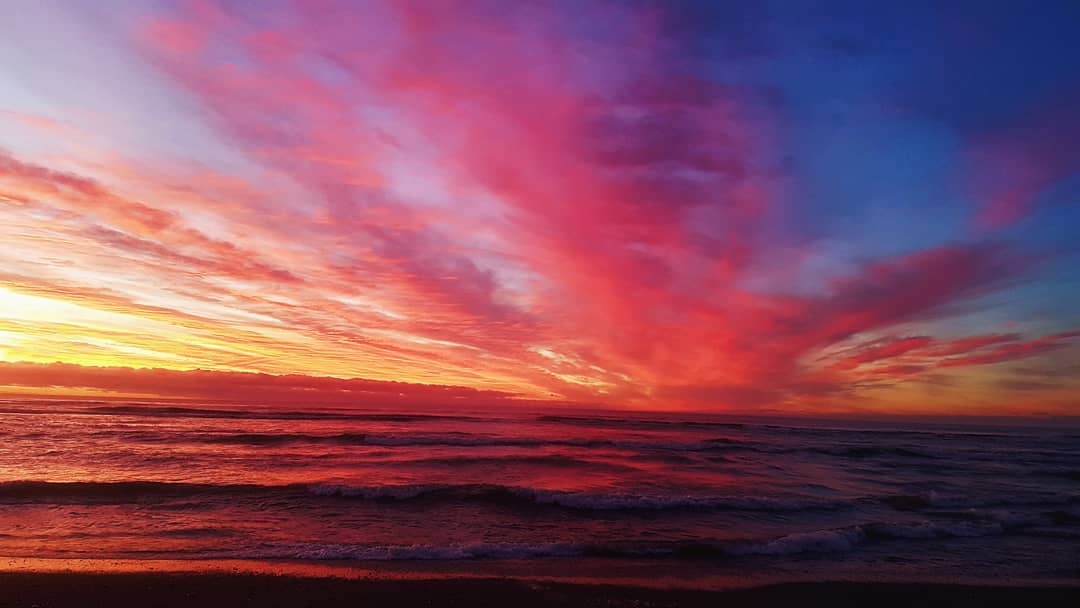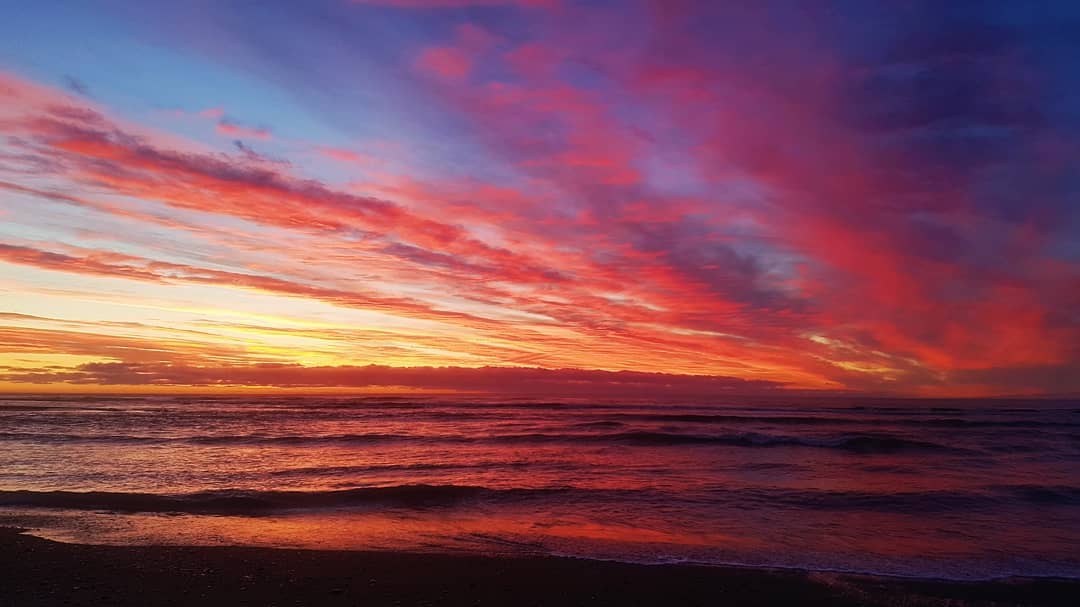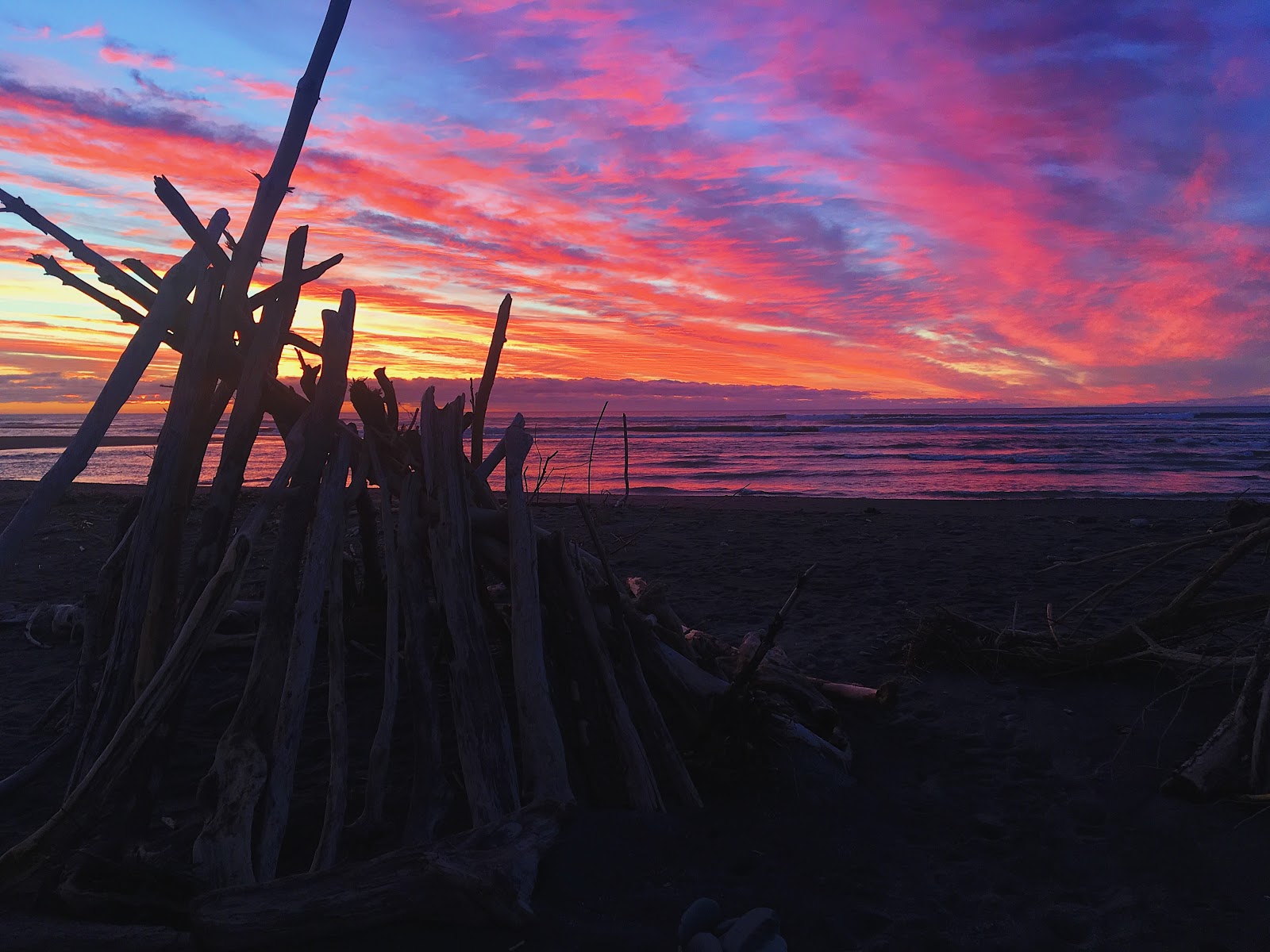 Once we had gotten over the stupendous views, it was back in the car for the hour and a half drive to Franz Josef and our campsite for the night.
Wednesday 24th April
The next morning, half of the group set off for the skydiving adventure of a lifetime while the other half (myself included) spent the morning exploring the town and having a heart breakfast (a real breakfast with real food other than rice pops). I would have absolutely loved to have joined in on the skydiving but unfortunately my budget could not allow for it, considering I had also done a bungee and have rent to pay (ugh, I hate responsibility). I have my heart set on coming back though and doing a skydive at some point in my life! I refuse to leave with earth without jumping off a plane first. In the afternoon we made our way back up the west coast to Greymouth (shout-out to highway 6, our ride or die companion) where we had a lovely picnic lunch before hitting the road again to spend the night in Lake Rotoroa.
Thursday 25th April
With the end of our road trip fast approaching, and the last of our long driving days done, it was a bittersweet morning on Thursday waking up to the sound of birds and the sight of the lake for what would be our last full day. We decided, then, to end it in the most spectacular fashion. On arrival in Blenheim, we set up camp, had lunch, and immediately hired some biked and set off to explore the wineries of the Marlborough region. We biked along what is known as the Golden Mile, stopping every now and then in wineries to enjoy some wine tasting and good company (and chocolate, can't forget the chocolate). On the way back to the campsite we also stopped at a restaurant off the highway for some real fruit ice cream (a New Zealand classic and a must do) as we watched the sunset. It truly was the best way to cap off a long and tiring but oh so incredible trip. That night after dinner we played cabo to our heart content and went to bed very happy.
Friday 26th April
On Friday morning we made the short drive from Blenheim to Picton. We therefore had the whole day to explore this little town and see all the things we didn't manage to on our first day. This included having an iced coffee in a café overlooking the water, browsing the several second hand book and souvenir shops, eating a gorgeous lunch of mussels and fries at the famous Café Cortado and following that up with some real fruit ice cream. Our little exploration done, we sat in the park at the waterfront, playing cabo and taking in the views of the Queen Charlotte Sound to our hearts content. At about 5PM, it came time to say goodbye to our beloved Lisa before making our way to the ferry terminal to catch the evening ferry back to Wellington.
I say these were the best two weeks of my life as, not only did I manage to go to some pretty amazing places and do some incredible things, but I also made some brilliant friends. I've said it probably about a dozen times in these posts but it really is the little things in life – and to enjoy some great company with the most stupendously gorgeous views as your background … it's a life highlight on its own.
And, sadly, that marks the end of my Adventure of a Lifetime! Now before I get too emotional I best end this entry as well.
Until next time! Hopefully I'll have more adventures to report on …