Welcome to the University Archives blog.  Here you'll find all the information about the goings on in the University Archives.
Having been working in the archives for a few months it is difficult to know just what to mention and where to start.
Let's start at the beginning.
The University Archives is the collection of records relating to the development of the University of Surrey beginning with its foundation at Battersea Polytechnic.  The archive is the official repository for the historic records of the University of Surrey.   Put simply the collection demonstrates what the university has done and why, how it operates and its impact on the wider community.

But what do you actually have in the collections I hear you ask.
The truth of it is that we have a very varied mix of collections, not just the typical paper based archive material but also items of clothing, badges and trophies.  The collection includes minutes of meetings of the important decision making bodies of the University like Senate, the University Council, as well as the Battersea Polytechnic Governing Body. Records of University and Polytechnic land, estates and facilities, alongside financial records.  We also have records relating to the academic departments, relations with external bodies and associated institutions and a large collection of publications produced by the university of Surrey and Battersea Polytechnic, as well as student and staff records.  We also have an extensive collection of photographs and items of historic interest; badges, clothes and trophies.
The collection is constantly being added to and we do actively encourage individuals, be they students, alumni or academics to deposit records into the archives – help our collections grow!
Over the last few years there have been many changes in the archives,  we are now located on the ground floor of the Library, based within a purpose built archive area, shared with the EH Shepard Archive and NRCD archives.   Within the Archives and Special Collections area we have a dedicated research room where readers can come and view our collections.  In this area we also have a display area where, between the three archives we aim to showcase some of the highlights of the collections – please do pop in through the George Edwards entrance to the library and have a look.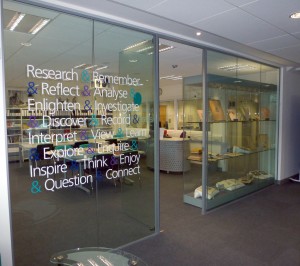 If you would like to explore the archives further please look at our website for more in-depth information about the collection and further information about how to access the collections.  Alternatively you can email us archives@surrey.ac.uk with any queries and questions.