In the archives we have all sorts of lovely pieces that reflect the interesting and changing history of Battersea Polytechnic and University of Surrey. They provide a fascinating insight into the ways in which the institution has developed into the university it is today.  Over the years new departments and subjects have been set up and other subjects have been discontinued, the reasons for all these changes link to what makes the university what it is.
Our first fascinating fact from the archives for 2015 is the Battersea Polytechnic Cookbook.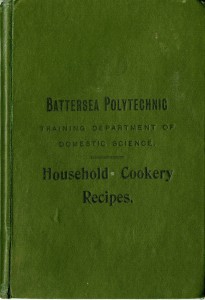 A cookbook I hear you ask?  Yes really.  Battersea Polytechnic and later the University of Surrey published a cookbook, first published in 1914.

Well surely it wasn't used by anyone outside the institution? Again you'll be pleasantly surprised as to how much it was used and relied on, not just by students but also home economics teachers throughout the country.  In fact at a recent event held in the archives for Battersea Alumni we had two ladies who have always used and relied on their Battersea Cookbooks.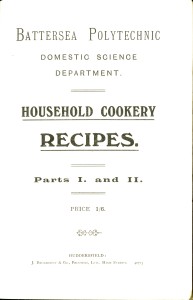 Let me give you a little history for the Cookbook.
The cookbook was first published by Battersea Polytechnic Institute in 1914 as a result of the domestic science courses taught at the Institute.  Over time it became the standard textbook for the students studying at the Polytechnic.  But surprisingly its appeal went further than just the institution, it became the go to book for many home economic teachers and it became the basic cookbook that many housewives at the time didn't want to be without.  In fact by 1973 it had sold over 400 000 copies.
Many new editions were produced over the years, with updated recipes and in 1975 after much deliberation a metric version of the cookbook was published.  This was in fact the first cookery book in the country in which recipes had been rebalanced for use with the new metric weights.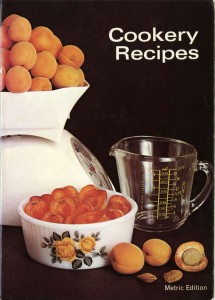 Although Domestic Science stopped being taught, the Polytechnic and University decided to keep on their links with the past and continue publishing the cookbook.  And it is a tradition that we would love to see started back up again today.
What's actually in the cookbook?
The cookbooks are filled with recipes that have survived the test of time.  Good old reliable recipes such as treacle tart, shortbread biscuits, Swiss roll, Kedgeree.
But with every historic recipe book they also reflect the time in which they were produced, so there are many recipes in the books that appear 'old fashioned' and antiquated to modern eyes, usually using cuts of meat that have long since gone out of favour, for example there are recipes 'Roast Heart in Saucepan', 'Sheep's Head' or even 'brain cakes'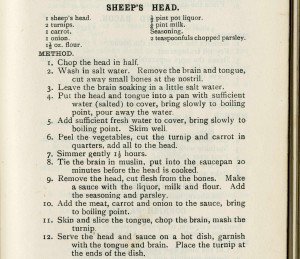 The books also reflect the development of our diet into what it is today, we are much more health conscious than our grandparents and great-grandparents were, most of the recipe books rely on lard or dripping in the cooking and frying – something that most of us would never dream of doing in an everyday meal!  In later editions, such as the 13th edition published in 1944 there is a real reflection of what was going on politically at the time – as the war progressed and rationing started to bite there was a real push for cooking to be more frugal and economical – this edition of the cookbook has a section on 'Economic Cookery'.
Of course there are some very amusing recipes in the books, not just the ones that repel and shock us.  There is a section in the books titled 'Invalid Cooker' which in itself seems like a very un-PC term, the recipes are aimed at those who are unwell and the foods that were thought to help restore a person's health in 1914 are somewhat amusing to us – my personal favourite is 'Toast Water' which essentially consists of a slice of toast covered in boiling water left to cool and strained – Tasty!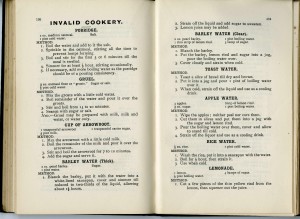 Another amusing recipe would be one on how to make tea or coffee, something I hope that every student studying cookery or hospitality knows how to do.
None of these are going to win you star baker or indeed help you take the next Masterchef title but they are useful everyday recipes aimed at the home cook. And if you have a love of cooking like me its always interesting to see how people cooked in the past.
Look out for more on these cookbooks in the coming months!