In 2016 the University Archives and Special Collections were generously awarded funding from the Alumni Department at the University of Surrey for the project 'Picturing the past, looking to the future – 50 years of the University in Guildford'. The focus of the project is to catalogue and make available the extensive photograph collection of the University of Surrey.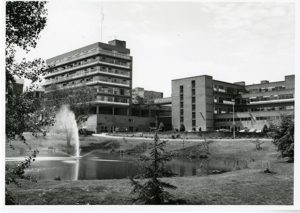 The photographs provide a snapshot of the University's history during the last 50 years. The collection begins with photographs taken during the construction of Stag Hill Campus in the 1960s, through to the present day and capture student social and sporting events, teaching and academic activities, annual events such as graduations and public lectures, as well as Royal visits.
Photographs depict the many changes to the University of Surrey campus, such as the opening of the Duke of Kent Building, extensions to the University Library, the construction of the Nodus building which houses the Space Structures Research Centre and turf cutting ceremonies prior to the construction of new student accommodation at Hazel Farm.
The photographs also capture all aspects of student life, such as a photograph of the University of Surrey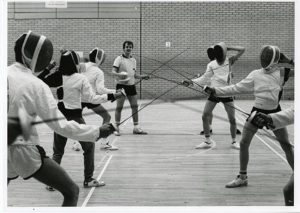 Football Team, taken during their victorious match against Loughborough University, a photograph taken during a performance of the Mikado by the University Drama Society, graduations ceremonies at Guildford Cathedral, and social events held in the Students' Union.
They also depict a number of celebrations such as visits by Queen Elizabeth II and the Duke of Kent, the unveiling off the Surrey Scholar sculpture in Guildford during the celebrations to mark the 35th anniversary of the University, and the official opening of the George Edwards Building, in memory of the celebrated aircraft designer and Pro-Chancellor of the University.
Furthermore, they capture the rich and varied academic history of the university, including photographs of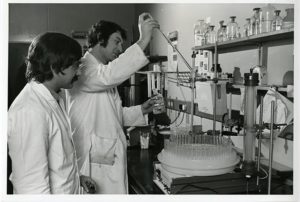 students conducting experiments in laboratories and students in the Catering and Hospitality department preparing meals, along with photographs of notable academics of the University such as Sir Martin Sweeting, founder Surrey Satellite Technology Ltd, and Dame Daphne Jackson, the first female physics professor in the United Kingdom, and Lewis Elton, physicist and researcher into education, specialising in higher education.
In order to make the photographs accessible to researchers, archive staff with the help of our dedicated volunteers, have been sorting, repackaging and cataloguing the photograph collection. A range of photographs are also being selected for digitisation and will be made available on the University of Surrey social media channels over the coming months.
In the meantime, check out our new display in the Research Room featuring just some of these historical photographs and/or follow @uniofsurreyarchives on Instagram to view digitised images from the photograph collection and get an insight into the history of the University where 'wonderful things happen'.
[All photographs © The University of Surrey Archives]