Our new Archivist (Public Services), Harriet Costelloe, has recently joined the team and shares her first impressions here…
After nearly a fortnight in post I am starting to get to grips with my role in the Archives & Special Collections team here at the University of Surrey. Upon arriving I was immediately struck by how rich our collections are, how inviting our research room is and how welcoming and helpful everyone has been. It has been a pleasure getting to know the team and the work that goes on here.
Having worked previously at the University of Oxford and Royal Holloway, University of London, I am already familiar with higher education archives and special collections, but it has been fascinating to learn about the key collecting strands here at Surrey and how the different collections have been managed historically. I was interested to learn that we have a variety of artefacts alongside our more traditional paper and photograph archives, including costumes, models and even a paint box which belonged to the illustrator E H Shepard.
I have been introduced to how our collections are managed successfully through being packaged appropriately, stored securely and kept in suitable environmental conditions, as well as each being recorded and described on our collections management system so researchers can search for relevant material. I've also been shown how we run our enquiry service, research room and outreach programme and will be taking responsibility for these.   Our research room is open 10-12.30 and 1.30-4 Tuesday-Thursday, and we welcome drop-ins from interested individuals wanting to hear more about the collections we hold and how we can provide access to them.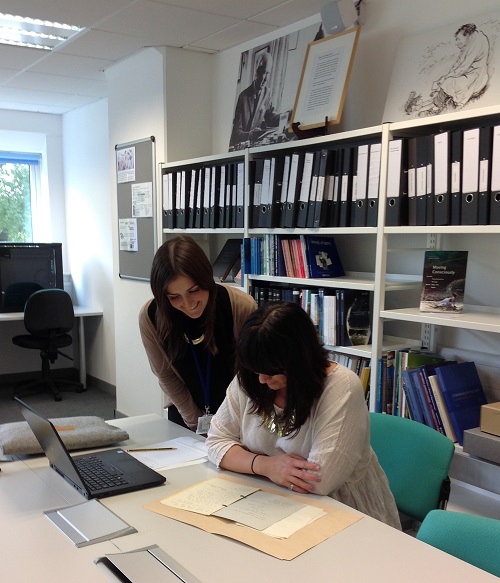 Harriet in the Research Room with a postgraduate researcher consulting the Rudolf Laban Archive
My role focuses on providing access to our collections and expanding our engagement with the university community and public. In the next few months I am particularly looking forward to introducing new and returning students to the Archives & Special Collections and working with colleagues across the university to commemorate the centenary of WW1's Armistice Day by showcasing our related material and working on different events.