As Benjamin Franklin once said 'Tell me and I forget. Teach me and I remember. Involve me and I learn.'
This is a concept at the heart of Surrey Business School and as part of our Activities Week undergraduate Business Management students got the chance to put their 'business ready brains' to the test to turn something dull into something inspiring.
Over 140 students chose to take part in our enterprise programme that saw them work in groups to turn a boring desk tidy in to a legitimate business concept. Encouraged to think creatively and utilise their knowledge of business models and advertising the brief was simple; 'how can you make money from a single product?' In this instance, a boring plywood desk tidy!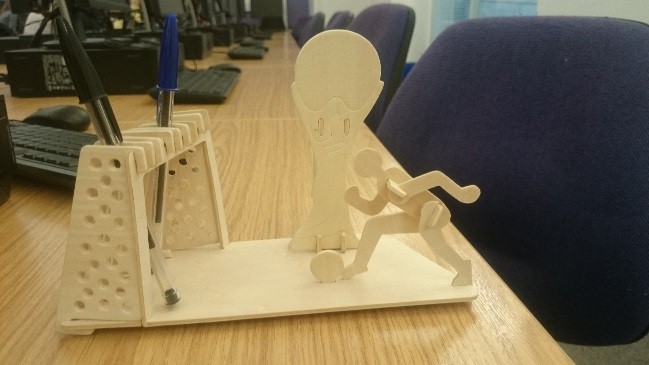 It's not that desk tidies aren't without their uses, far from it, as we all know a clear desk equals a clear mind. But, wow, they're dull! In fact, before the beginning of this project, you might have forgiven us for laughing at the idea that a desk tidy could ever been transformed into a serious business. But when that EUREKA moment happens, there's no turning back. Who would have thought that in just three short days a simple desk tidy could be revolutionised by one group into Tidy Table – an online platform aimed at helping young, aspirational businessmen and women find their niche in the job market.
Once the idea, target market and marketing strategy had been decided upon, an advertising video was next on the agenda. With little experience in video creation and armed only with a smartphone camera, the task of bringing the project to life looked an uphill struggle. But, after a few hours of painstaking work and a dash of Hollywood acting, an informative and fun video was completed. Take a look at what group Table Tidy achieved:
What had started as a boring and unfashionable desk tidy, had now become a very real business plan. What team Tidy Table realised was that a desk tidy will always be a desk tidy no matter what you do to it and you can't build a sustainable business around this alone. Instead they thought about what else you can use it for and it ended up as a symbol of something dull when people who have them are actually quite exciting: the art of using one product as a vehicle for another. This is common place in business and a concept which Activities Week allowed us to immerse ourselves in.