Last week Surrey Business School's MBA students competed against 11 other Business Schools in the annual FT MBA Quiz Challenge in London. Jacklynn Stott, full time MBA student, shares her experience.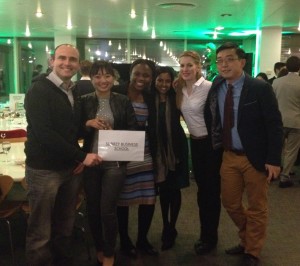 The MBA is all about making connections with business leaders and pushing yourself outside  comfort zone. It's about taking advantage of a unique way to learn and demonstrate knowledge in fun and innovative ways. The Financial Times Quiz was one such opportunity that I couldn't resist being a part of. 11 business schools around the UK and Europe (one as far as Switzerland) tested their pooled knowledge of business topics in a variety of categories across three trivia rounds. I was one of the students on our 5 person team.
While the night initially started off as cordial and calm, as soon as the first round began, the atmosphere became electric with the sense of competition among the teams, and we were certainly not immune to this surge of energy. By the end of the first round we claimed 2nd place and were hoping to keep the lead as much as we could in the increasingly harder two rounds, where we knew we'd struggle more.
It was the first time Surrey Business School participated in this event with its MBA programme so we had no idea what to expect; we entered aiming to meet new people, test our knowledge, and enjoy the ride.  I think I speak for all on our team (including our enthusiastic MBA administration chaperon, aka. team cheerleader) that we all had a really wonderful time.
We found we naturally formed a team that was highly reflective of our cohort: diverse in culture, industry, and gender. We were one of the few teams that had more women than men on the team (3 vs. 2) with cultural backgrounds that spanned 4 continents! This proved to be a true strength for our team as we were able to utilise our collectively broad knowledge.
We shared our enthusiasm with our colleagues and the MBA staff at our school the next day, feeling as if we just won a great battle. In actuality, we'd actually taken 7th place out of 11. For us, we couldn't have been more thrilled with our efforts. We hope that this is just the first of many years ahead for the school's participation in such events.
The question now is, where's the next business quiz, and how soon can we enter?
Jacklynn Stott