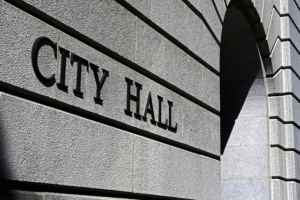 Surrey Business School just ran the closing session of 'Strategy, Management, and Service Delivery in a Digital Economy' for Surrey County Council (SCC) here in the Business insights Lab. Opened by Head of the Business School Professor Andy Adcroft, steered by CoDE's Dr Ben Shenoy, this fifth and final session discussed what's next for Digital and 5G. As well as formulating action plans for embedding the lessons from the course across the organisation.
After all, Executive Education needs to translate into the 'real world', and poses challenging questions around Impact: the push to digitise government needs to bring positive changes to individuals and the wider community, or the lessons are purely academic. But government in a digital age is no different from business in many ways, and has to get to grips with changing demands from a 'connected' market.
Over the past few months, assisted by CoDE team members Alan Brown, Roger Maull, and Carla Bonina, participants from SCC's senior management have addressed:
The digital economy and public management;
Business models and business strategies;
Innovation and change delivery;
Research project and delivery methods.
The next set of questions ranges from – how can SCC raise its game and serve citizens better using 5G capability and the interconnectedness it enables? To — what revenue streams might exist for the Council in investing in 5G?
Further, how can the ubiquity of connected technology be applied to improve people's lives in Surrey? We discussed applications to crime, dogs, dementia, bins, cyclists, and obesity….the list is endless, and poses new questions of its own around data, security and privacy.
Ultimately – if government becomes a 'platform' of goods and services, does government itself eventually wither away?
No question, digitising government is like peering into the fog, and no one can say for sure what the future is going to look like. Ongoing workshops like our partnership with SCC are the best way to find out, through experimentation, collaboration, and bringing together experts in unlikely partnerships.
If the 'ecology of technology' can change the whole face of public service, what will it do to your business?