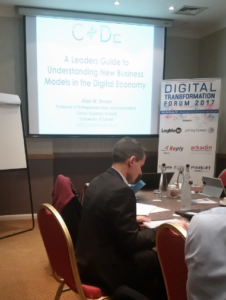 The broader impact and influence of Surrey Business School's CoDE (Centre for the Digital Economy)  is reaching beyond Surrey's boundaries and into the wider worlds of business and academia.
Alan Brown, Executive Director of CoDE and Professor of Entrepreneurship & Innovation here at Surrey, delivered an invited workshop on 'A Leader's Guide to Understanding New Business Models in the Digital Economy' this week to kick off Digital Transformation 2017 in London. As "the UK's leading senior-level meeting for digital leaders", this workshop was a great opportunity to share CoDE's recent work in agile innovation and digital business model innovation with an audience of senior business executives.
Alan's workshop focused on the themes of Understanding the Digital Economy – its background and principles, and the implications for product and service delivery. The workshop centred on practical tools for analyzing Business Models and Business Strategy, culminating in a framework for understanding and innovating business models in fast-paced digital technology scenarios.
As this workshop explored, digital transformation is reframing the way we think about business– and forcing us to rethink traditional ways of creating, capturing, and delivering value. A key focus for CoDE is understanding the challenges every businesses are facing today – and finding practical solutions that can be applied now. Workshops like Alan's are vitally important for a business world peering into the fog of an unpredictable future, helping explore the implications of digital transformation by presenting some simple frameworks and models that explain core concepts of business model innovation, and techniques that help accelerate business model experimentation.
Many organizations have been preoccupied in recent years with their repeated efforts to upgrade to digital technologies, digital media, and digital delivery channels. However, digital transformation has also opened the opportunity for organizations to question major assumptions about their business model – the users being served, the experiences offered to them, and the most efficient ways to deliver those experiences in a co-ordinated, consistent and cost-effective way.
Consequently, real world thinking and experiences in business model innovation have changed significantly over the past few years. Delegates left with the context, skills, tools and vocabulary to understand product and service delivery in a digital age.
If you are struggling to understand and evolve your business in a rapidly – changing digital economy, contact CoDE to find out more about practical ways to redesign your future.