Dr Heather Cairns-Lee of Surrey Business School has won the outstanding doctoral research award for leadership and organisational development from Emerald and the European Foundation for Management Development (EFMD). The award, presented annually since 2005 in ten categories of management research, encourages and rewards excellence in research. Heather is the second Surrey graduate to win an Emerald/EFMD outstanding doctoral research award in 14 years. She was presented with the award at the Academy of Management Conference in Chicago in August where she expressed her gratitude to her supervisors Dr. Paul Tosey and Professor Eugene Sadler-Smith as well as 'Clean Language' expert James Lawley for their support, encouragement and belief in the originality and contribution of her research.
Her research contributes to the development of authentic leaders by innovating a method for leaders to make sense of their mental models of leadership. Mental models are rarely visible yet they are vastly consequential shaping how people think and act – yet there has been limited research on how leaders can access and understand their mental models. Heather's research addresses this gap through exploring leaders' metaphors for leadership, making their tacit knowledge explicit and available for examination.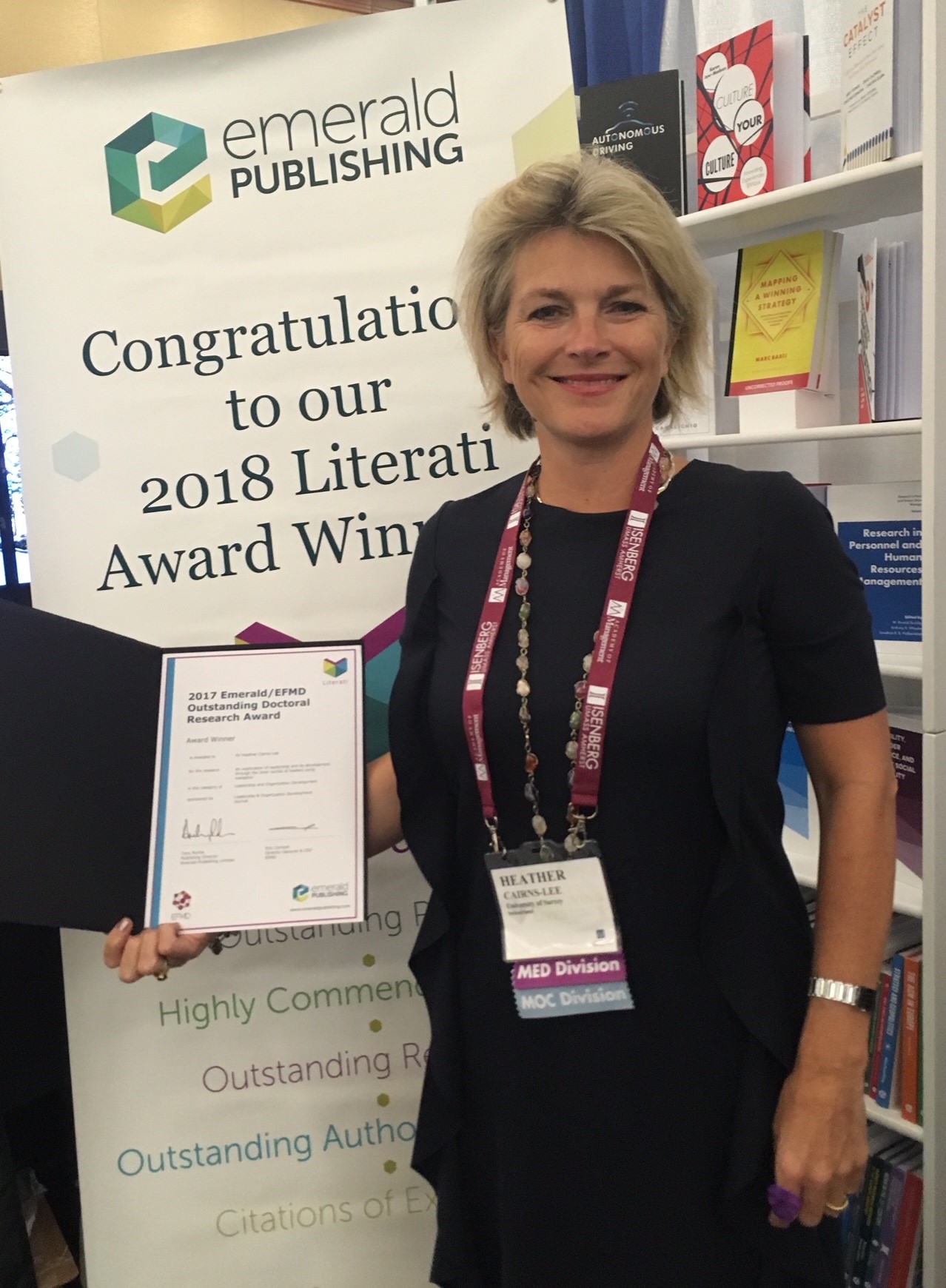 Four aspects of her research were particularly applauded by Emerald/EFMD:
The novel approach to deepening leaders' self-concept and self-awareness by surfacing and examining their mental models through naturally occurring metaphors.
The elicitation of multi-modal metaphors (verbal and visual) from leaders, missing in previous leadership studies, and that contribute new understanding to how practising leaders shape and make sense of their leadership through metaphor.
The significant collaboration with 30 senior business leaders from 15 nationalities in world-class organisations, providing insight into how senior leaders make meaning about their own leadership and how they consider their development.
The first large-scale application of 'Clean Language' interviewing, which is an innovative approach to questioning that brackets the questioner's assumptions through the use of specific 'clean' questions to facilitate the exploration of a person's inner world that can be accessed through metaphor.
Heather continues her research as a Visiting Scholar at Surrey Business School and can be contacted at: h.cairns.lee@surrey.ac.uk