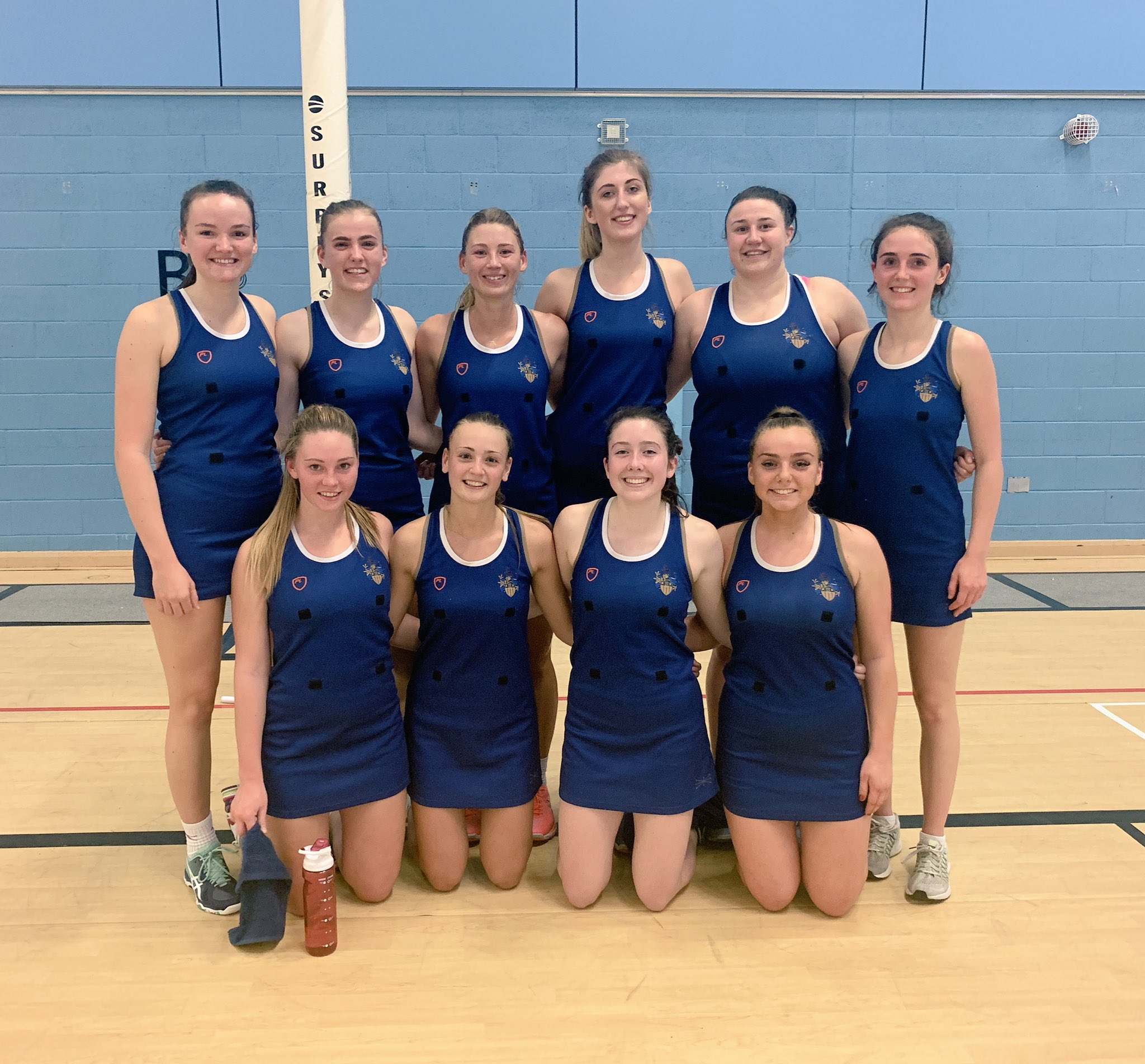 Joining University can often be a daunting experience; you may not know anyone, you may not know the local area, and more than likely it will take you a lot of time to locate a room on campus! We spoke to undergraduate Lydia Rowlands (pictured bottom right) to see how she's settling into life here at Surrey Business School.
Lydia has joined our Business Management BSc cohort and hopes to do a placement year in London in her third year. Prior to moving here she was living with family in Essex and has moved into a shared house in Manor Park, on Surrey University's second campus. Lydia describes her transition to university as progressive, she was lucky enough to study her A Levels at boarding school, so settling in has been something she's found quite easy due to past experiences of living away from home.
A keen sportswoman, Netball plays a huge part in her life. She's played for country, regional and more recently at a national level with Surrey's very own 'Surrey Storm' in the National Performance League. Her efforts don't stop, there as she was also selected for the Under 21 England Netball team earlier this year. She now looks forward to the new season and is excited to have been selected for the University of Surrey 1st team.
We asked Lydia to share her student experience so far…
Why did you choose to come to Surrey University?
As sport is a huge part of my life, one of the main reasons I chose to come to Surrey was for the sports facilities. Alongside sport, the University has an amazing reputation and a close friend of mine, who recently graduated from Surrey University recommended the University to me.
Did you visit us on an open day before making your decision to come here?
Lydia had travelled to Surrey Sports Park twice a week during her commitments with Surrey Storm NPL back in 2017, which allowed her to explore the local areas surrounding the sports park and campus. She also visited one of the open days to ensure she could get more information about the Business Management programme and campus:
The open days at the University of Surrey were a great way to explore the University in more depth. I met lots of friendly staff members and students and this really allowed me to paint a bigger picture of what the student life at the University of Surrey might be.
How have you found your initial few weeks as a Surrey Business School student, are you settling in?
Making new friends has been so much fun; it's been a great chance to meet people from different backgrounds with different and similar interests. My flatmates are also amazing and the independent lifestyle in which everybody is living is an amazing way to learn so much about yourself.
Have you found the answer to any questions you may have had, have you reached out to any teams to fill in any gaps?
As a Fresher, my main question has been 'Excuse me. Do you know where this lecture/seminar room is please?' Yet, all returner students and staff members have been great in helping me with my way around campus and ensuring that I get to the right place at the right time.
Orientation Week is the first official teaching week and this year students were set a team project to select and market a new project to their peers. With a set of key tasks including the analysis of the target market, creation of an advertising strategy and the development of promotion and pricing, the groups were asked to present back their business pitches in their seminar groups. The week then concluded with a number of winning teams taking part in a 'Dragons Den' style pitch to an external panel.
How did you find the experience?
Orientation Week allowed me to meet four new amazing girls, in which I was grouped with for our business presentation. Each and every one of us brought something new to the group and the combination of our creativity and innovation, allowed us to create a very successful business presentation. This team activity was a 'throw you in at the deep end' kind of moment, in which we had to come up with an app which tackled a social challenge, create a PowerPoint and pitch to other students in less than three days! Even though the task was challenging, the teamwork in our group and determination to do well, allowed us to create a really good end product. Orientation Week really set the tone for how the rest of first year is going to be like; if you work hard, anything is possible.
Do you have any advice for fellow or future SBS students?
My dad has always told me that "you miss 100% of the opportunities that you never take." Therefore, my advice for fellow or future students is to take every opportunity that comes in your direction!
For more information on our Business Management programmes visit our website.