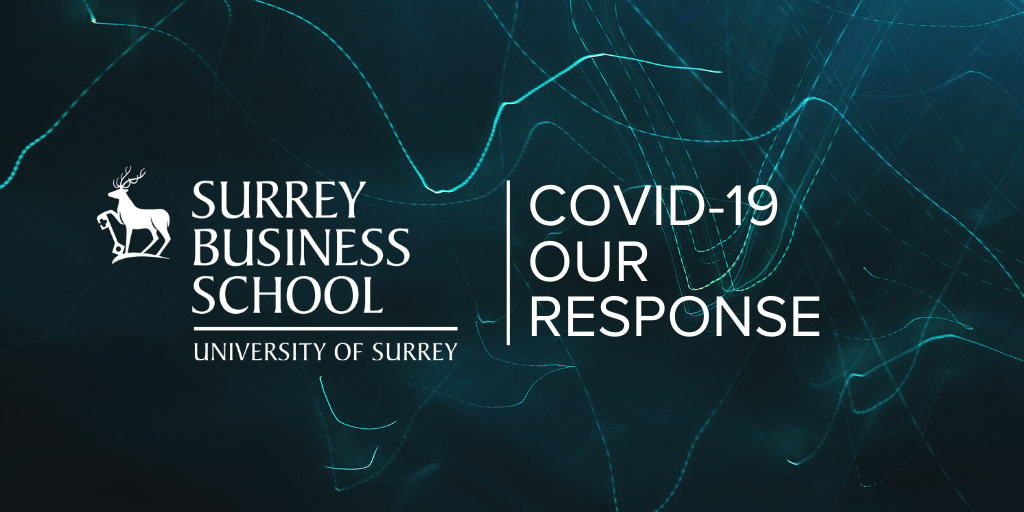 Over the coming weeks, Surrey Business School will be offering some help and advice for businesses, whilst they react to the ever-changing landscape created by Covid-19.
The importance of business continuity planning
As the Coronavirus (Covid-19), described yesterday by the head of the World Health Organization as an "enemy against humanity", quickly spreads across mainland Europe and to the UK, London prepares for lockdown and the pound falls to levels not seen since 1985.
Pandemics have previously created social and economic chaos. The first recorded example, in modern history, occurred in 1918 (Spanish Flu) and the second in 2009 (Swine Flu). Both came at great cost to human life and, particularly in the case of the 2009 event, to businesses, as it impacted local commerce in the Far East and global supply chains. In the case of Covid-19, stretched global supply chains are at breaking point, if not already broken, and sharp rises in absenteeism at factories could lead to catastrophic levels of non-completion of manufacturing contracts. We are in the throes of a pandemic, that will undoubtedly result in a global recession.
An estimated 80% of the UK population are expected to be infected with Covid-19 in the next 12 months. Whilst the mortality rate remains relatively low, now estimated at approximately 1.5%, the global population number of approximately 7.7 billion points to a death toll in the millions. Many people will simply remain home-bound, unable to work for weeks on end; the first case of re-contagion has already been reported in Japan.
As Covid-19 goes global, governments engage in plans to Contain, Delay, Research and Mitigate. Business leaders must do their part too; they must be proactive for businesses to survive. Based on our ongoing research into international socio-political risk and conversations with senior leaders, we have attempted to create a business continuity plan that can help business leaders manage the impacts of a pandemic, contribute to social cohesion and meet legal obligations to staff to ensure their safety.
Just as with the UK government's own plan, planning by businesses should be simple in its focus and be geared to a 3-phase pandemic plan (PRA Model): Prevent, Respond and Adapt.
1. Prevent
Create a team that captures data daily to update information on the last day in terms of infections and geographic locations with a critical eye
Identify core services, and what is needed to maintain the supply chain
Identify key staffing arrangements: telecommuting, succession planning and cross-skilling
Protect the health of staff: follow government guidance on limiting travel, social distancing and self-isolation. Communicate policy so staff are safe in the knowledge that statutory sick-pay is in place.
2. Respond
Develop a communications strategy for employees, customers and suppliers
Consider financial implications today, such as short-term cash flow needs, expected cost increases, insurance and forecasts
Seek bank support to cushion any increases in costs and income reduction
Continue to account for the unexpected. Not all factors are known
Schedule the plan and make it known to management teams and staff
Make sure all staff are aware that there is leadership in place.
3. Adapt
Reduce unnecessary process and delay deadlines where possible
Seek out opportunities; new products and services might well be required during and after the outbreak
Show the broader community that business is doing its part
Continue to engage with staff, they not only fear the disease but also the economic ill-effects it can produce
Prepare for a changing world as the Covid-19 will change how businesses build future resilience and agility.
With thanks to Dr Filipe Worsdell, Teaching Fellow of International Business and Strategy, Surrey Business School, and Professor Tazeeb Rajwani, Professor of International Business and Strategy, Head of Department of Strategy and International Business, Surrey Business School.