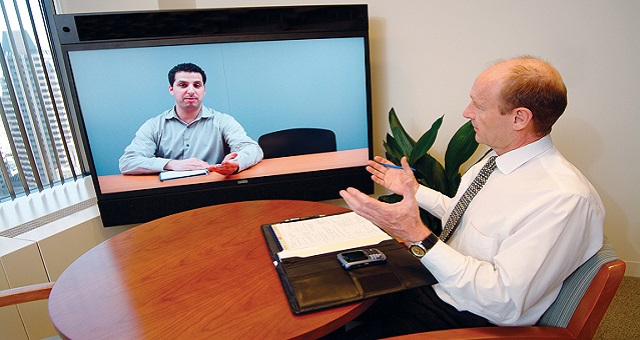 More and more graduate recruiters are using video interviews as part of their recruitment process. There are two different types of 'video interviews'; live videos via a tool such as Skype, or recorded video interviews, which consists of a series of pre-recorded questions with no face-to-face interaction. Whichever method is used, both can be a strange, somewhat off-putting experience for the first time, so sufficient preparation beforehand is crucial for interview success!
Live interviews
Interviews via Skype (or other online video software) is the most akin to being interviewed in person and is increasingly popular for recruiters who don't have the time or resources to conduct face-to-face interviews, particularly with international recruitment.  Plus, for the candidate, a Skype interview can be less pressured and demanding than a face-to-face interview; although you should always remain just as professional!
Top Tips for live interviews
Make sure you prepare as carefully as you would for a face-to-face interview, which includes dressing professionally.
Make sure that you have your equipment already set up beforehand, including doing a test call beforehand.
Make sure you're in a quiet area where you won't be disturbed or distracted.
Once you've set up your webcam position, consider turning off the box on the top right which shows your own image as this can become distracting and lead you to glancing off in a different direction.
Maintain eye contact with the interviewer. It is better to focus on looking at the camera rather than the main screen.
Avoid speaking over anyone by making sure that the person has finished speaking before you answer their question.
Recorded video interviews
In a recorded video interview, the interviewee answers a series of questions which are recorded on camera for the recruiter to review at a later date.
You will be sent a link where you access automated questions online without necessarily seeing a human being, and are given a time limit to respond to each question. Most recorded video software platforms give you the opportunity to practice a couple of questions before you start, in order to get used to the technology. But remember, once you've initiated the interview, you cannot rewind or review your answers!
Top Tips for recorded video interviews
You need to dress as appropriately as you would for a face-to-face interview.
Make sure you prepare as carefully as you would for a face-to-face interview.
It is also worth practising so that you get used to answering automated questions without necessarily seeing a human being.
You may be given a set time limit to answer each question, so answer concisely.
Be aware of your surroundings, including the lighting and make sure you are in a quiet place with no interruptions.
Look at the camera and not at other parts of the screen or down at the desk or table.
Practice your interview skills with GSK
Want the chance to practice your interview skills? Come along to the "Video Interviews" careers session next Tuesday 14th March with GSK, 6-7:30pm in LTB. Register your space here.