On the 3rd of July I started my year-long placement in the sales team at a company called allbranded (www.allbranded.co.uk), a promotional products company with its foot firmly planted in the promotional merchandise world. The allbranded team are a fun and friendly bunch whilst being extremely driven and highly skilled in their knowledge of the industry and a team that I couldn't wait to be a part of.
Starting my placement was a nerve-racking experience as this was my first office based job. I prepared for my first day by making sure that I knew the background of the company to show that I had an interest if anyone asked. I also feel that planning the route to work beforehand is a must, just to make sure that nothing goes wrong on the first day. Other things like making sure you know what you're going to wear, sorting out lunch and other mum things like that save a lot of time and make the morning rush easier!
Within an hour of starting my first day I felt right at home and felt welcomed by everyone. From the start I was eager to get to learn the sales role and put some of the skills that I had learnt from my Business Management course into play and start closing some deals. My skills were immediately put to the test as within my first week I found myself co-managing the Love Island water bottle account. Since then I have worked with numerous multinational companies from various industries; all requiring different kinds of promotional merchandise. This is far removed from what you think would happen when you are sitting in your first and second year lectures.
Having been with allbranded for a few months now, I have learnt a whole range of skills that are going to equip me for the rest of my career, wherever I end up. Undergoing a placement at allbranded has given me the practical skills that I wouldn't have learnt at university in the day to day lectures. Undergoing a placement year has taken me out of my comfort zone and has really promoted personal development in skills that I already had and in new ones as well.
So far my most memorable moment working at allbranded was when I closed my first sale of over £1k. I felt a real sense of accomplishment at the time which seems funny now as a £1k sale really isn't much at all in comparison to some of the other sales I've made since then! At the moment though I am really looking forward to seeing what the remainder of my placement year here at allbranded has in store for me with hopefully some more memorable moments to come!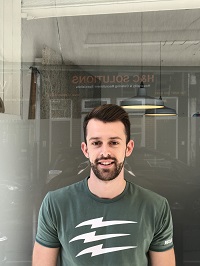 I would recommend a placement year to anybody studying any course as it really does bridge the gap between the work you do in the classroom and the working environment as it is nothing like any previous part/full time jobs I have ever done. A placement year has also really helped me to work out what kind of business sector I want to go into after I graduate from university. I love being part of the sales team at allbranded as it gives me such a sense of accomplishment when you close that killer deal and hit your targets!