Excitement is building within the Employability and Careers Centre for our biggest event in our calendar – the Autumn Careers and Placements Fair. You may have begun to see banners, posters and A-frames emerging across campus and are wondering what all the fuss is about?!
If you're new to the University or are a returning student who has never visited the event before, please read on as we reveal what you should expect from the event and what's in it for you.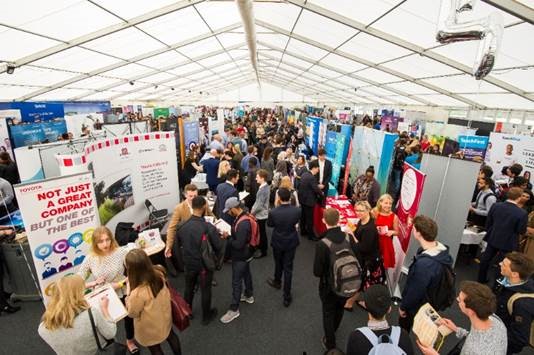 In your first year?
If you have just begun your journey with the University of Surrey, welcome! Our Autumn Careers and Placements Fair, is the perfect way to begin to think about how to build experience and find out what you want to do for your future career (it's never too early to begin to think about this!). Have a chat to employers to find out how you can best prepare yourself for future placements or graduate roles. It's a great opportunity for you to also find out about internships and any work experience that companies offer as this will help you stand out in any future applications.
In your second year?
There will be plenty of placements on offer for you! Have a look at the list of companies attending, the Fair only lasts a few hours, so it's important to prioritise those companies you want to speak to and plan to visit them first.
In your final year?
Take this opportunity to find your future employer. Not all organisations attending the Autumn Fair will be large graduate recruiters; if you're considering working for an SME, the Autumn Fair is the perfect place to discover upcoming job vacancies. Don't discount an organisation because you haven't heard of them before – take the time to look on their website and find out what business they are in.
Are you a postgraduate?
Some companies have opportunities that are specific to postgraduate students. Come along and speak to employers about what you're interested in and they will be able to let you know what opportunities are suitable to you.
Things to think about prior to attending the fair
1) Check out the exhibitors attending
Doing your research is the trick to being more confident when approaching recruiters at Careers Fairs. Look at the list of exhibitors attending the Fair beforehand. You can do this when you register to attend.
2) Research the companies and roles you're interested in applying to
Make the most out of the opportunity to speak to recruiters by becoming fully informed about what the companies specialise in and what jobs they are recruiting for.
3) Prepare some questions!
This will make you appear more prepared, more professional and you will stand out from others that haven't put in the same time and effort.
Here are some suggestions:
What is the company culture? This question is great as it will give you real insight into what the company values from its employees.
Are continuing education and professional development important to the organisation?
What would be a typical progression for a graduate?
What do you enjoy most about working here?
What kind of work could I expect in my first year?
What's your advice for the application process?
4) Make a great first impression
You only have a few minutes to make a great first impression on a recruiter. It might seem obvious, but remember that you are in a professional setting, so match your appearance and behavior accordingly. Whilst you're not expected to wear your interview suit to the Fair, it's still a good idea not to be too scruffy.
Bring your energy and enthusiasm and we're looking forward to meeting you at the Fair. Click here to book your place.

The Facts
 

Who is attending:

150 employers covering a range of sectors

Who is it useful for?

All years!

Do I need to book my space?

You can book your space on Surrey Pathfinder, this will guarantee you entry to the event.