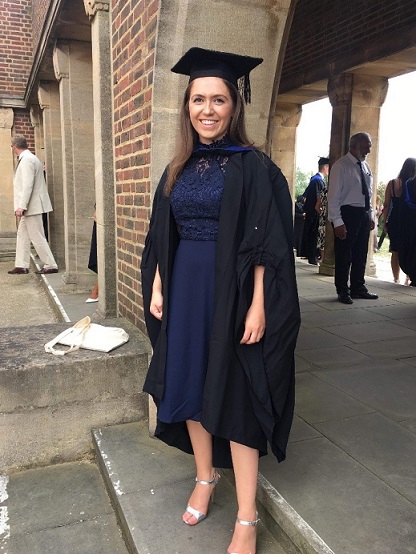 I have been studying my postgraduate degree at the University of Sussex since graduating. I've also been working part-time at a small human resources (HR) consultancy in Surrey.
Getting Industry Experience
I recognised that while employers are looking for candidates with a good degree, industry experience would give me an advantage when applying for graduate roles. So I worked hard to secure a summer internship which would provide me with that.
When I finished my internship I was offered a part-time human resources role. I did this alongside studying my Master's degree full-time. This was something I found challenging, however, it was an invaluable addition to my CV.
My role as British Psychological Society Student Rep
I have also undertaken various extra-curricular activities during my Masters. One of my main roles was as a British Psychological Society (BPS) Student Rep. This involved working as a communication link between the university and the Society. It was important as it evidenced me as an active member within the student community.
Why I did my Psychology Conversion Masters
Originally, I decided to study a Master's degree as I wanted to pursue a career in occupational psychology. This meant that it was necessary for me to complete a conversion course, to become a chartered psychologist.
My change of career direction
However, following a year of learning and working I have decided that I want to continue working within HR. If I want to pursue Occupational Psychology in the future, the door is also open.
Benefits of Postgraduate Study
I believe that studying at postgraduate level makes me stand out in a competitive labour market and further advances my academic skills. I have also learnt new skills for the workplace such as
qualitative and quantitative research methods
and how to use statistical software
I am currently writing my dissertation which explores employee's views of going above and beyond within the workplace.
I will be conducting 6 semi-structured interviews with my participants and I will thematically analyse the research data. I chose this topic as it lies within the area of occupational psychology which was my original reason for studying my Master's degree.
My graduate job offer
I have recently secured a place on a 2-year HR Graduate Programme with KPMG starting in September, which I am really excited to start!
The programme consists of rotations within specialist areas of HR so I will gain broad knowledge and experience within the role. I think that my future employers were most interested in my professional and extra-curricular experiences.
These provided me with skills such as commercial awareness, resilience and adaptability. These built on to the important skills I'd gained through university i.e. analytical skills, interpersonal skills and the ability to quickly form relationships.
The year has been full of new learning and development opportunities and fun events. It's taught me to be more proactive in building my CV and making the most of opportunities outside of the classroom. With these extra skills and experience I am really ready to enter the graduate world.
To find out more about KPMG graduate schemes click here.