By William Hitt
Flooding in Guildford and beyond present risks to livelihoods, households, and businesses. With thanks to the Economic and Social Research Council (ESRC) and United Kingdom Research and Innovation (UKRI), a group of high-level panellists convened at G Live to discuss the Thames flood prevention scheme which is set to not only defend Guildford from future debilitating floods, but benefit Guildford and surrounding communities in a variety of ways.
The Thames flood prevention scheme has been in development for fourteen years and originated in its goal to protect 11,000 homes and 6,000 businesses from the dangers of flooding, which Guildford is particularly susceptible to. However, what is unique about this scheme is that it does not just provide flood prevention. Jeanne Capey, Project Director for the Environment Agency, contended that it delivers benefits in the form of more green spaces, opportunities for active travel, an increase in biodiversity, and £2.7 billion of wider economic benefit to Guildford and surrounding communities. Additionally, the scheme has become a model template of cooperation between national and county organisations.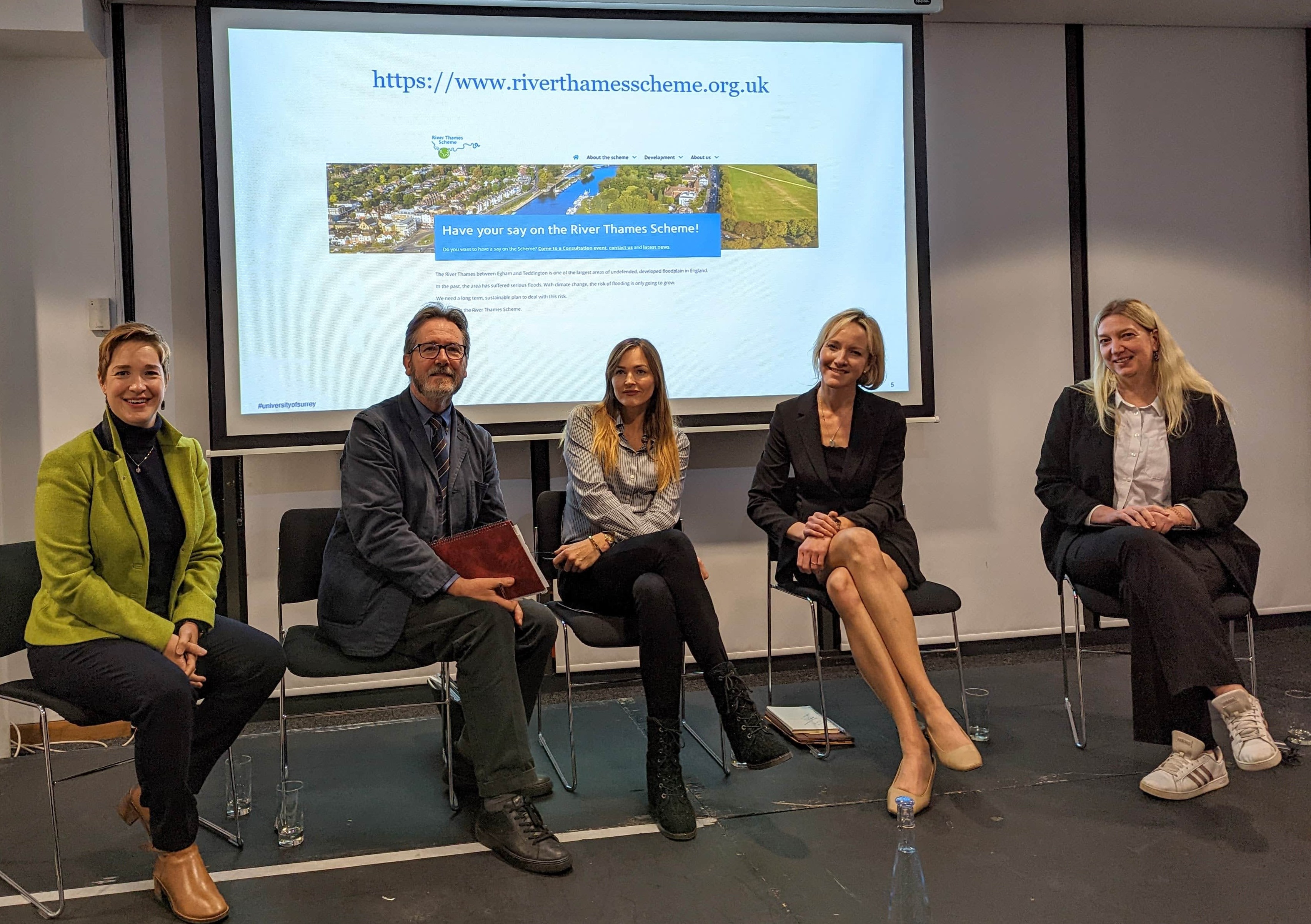 Katie Stewart, the Executive Director for Environment, Transport, and Infrastructure at Surrey County Council said that this project was important to her and that it was evident how much it meant to the county council. Katie added that county council capital is going into this scheme (£237 million) and that it has to deliver for Surrey residents, and on the environment. Furthermore, this scheme had to be delivered in a completely unique way by bringing together professionals and expertise from multiple areas, and that it has been very much a joint-team venture. Conducting non-statutory public consultations has been a principal element to this scheme and the council is committed to seeking public views to deliver a scheme worthy of Surrey.
Councillor Marisa Heath, a Cabinet Member for Environment at Surrey County Council, saw first-hand what flooding can do to a community, as it did in Egham and Enfield. Floods displace people and ruin homes. This experience galvanised Marissa and Surrey County Council politically to collaborate with the Environment Agency to deliver a scheme which sets to protect people, homes, and businesses, but also contributes to the county's Climate Change Delivery Plan. Marissa recognises that this scheme is very 'big picture' which could not be done by one single organisation and underlined the need for wider collaboration. Regarding getting residents involved, there has been a strong effort in ensuring that public consultations are clear and accessible, which provide the right information to secure residential engagement and feedback.
Furthermore, Ian Christie from the University of Surrey's Centre for Environment and Sustainability emphasised that the model partnership between Surrey County Council and the Environment Agency has the potential to be an exemplar both nationally and internationally. He added that this scheme improves our endeavours in climate adaptation, and highlighted that local governments are key actors in executing the much-needed climate change action. Ian added that climate change is a predicament that shapes everything we do; making crucial connections between mobility, housing, demography, and the flood risk we see in Surrey is vital.
Overall, the Thames flood prevention scheme serves to be a model template of not just how to combat flooding risks whilst providing significant ripple-effect benefits to surrounding communities, but a model template of local and national collaboration, with a clear-cut method to spreading the right amount of accountability and decision-making, which makes the project viable and successful.