"A built environment that enables people & planet to thrive" is the UK Green Building Council mission. Recently, doctoral practitioners Rocio Martinez and Luke Deamer contributed towards this mission through a challenging, innovative and fun sprint on the topic of community engagement . But first, what do we mean by "sprint"? An Innovation Sprint is a method used to rapidly boost idea generation, sharing knowledge and increasing engagement. Through a step by step process, participants are put into a mind-set to unleash new ideas. First, participants brainstorm a myriad of ideas that solve a problem; later, they then narrow these ideas down and develop them further into prototypes.
And so, late last month, we embarked on this mission. The Green Building Council sprint was held in a modern 'sustainable' workspace in central London. Biscuits and coffee were provided at arrival… great start.
To kick things off, we were introduced to the central message of the day, which was why the building and planning sector need to engage effectively with local communities. We were presented with three "challenges", the overarching questions that we were going to explore during the sprint: (1) How can the sector better engage communities in the development process? (2) How can we disrupt existing delivery models to give more power to communities? And (3) How can places better engage with people? In the 12 hours sprint, we only had time to explore one challenge, so we chose our preferred one, and split into our groups. Rocio chose to investigate how to best engage communities, whilst Luke chose to explore the disruption of existing delivery models to empower communities. Throughout the day we were indulged with "inspirational sparks", or short presentations of community engagement practitioners: Bridget Wilkins, from BuiltID, which has created an app that connects decision-makers with communities; Trevor Keeling, from BuroHappold, who presented innovative approaches and case studies of community engagement; Huseyin Gunduzler, from Dialogue in the Dark, who together with Space Studios are fighting gentrification in Hackney by making art studios available to local artists; Kym Shaen-Carter, from igloo Community Builders, an amazing case study where an area in London was regenerated through community empowerment; and Chris Setz, from StART, a community land trust, developing affordable homes within their local built environment.
With all the creative juices flowing, we started to explore our preferred challenges in our small group, coached by a member of UKGBC. As a warm-up, we started with a "personas" exercise; the "personas" were representations of community members, each with different needs and barriers for engagement. By putting ourselves in their shoes, we were able to gather insights to use in the challenges.
Then we focused on our selected challenges, engaging and empowering. In this second stage, we brainstormed every potential solution we could think of on post-it notes. Later, we grouped these ideas and removed less viable ones until we had two or three projects to develop going forwards.
In the third stage, we explored the chosen projects in more depth. We gave them "catchy" names, and further refined the ideas, reflecting on the benefits that they brought to the community members and overall sustainability benefits. We also sketched the project idea, to have a visual representation, similar to a product prototype.
In the fourth stage, each group picked their best project and pulled together a pitch. We presented these projects to a panel of expert judges, each team vying to taking home… the pride of winning! This probably was the funniest stage, and most of the pitches involved some sort of theatre. It was amazing to see the results of 12 hours of sprint condensed in three-minute presentations. All of them were inspiring ideas, which will be included in the upcoming report by the UKGBC.
However, there had to be a winner. Rocio's victorious team tackled how the sector can better engage communities in the development process by designing a virtual reality game. They theorised that members of the community could be given a headset, with which they could "see" planning design options of projects happening in their neighbourhood. This allowed participants to be recruited while waiting for public transport or walking the dog, etc. in their local area. Importantly, this solved the problems of lack of time, lack of resources and lack of interest, all of them identified as potential barriers during the "personas" exercise. The participants, once engaged, could then be logged into an associated website, where they could vote for their preferred planning designs and projects in their own free time. They could also see what the preferences of the rest of their community were, further gamifying the experience.
Overall, we had an intense but fascinating day, accelerating from just a central message to multiple, actionable ideas. It's fair to say that whilst Rocio's team won the best innovation, it's local communities that really won the sprint.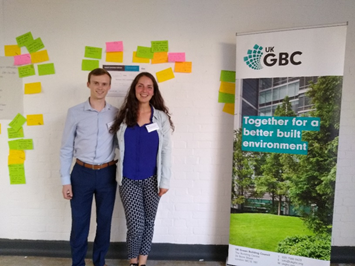 By PDS students Rocio Martinez-Cillero and Luke Deamer